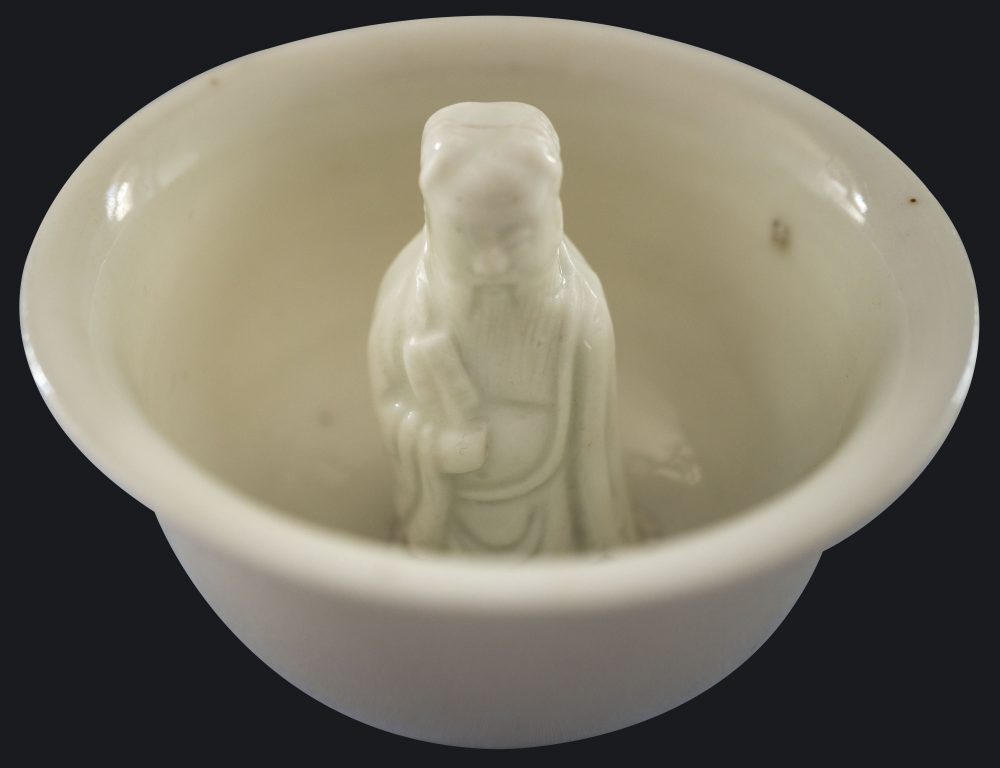 A Chinese trick cup with the figure of Han Zhongli. Ming-Transitional period.
"Trick cup", also know as « porcelain surprise », « Gong Dao Bei », « don`t be greedy cup », « fairness cup » or  « puzzle cup » in blanc de chine, with the central figure of Han Zhongli, one of the eight immortels.
Country:

China, Dehua kilns, Fujian province

Period :

Transitional period. Late Ming period (1368-1644), early Qing period (1644-1911), circa 1643

Material:

Porcelain

Dimension:

7 cm

Status:

sold
Related works
A set of this model was sold at christie's Amsterdam (Hatcher Cargo, 1643) in 1984 and 1985.
A similar trick cup, from the collection of the duc of Marlborough, is held on at Blenheim Palace.
One, from the chinese porcelain collection of Marie Vergottis, is held on at the Fondation de l'Hermitage at Lausanne.
For tricks cups and a description of how they work see Chinese Puzzles, Games for the Hands and Mind, Traditional Chinese Puzzles from the Yi Zhi Tang Collection (Wei Zhang and Peter Rasmussen, Chinese Culture Center of San Francisco, 2008, pp. 76-77.
Notice
This cup illustrate the classical Chinese paradigm that modesty brings gain and arrogance results in loss. If you fill the cup to the top, taking more than your share, every drop will drain out onto your lap through a hole in the bottom, but if you are modest and only fill the cup half full you will be able to drink normally. The earliest cups of this type were made during the Song Dynasty (960-1279), but most are 18th or 19th century.