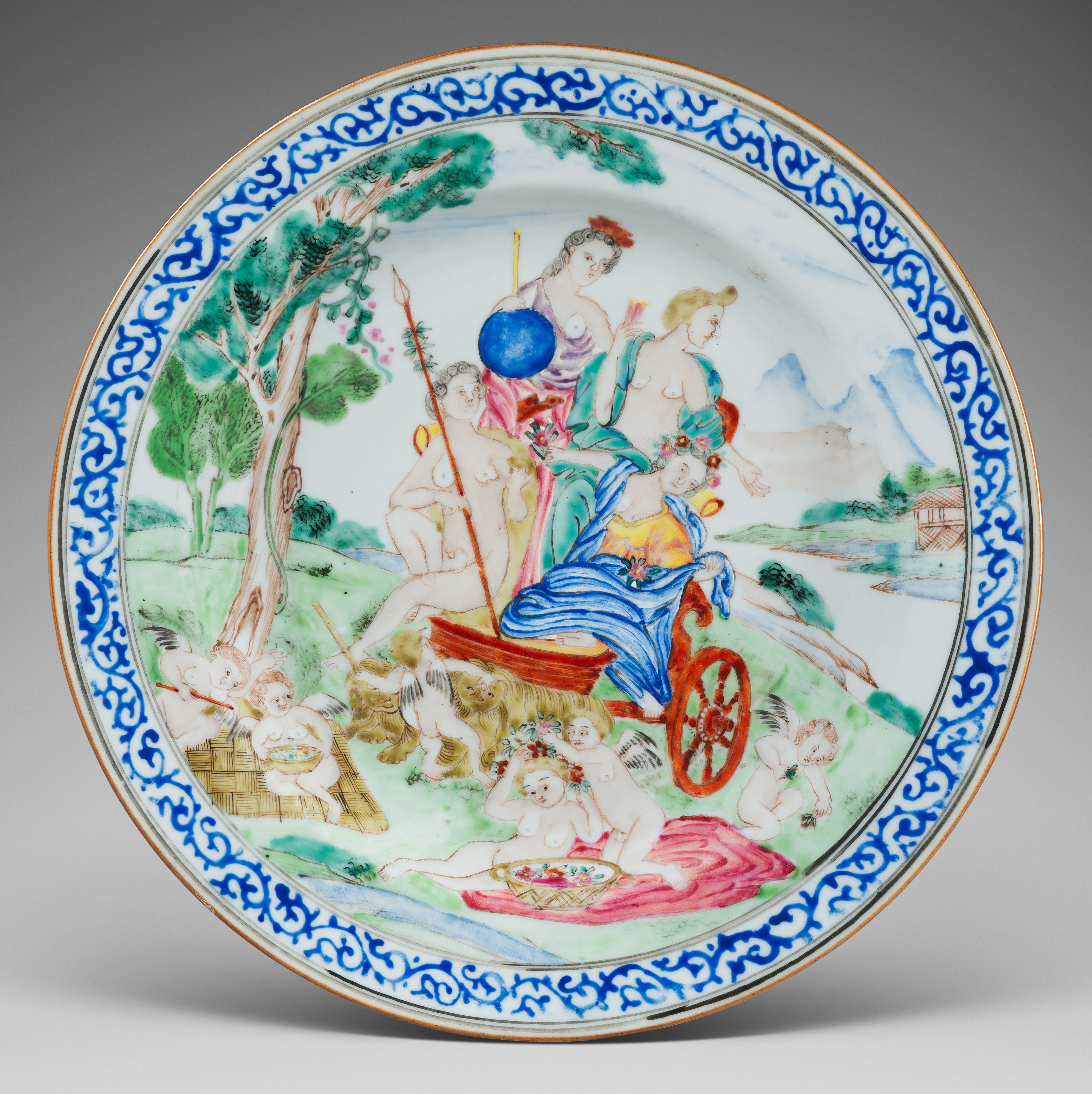 A famille rose plate « Earth » plate. Qianlong
Enameled in bright colors with a European mythological scene derived from Albani's 'Earth', the center with three female and one male figure, variously robed and unrobed, riding a chariot pulled by lions with six putti dispersed before them, a large leafy tree to one side and a river landscape in the background, the rim with a dense blue-scroll border, the reverse plain.
Country:

China

Period :

Qianlong (1736-1795)

Material:

Porcelain

Dimension:

8.66 in. (22,5 cm)

Reference :

D751

Price:

3800 dollars (US)

Status:

available
Provenance
Cohen & Cohen, 2016
Related works
Two very similar plates with blue borders were sold at Christie's New York, 20 January 2016, lot 70, from the Miller Collection; and 17 January 2018, lot 79, from the sale of export art from the Marchant Firm, established in 1925.
Another pair can be found in the Metropolitan Museum of Art, New York.
Notice
The scene depicts "Earth" from a print source after the oil painting by Francisco Albani (1578–16 60), one of a series depicting the 'Four Elements', painted between 1625-1628 for the Cardinal of Savoy, later King of Sardinia, and which are now in the Galleria Sabauda, Turin. Cybele is seated in her chariot surrounded by personifications of the three seasons: Flora as Spring, Ceres as Summer, and Bacchus as Autumn. Harsh "Winter" was absent as Albani intended to flatter the Cardinal's sunny disposition.
All four designs are known on Chinese plates and tea wares. There appear to have been two special commissions for these plates, one with the blue border as in this plate, and the other with a gilt foliage rim. There are also differences in the placement of the composition within the circle, suggesting a different workshop or set of painters for each order.
Sets of these four oil paintings were engraved by many different artists. The series was issued by Jacques Chereau, Nicolas de Larmessin IV, or Nicoloas Dauphin de Beauvais, any of their versions could have been taken to China, but Chereau seems the most likely source. Other prints by Chereau and Larmessin are known on export porcelain.