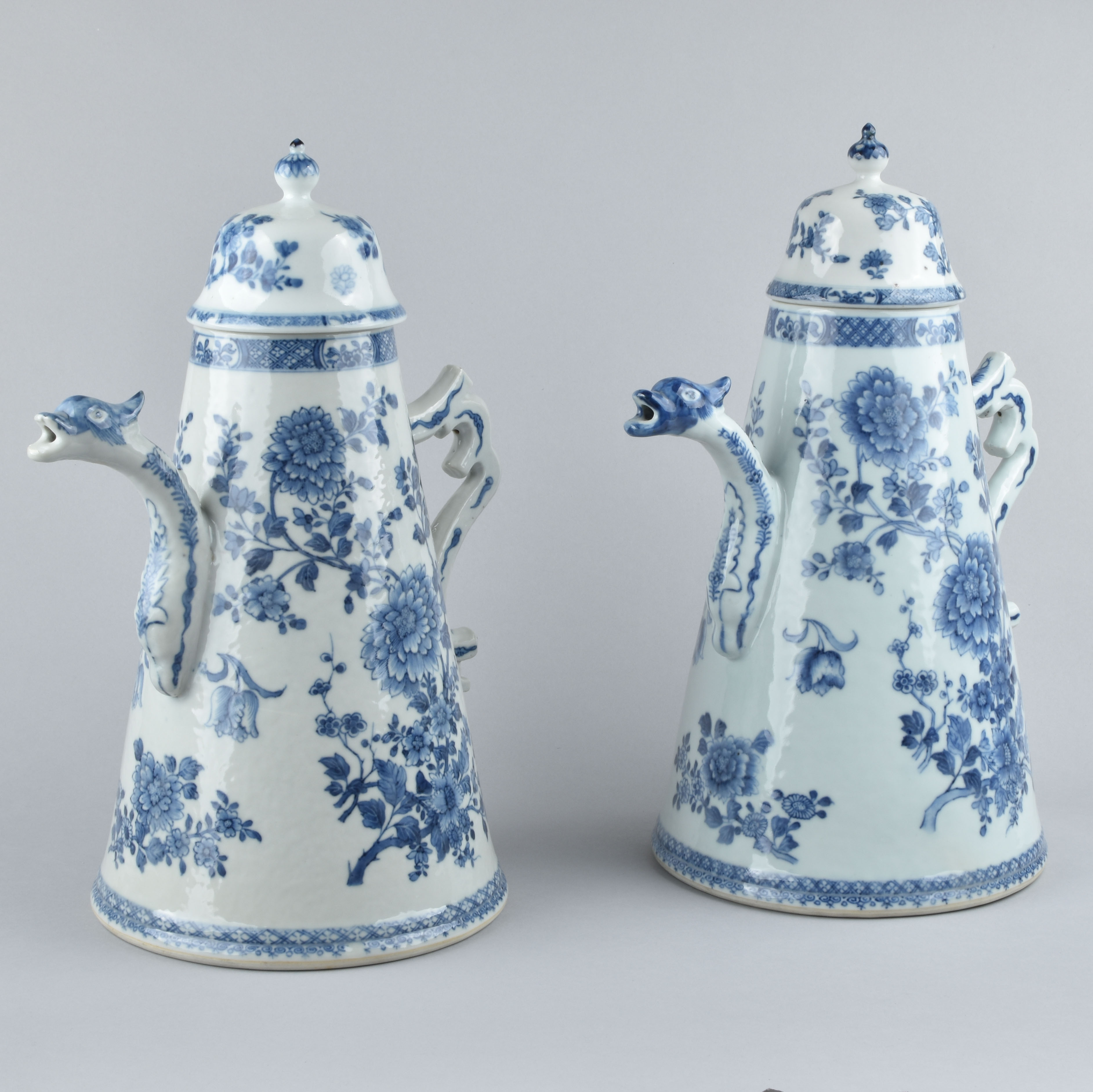 A pair of Chinese Export lighthouse coffee pots. Qianlong
Of typical conical shape, with bird spout and elaborate shaped handle, painted in underglaze blue, the stepped foot with two decorative borders, the domed cover decorated en-suite.
Country:

China

Period :

Époque Qianlong (1736-1795), vers 1730-1740

Material:

Porcelain

Dimension:

13.38 in. (34 cm)

Price:

upon request

Status:

available
Related works
For a model decorated in blue and white, see Howard & Fuchs in Made in China: Export Porcelain from the Leo and Doris Hodroff Collection at Winterthur, pp. 115, no. 66).
For a model decorated in the Imari palette, see Christie's NYC, The Collection of Benjamin F. Edwards III, 2010, lot 36), with a European decoration (see D.S.Howard, China for the West: Chinese Porcelain and Other Decorative Arts for Export Illustrated from the Mottahedeh Collection, 1978, T. I, p. 275.
Notice
The form of this tall coffeepot, sometimes referred to as lighthouse shape, copies English silver pots made between 1680 and 1740. The bird-shape spout is probably inspired by those found on Meissen porcelain teapots and coffeepots from the 1720's and 1730's, although the Chinese are known to have used those spouts as well. Lighthouse-shape coffeepots continued to be made in porcelain into the early 1800's.
The distinctive form of the handle may be loosely related to the handles found on the original silver form that inspired this design. However, D. S. Howard, in A Tale of Three Cities(Sotheby's 1997), fig. 152, where a similar coffee pot is illustrated, suggests that it could also represent the tail feathers of the bird whose head constitutes the spout.