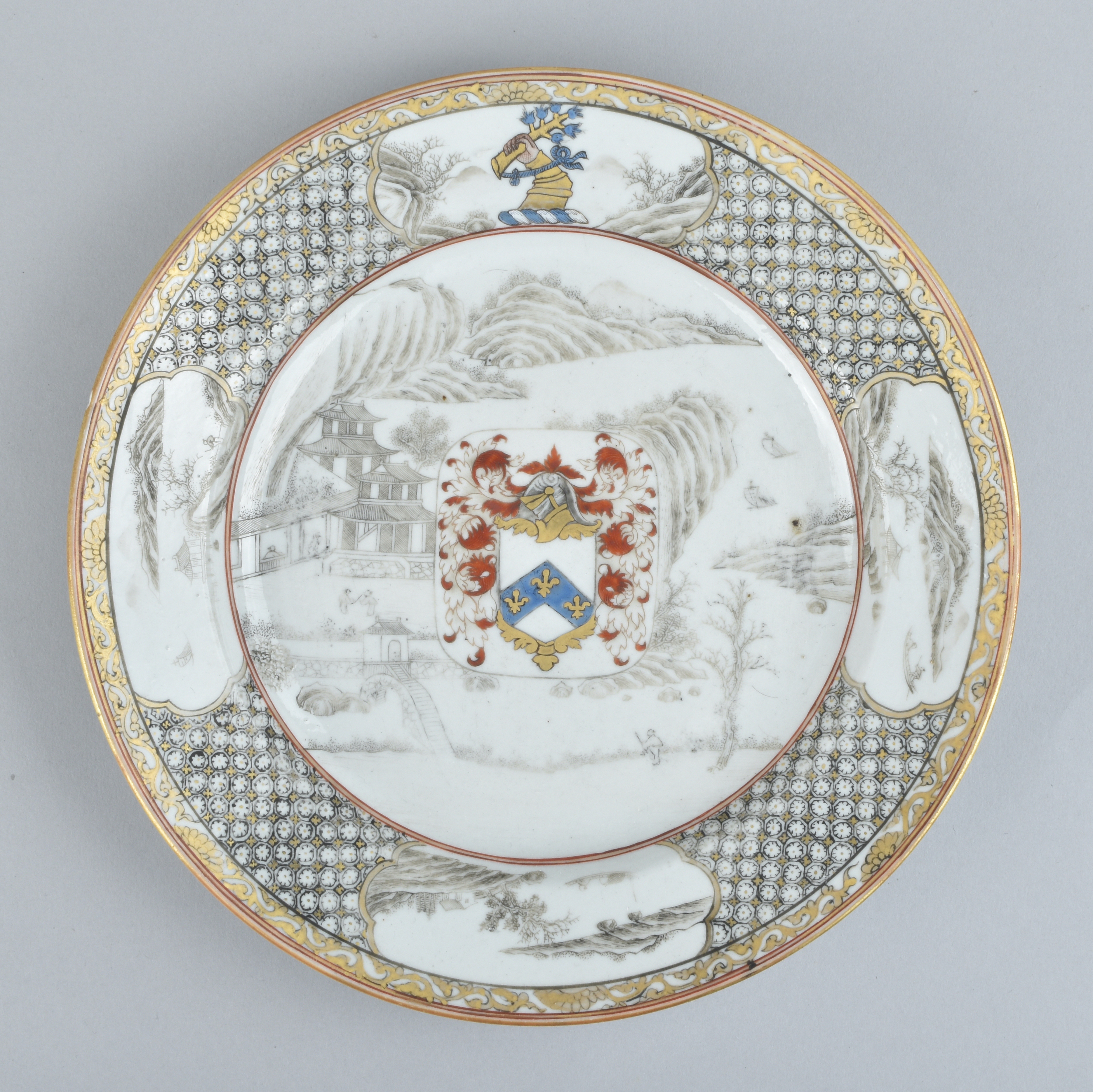 A Chinese armorial plate for the English market (Elwick). Yongzheng
Decorated en grisaille and gilt, centered with the arms of Elwick against a backdrop of a very finely painted grisaille landscape, the rim meticulously painted with a fine grisaille and gilded diapered border with reserves of further landscape views, centered at the top with the Elwick crest, the outer edge with a scrolling gilded foliate design.
Country:

China

Period :

Yongzheng (1723-1735), circa 1730

Material:

Porcelain

Dimension:

8.66 in. (22 cm)

Reference :

D755a

Price:

upon request

Status:

available
Related works
This service is illustrated by David Howard in Chinese Armorial Porcelain, Vol. I, page 234, with further research from Angela Howard
Both John Elwick and his brother Thomas were directors of the East India Company while their younger brother, Nathaniel, was Chief Supercargo on several voyages to China including that of the Herne in the 1711/12 season. In 1720 John and Thomas Elwick proposed to the Company that Nathaniel should be sent to Madras in a senior position as Third Member on the Council, which did not endear him to the President of Fort St George, Francis Hastings, who died the following year and was succeeded in the position by Elwick.
Notice
The use of grisaille or black penwork on export porcelain was still relatively new. In 1722 the technique was reported to be not yet satisfactory by the Jesuit missionary, Père d'Entrecolles, while on a tour of the kilns. By 1730 it was clearly successful and this armorial service provides the earliest datable example of its use on export porcelain.