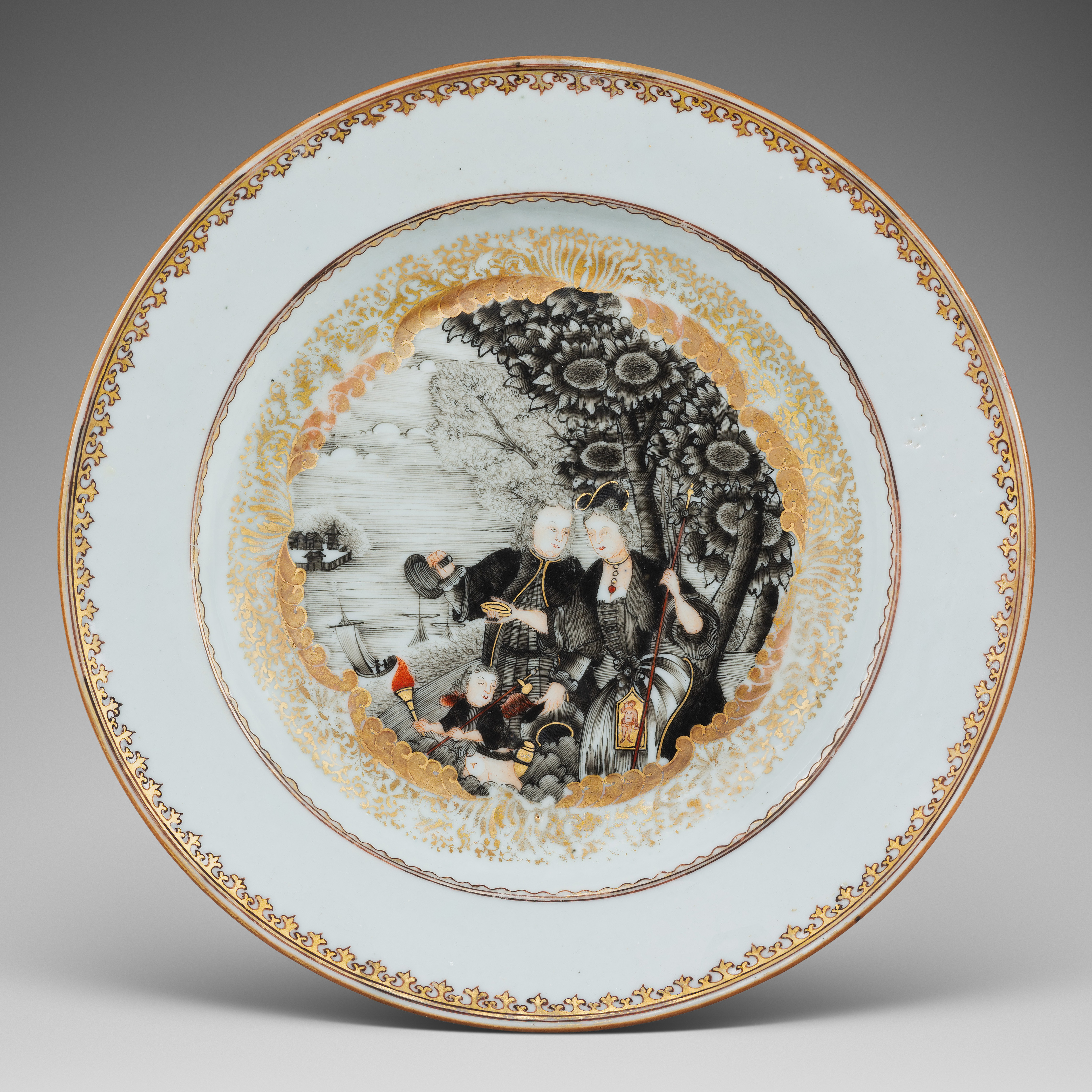 A grisaille « Les pèlerins de l'isle de Cythère » plate. Qianlong
After the engraving "Les pèlerins de l'isle de Cythere » (1708), by Bernard Picart (1673-1733), painted en grisaille, gilt and iron red, the central roundel depicting a heart-decorated 'Cupid' ('Eros') holding a staff and torch guiding a pilgrim couple travelling by boat to the Greek Isle of Cythere. The couple is sharing a cup of wine. There are three boats and the island in the background. The whole scene is presented within a gilt decoration on the cavetto and a spearhead border on the outer rim.
Country:

China

Period :

Qianlong period (1736-1795), circa 1750

Material:

Porcelain

Dimension:

8.66 in. (23 cm)

Reference :

D506

Price:

3500 dollars (US)

Status:

available
Provenance
-Octave du Sartel (1823-1894)
-His sale, Porcelaines de la Chine et du Japon composant la collection de M. O. du Sartel, Hotel Drouot, 3/5 april 1882, lot 326
Related works
Several versions of this design are known on Chinese Export porcelain and can be found on plates, dishes and tea wares.
This decoration is illustrated by Hervouët and Bruneau, La Porcelaine des Compagnies des Indes à Décor Occidental, Paris, 1986, p. 160.
Another plate was in the Miller Collection (Christie's NYC, Chinese Export Porcelain including the Sowell Collection, 21 January 2016, lot 118.
For another piece from the collection of Octave du Sartel, a rare turquoise-glazed double-gourd vase Jiajing six-character mark, see Regina Krahl, Chinese Ceramics from the Meiyintang Collection, Volume 4, London, 2010, no. 708.
Notice
The scene depicts the mythological tale of a fête galante, a popular subject of the 18th-century French aristocracy and artists, including painter Jean-Antoine Watteau's famous 'The Embarkation for Cythera'. The myth of the island of Cythera was a great success in the libertine society of the 18th century, the island being considered since Antiquity as the residence of Venus, goddess of love. The presence of Cupid on the painting helps to reinforce this evocation.
Photography : Jérémie Beylard / Agence PHAR