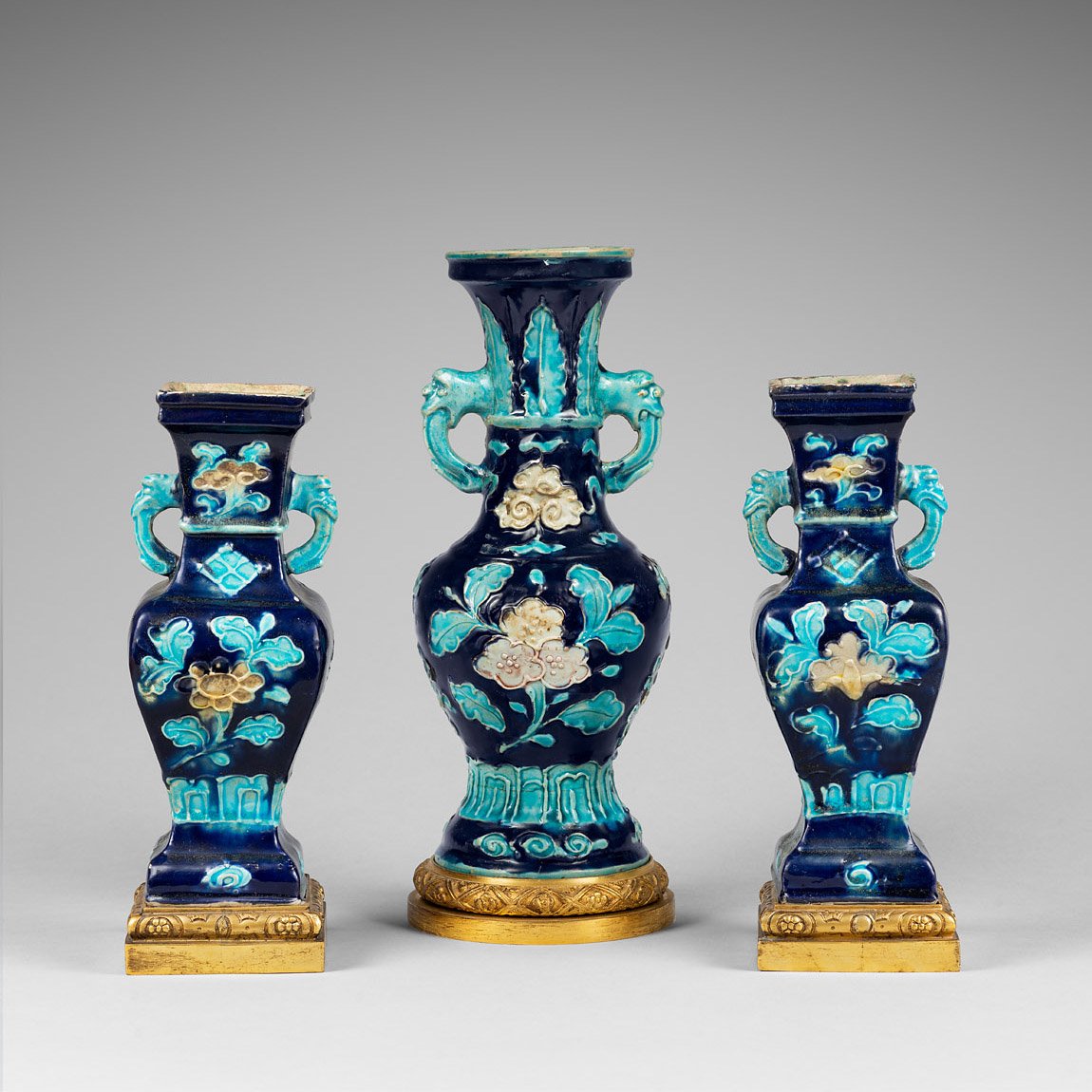 A gilt-bronze garniture of three vases with a fahua-type decoration. Ming
One vase is pear-shaped and the two others are four-sided, with a square mouth and a flat square unglazed base. The third central vase has a dish mouth and stands on a circular foot ring. On the sides of the neck are semi-circular handles emerging from the open jaws of a lion-like head. The decorative motifs are outlined in raised slip and then filled in with turquoise enamel and transparent glaze on an ink-blue ground in fahua-style. On the front face arranged vertically is a spray of lingzhi fungus, lozenges, peony flowers, bands of lappets and a single scroll on the foot.
Country:

China

Period :

Ming dynasty (1368-1644)

Material:

Terra cotta

Dimension:

10.82 in. (27,5 cm)

Reference :

D316

Price:

7000 dollars (US)

Status:

available
Provenance
Bluett & Sons
Related works
A very closed pair of four-sided vases, from the collection of the British Museum  Jessica Harrison-Hall in Ming Ceramics in the British Museum, 2001, British Museum Press, p. 410, nos 13:1, 13:2, and a vase with sides handles p. 410, no. 13:4.
Notice
The shapes of these vases suggests that they could have been modelled after a bronze altar vase. Two blue and white four-sided porcelain vases of this square form were excavated from the tomb of Mrs Cai (1405-1441), wife of the scholar official Wang Xi (1405-1452), buried with her husband and his other two wives at Pingwu county, Sichuan province, in 1464. Traces of red pigment are seen on the flowers and fungus of the three vases, suggesting they were once cold-painted.
Photography : Jérémie Beylard / Agence PHAR