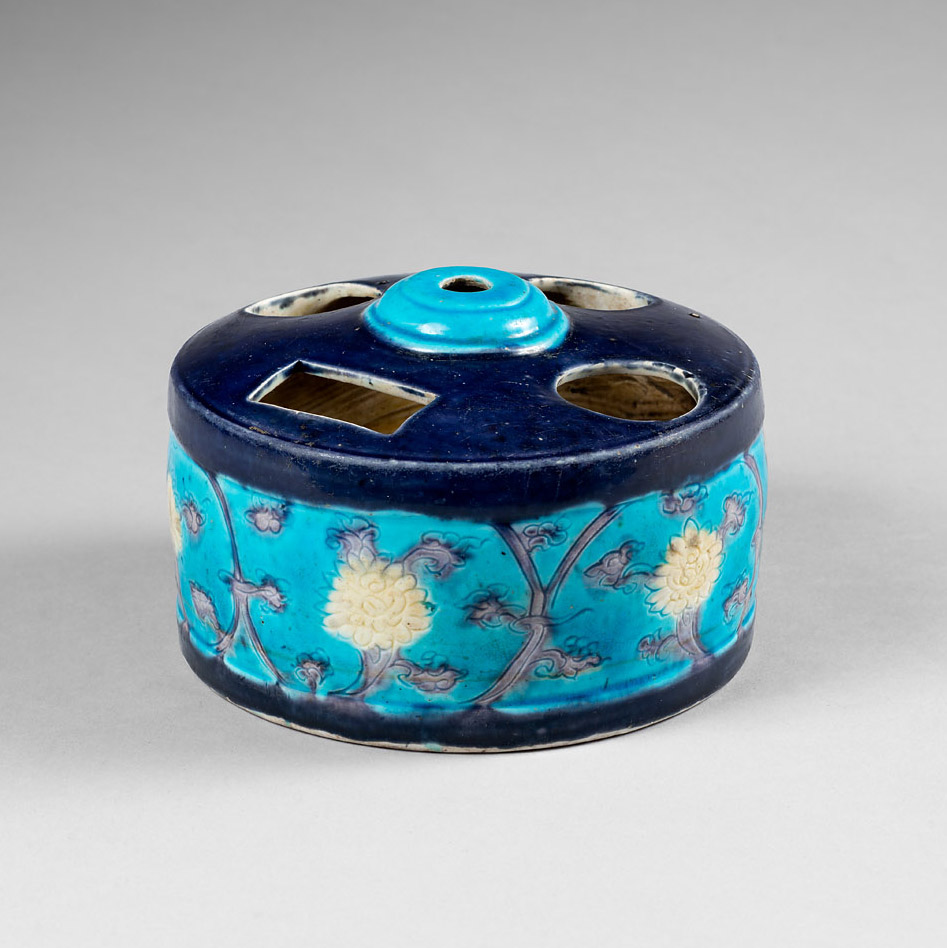 A rare Fahua inkstick and brush holder. Ming
The stand is of drum shape, with slightly convex sides, with four openings (three circular, one rectangular), around a smaller central circular opening on a raised knob, the top glazed a dark blue.
Country:

China

Period :

Ming dynasty (1368-1644), early to mid-16th century

Material:

Fahua

Dimension:

4.92 in. x 3.54 in. (12.5 cm x 9 cm)

Reference :

D567

Price:

7500 dollars (US)

Status:

available
Related works
A similar fahua inkstick and brush holder, 16th century, from the Sir Percival David collection, is in the British Museum, London (acc.no.PDF.793), illustrated by M.Medley, Illustrated Catalogue of Ming Polychrome Wares in the Percival David Foundation of Chinese Art, London, 1978, p.29, no.71, pl.VI).
A further Fahua example is published by Regina Krahl in Chinese Ceramics: The Anthony de Rothschild Collection, 1996, no. 85.
A further fuhua example is illustrated by R.L. Hobson in The George Eumorfopoulos Collection Catalogue of Chinese, Corean and Persian Pottery and Porcelain, London, 1925, vol. 4, pl. XL, no. D180.
A further example, but decorated in underglazed blue, 16th century, is in the Percival David collection in the British Museum (acc.no.PDF, B.605).
A further example, but decorated with sancai glazes and an incised lotus scroll is in the Musée Guimet, Paris.
There are two examples in the RA collection published by Jorge Welsh, one decorated with 'gold brocade' (Kinrande), the other is a Fahua example (Tome I).
Bibliography :
John da Silva, 'Three Types of Chinese Brush Stand', Oriental Art, vol.XXIV, no.3, Autumn 1978, p.326, fig.2.
S.Marsh, Brushpots: A Collector's View, Hong Kong, 2020, pp.22-24, figs.2-3.
Blue and White Porcelain with Underglazed Red (II): The Complete Collection of Treasures of the Palace Museum, Hong Kong, 2000, no.114.
Notice
This object, a shui-chen'êng, was intended for a scholar's desk. The use of this vessel is clarified by a painting of the famous philosopher Wang Yangming (1472-1529) seated at his writing desk which illustrates a handscroll of his letters and other related material.
The piece is shown on his desk with three brushes placed, tips upwards, in it, together with a small vase of flowers, an inkstone and a water dropper or paper weight. The natural assumption is that the rectangular section is to hold an inkstick, which is confirmed by the late Ming scholar Wen Zhenheng, who in Zhang wu zhi ('A Treatise on Superfluous Things') under the heading of brushpots wrote: '…there are also drum-shaped ones with holes in them for inserting brushes and ink.'
Photography : Jérémie Beylard / Agence PHAR