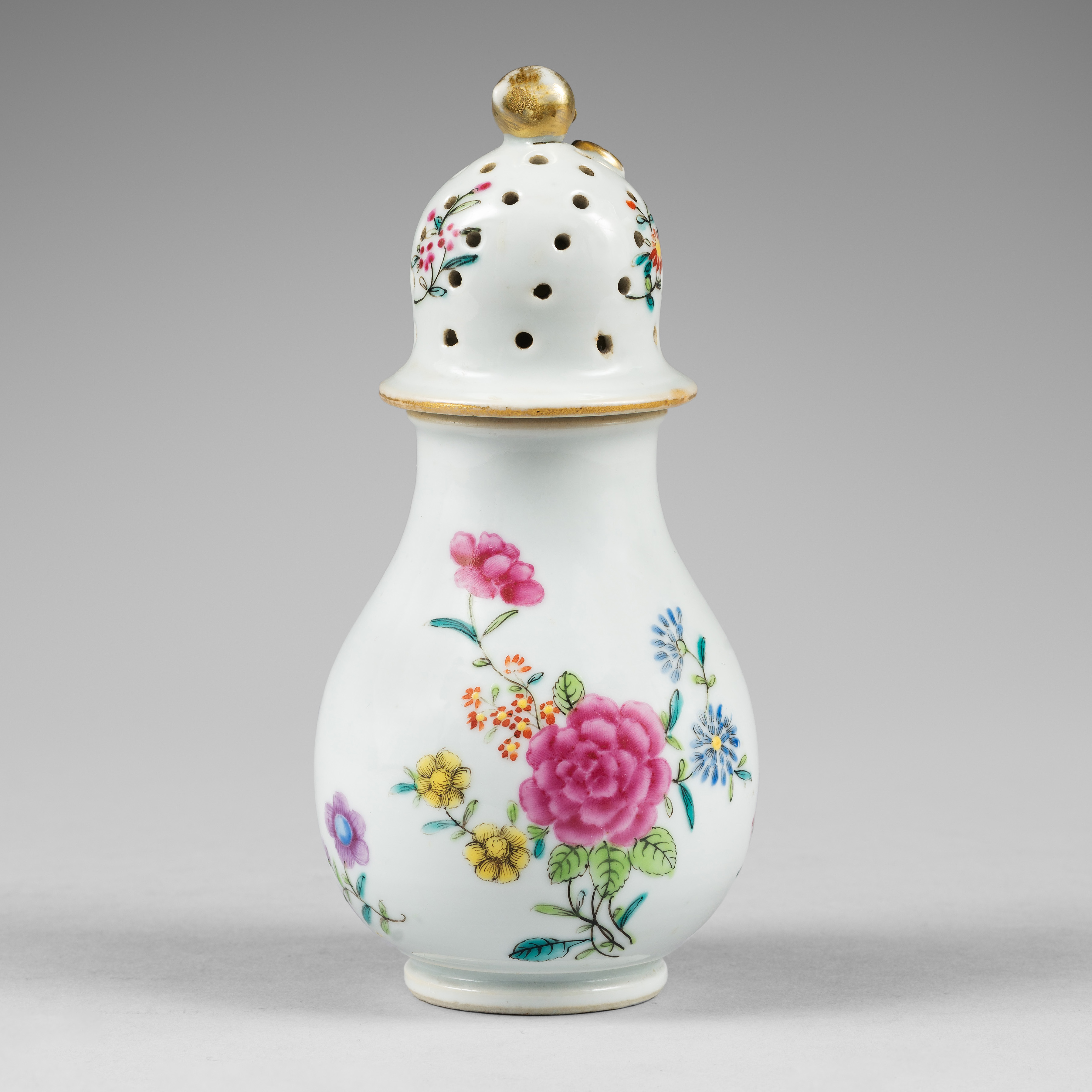 A famille rose sugar caster and cover decorated with flowers. Qianlong
Of a tall baluster shape on a wide, spreading foot, surmounted by a hight domed lid with a bud-shaped finial, this sugar caster is deco- rated in famille rose enamels with sprays of flowers.
Country:

China

Period :

Qianlong period (1736-1795)

Material:

Qianlong (1736-1795)

Dimension:

6.29 in. (16 cm)

Reference :

D590

Price:

3500 dollars (US)

Status:

available
Related works
A pair of identical sugar casters is illustrated by J.A. Lloyd Hyde in Oriental Lowestoft – Chinese Export Porcelain – Porcelaine de la Cie des Indes, The Ceramic Book, 1964.
Notice
The shape of this sugar caster is derived from a French silver proto- type fashionable during the 18th century. Although Chinese porcelain sugar casters of various forms and deco- ration are known, this baluster shape appears to be rare. Similar sugar casters were also produced in porcelain or earthenware by European manufactories as Meissen. Europe first imported sugar from the West Indies in the late 17th cen- tury, and wealthy households often served this new luxury product in special vessels. These containers were predominantly made in silver or metal, but also occasionally in porcelain.
Initially casters were used primarily for the dessert course, but the function of these items broadened over the course of the 18th centu- ry. As sugar became increasingly available, it was added to beverages and also used in the preparation of a wide range of foods. Casters soon became a regular feature of the dinner table as well as dessert, and were ordered to accompany tea, coffee or chocolate sets. They could be bought as single items, but were increasingly ordered in sets of three or six.
Photography : Jérémie Beylard / Agence PHAR