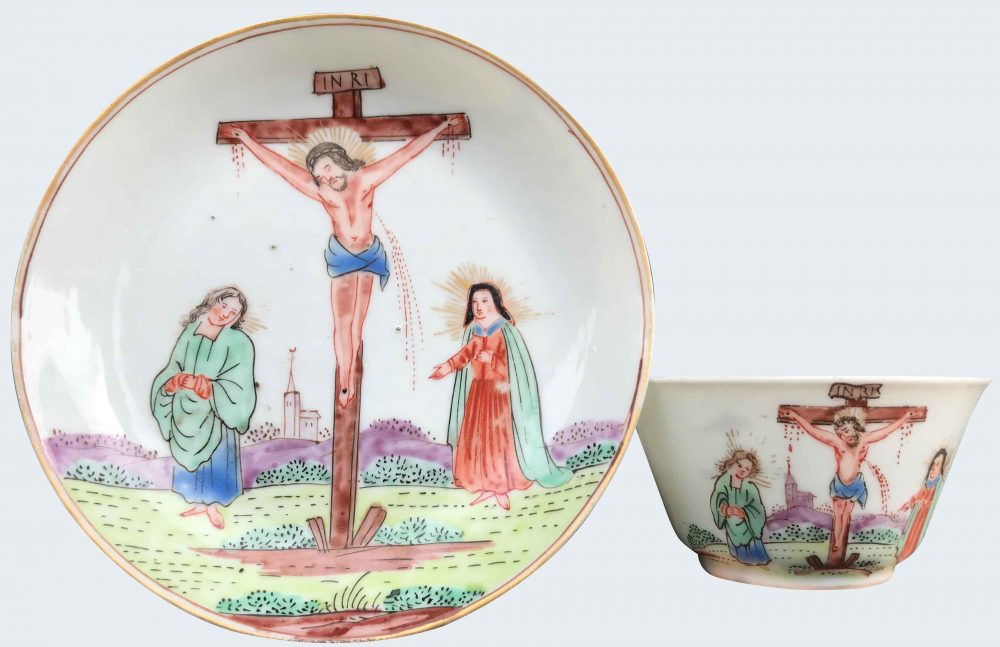 A Chinese Dutch-decorated tea bowl and saucer with the Crucifixion. Qianlong period.
Decorated in polychrome enamels and gold, with central scene of the Crucifixion, the instruments of the passion on the reverse and on interior together.
Country:

China

Period :

Qianlong (1735-1795), circa 1750

Material:

Porcelain

Dimension:

4,75 in. (12 cm)

Reference :

B689

Status:

sold
Related works
Several saucers and tea bowls are recorded with this decoration.
One is in the Collection Cunha Alves and illustrated in From East to West, the quest for Chinese Export Porcelain with Western Themes (1695-1815), Scribe, 2016, p. 112, no. 63.
Another was in the Mottaheded Collection and illustrated by Howard & Ayers in China for the West (1978, vol. I, no. 318).
A set of tea bowls are in the RA Collection, they were also illustrated by Jorge Welsh in Imagens do Christianismo na Porcelana da China (2003, Lisboa).
Another is in the collection of the Rijksmuseum (Amsterdam) and is illustrated by Scheurleer in Chinese Export Porcelain – Chine de Commande (Faber & Faber, 1974, p. 223, no. 228).
Another is in the collection of the Birmingham Museums & Art Gallery.
A saucer and tea bowl was in the private collection of Elinor Gordon (Sotheby's NYC, 23 january 2010, lot 262).
Notice
This tea bowl and saucer were decorated in the Netherlands. The scene illustrates Jesus Christ nailed to the cross, with the five wounds spurting blood. Jesus is flanked by at his right side by a praying Virgin Mary and at his left side by Saint John the Baptist.
The VOC used to ship porcelain blanks (undecorated forms) from China to Europe, which were then taken by local artists in Amsterdam to receive the final painting. In some cases, such as the present one, the pieces decorated with religious scenes gained significant commercial success and were in demand during the first half of the eighteenth century. These were probably inspired by representations of sixteenth century Flemish paintings, being used in the south of the Low Countries, in the eighteenth century. The Catholic minority, which never converted to Protestantism, liked to make use of them in religious feasts and in the decoration of their home.