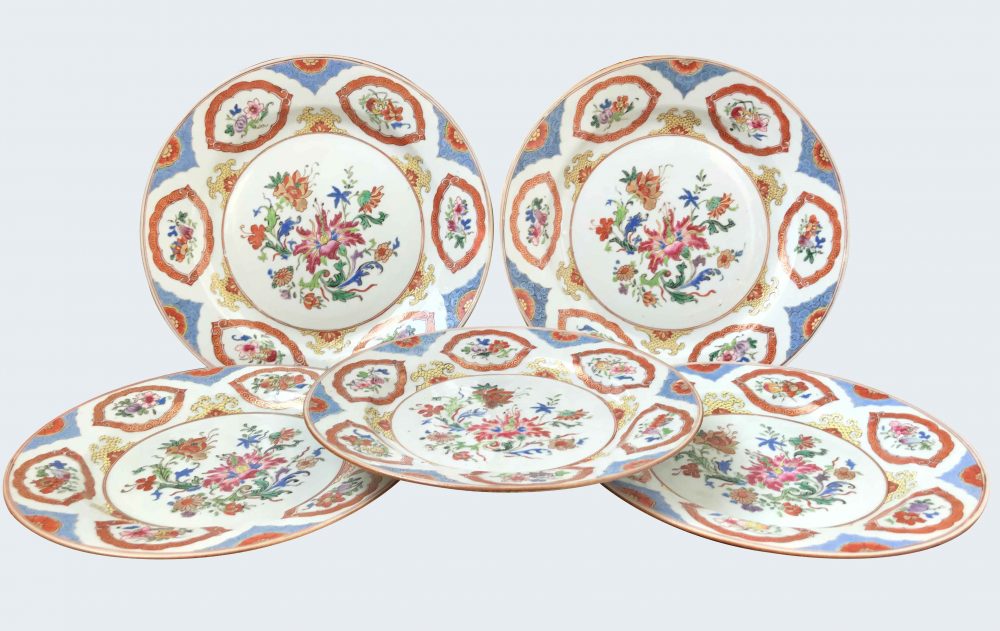 A set of Chinese famille rose "Pronk-style" dishes and plates. Qianlong period.
Decorated in famille rose enamels, with a distinctive Pronk-like border in rich enamel colors, a large exotic flower spray in the center.
Country:

China

Period :

early Qianlong period (1736-1795), ca. 1740

Material:

Porcelain

Dimension:

8.66 in/ 10.03 in. (22.5 cm/25.5 cm)

Reference :

C070/77

Status:

sold
Related works
A saucer dish of this pattern is illustrated by David Howard in « The choice of the private trader : The Private Market in Chinese Export Porcelain illustrated in the Hodroff Collection », London, 1994, p. 81.
Notice
This apparently Chinese design clearly derives from the second design of Cornelis Pronk "The Four Doctors", which has a very similar border formation but with more elaborate details.
It is probable that the interest caused in Canton by Pronk border designs prompted a Chinese workshop to produce a similar effect at much lower cost, using patterns with which it was more familiar, for Dutch supercargoes or private traders of other countries.