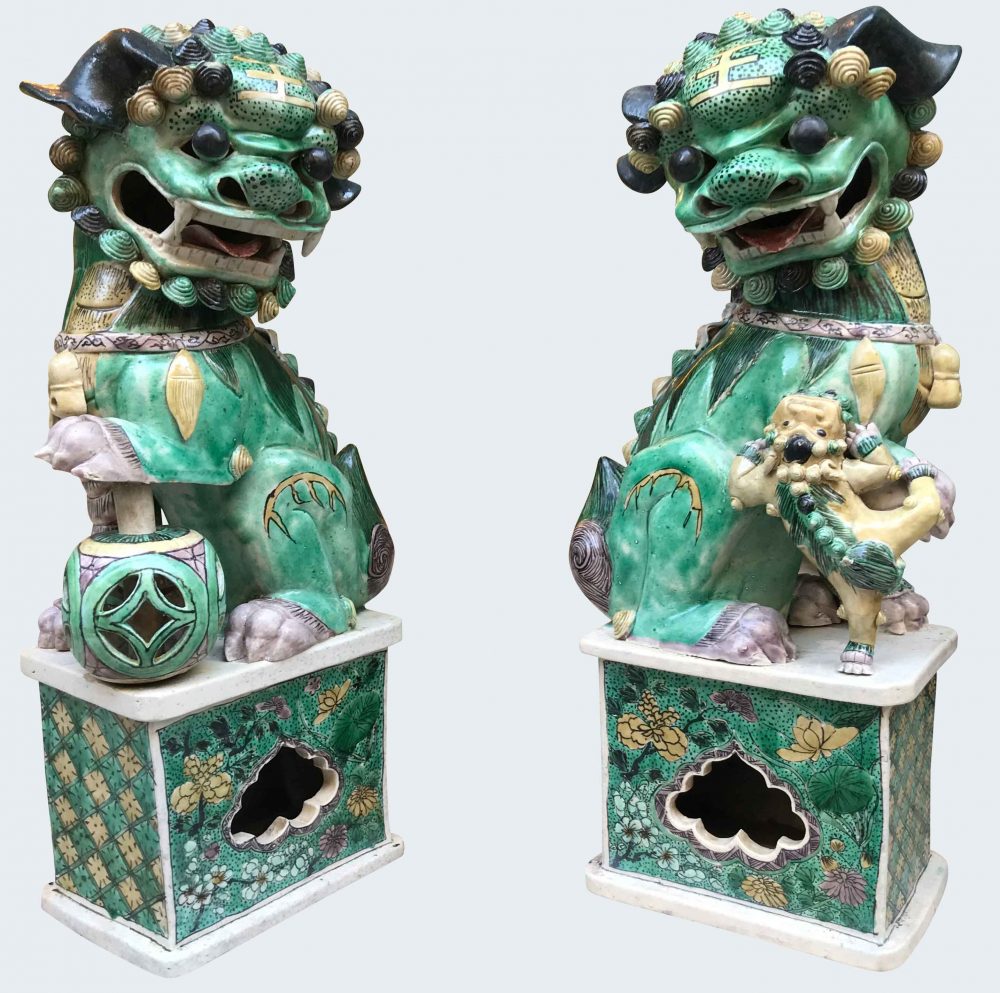 A pair of very large Chinese biscuit-glazed famille verte buddhist lions. Kangxi period.
Pair of Buddhist lions or Fo dogs, the male with a brocade ball, the female with a cub. Each animal seated on a hight, square, hallow base with a percied scalopped cartouche in each side. Both have movable, popping eyes. Decorated in famille verte enamels on the biscuit, their foreheads centered with the character Wang, meaning "ruler" or "king", their jaws open revealing teeth and tongue.
Country:

China

Period :

Kangxi (1662-1722), circa 1680

Material:

Porcelain

Dimension:

14.17 in. (36 cm)

Reference :

B787

Status:

sold
Provenance
Léon Wannieck, Paris
Related works
For a similar pair of Buddhist lions in the collection of the Rijkmuseum (Amsterdam), see C. Jörg, Famille Verte – Chinese Porcelain in green enamels, Groninger Museum, 2011, p. 124, no. 113 (also illustrated by Christiaan J.A. Jorg in Chinese Ceramics in the Collection of the Rijksmuseum, Amsterdam, no. 216, p. 192).
A further pair are illustrated by Anthony du Boulay in The Taft Musuem, Cincinnati, Its History and Collections, Vol. II, p. 263.
Notice
Figures of animals became popular for the domestic and export markets during the Kangxi period (1662-1722). Some of them were decorated in overglaze enamels on the biscuit, because this created a different effect from enamels on a glaze surface. These figures were bought as exclusive objects by private European traders and were highly appreciated in the West as decorative and exotic items for prominent display in the interior.