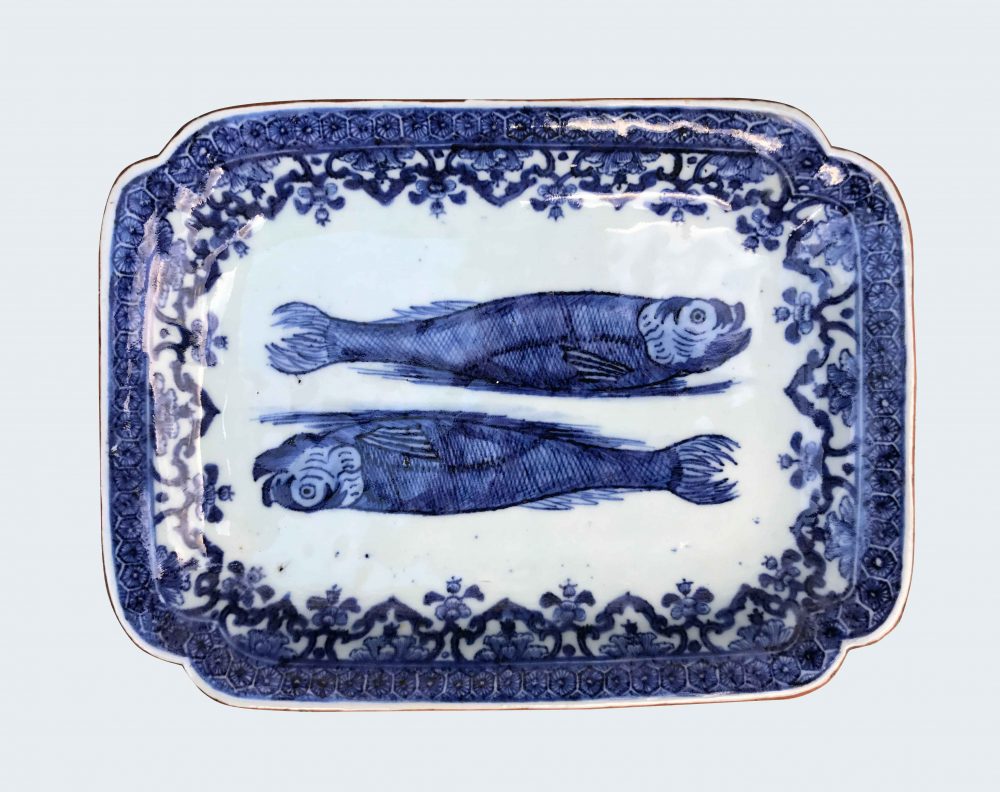 A large Chinese blue and white "double herring" dish for the Dutch market. Qianlong period.
Of rectangular shape with notched corners, the centre painted with two herring placed in opposite direction, beneath a row of demi– peony-heads interlaced with scrollwork suspending from a cell-pattern band around the everted rim.
Country:

China

Period :

Qianlong (1736-1795, circa 1753-1776

Material:

Porcelain

Dimension:

9.25 in. 24 cm) / 7 in. (17 cm)

Reference :

B550

Status:

sold
Provenance
Private collection from the French Riviera
Related works
Double herring dishes, from the collection of Alberto Pinto, were recently sold at Christie's Paris, Collection Alberto Pinto, 12-14 september 2017, lot 476.
For a pair of identical dishes, see Christie's NYC, Chinese Export Porcelain, 21 january 2009, lot 13 (sold 12,500 USD).
A pair of "single herring dishes", from the Hodroff Collection, is illustrated by D.S. Howard in The Choice of the Private Trader, London, 1994, p. 131, n°136.
Another dish is presently in the collection of the Gemeente Museum in the Hague and published in Porcelain and the Dutch China Trade (C.J.A. Jorg, Martinus Nijhoff, 1982, p.179, fig.89).
For a "single herring dish" and a comparison with the Dutch Delft original, see : China for the West, Chinese Porcelain & other Decorative Arts for Export Illustrated from the Mottahedeh Collection (David S. Howard and John Ayers, Sotheby's, 1978, vol. I, p. 84, pl. 42).
Notice
According to Jorg in Porcelain and the Dutch China Trade (1982, p.179), the Dutch East India Company (V.O.C.) made two versions of these Chine de Commande porcelain dishes which were based on 18th century Dutch Delft pottery. The V.O.C. requirements of 1773 included Herring Dishes of two sizes. A narrower type (14cm) for single Herring was made, as well as the double Herring Dishes like the present example (17cm). In 1753, 92 narrow and 66 wide examples were shipped to Amsterdam on the Roozenburg, in 1773, 223 narrow and 216 wide and in 1776 203 small and 203 large were sent.