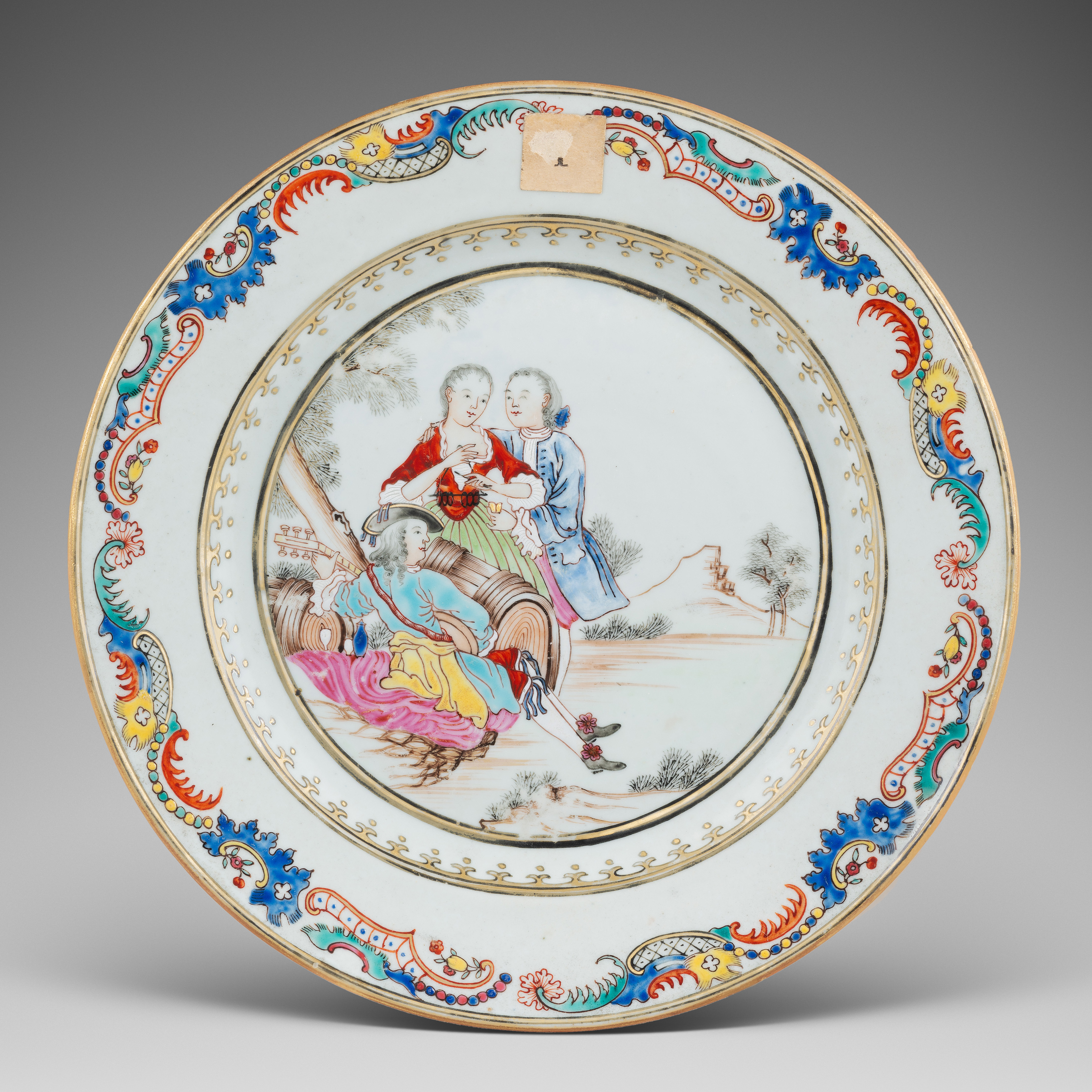 A Chinese famille rose 'Autumn' plate with troubadors. Qianlong
Painted to the center of the plate with a large roundel with three 'troubadours', with one, a dandified male wearing flowing locks, tricorn hat, billowing robes, ribboned stockings and smart shoes, seated on rockwork and strumming at his lyre alongside barrels and two standing figures, one female, playing a triangle, the other male, with castenets, set in a simple landscape below spearheads at the well and brightly enameled rocaille border at the rim, the reverse plain.
Country:

China

Period :

Qianlong period (1736-1795)

Material:

Porcelain

Dimension:

8.66 in. (23 cm)

Reference :

D363

Status:

sold
Provenance
L. Damon (1860-1947), Paris
Related works
For other plates of this design, see Cohen & Cohen, Tyger Tyger!, Antwerp, 2016, pp. 126-127, no. 56; and Cohen & Cohen, The Golden Gate Collection, Antwerp, 2018, p. 80, no. 60.
For three others examples, see William Sargent, Chinese Porcelain in the Conde Collection, 2014, p. 226, no. 82.
For another example, see Hervouët & Bruneau, La Porcelaine des Compagnies des Indes à Décor Occidental, 1986, p. 188, no. 8.15.
Notice
The print source for this design was identified by William Motley in 2019. The image is from an engraving of Autumn from The Seasons by Johann Georg Hertel of circa 1750, based on four gouaches by Johann Esaias Nilson (1721-1788). Two others from the series, Spring and Summer are also found on Chinese export items. The unusual rococo border decoration on the plates is also found framing the prints. The design however is clearly based on the fashion in the eighteenth century for a genre of painting, fetes galantes, popularized by artists like Watteau and Lancret, in which many figures populate an idyllic pastoral landscape and enjoying music, reading or picnics.
Photography : Jérémie Beylard