A Chinese sugar pot with a european subject. Qianlong period.
Decorated with an european subject in famille rose enamels, with a "scene galante".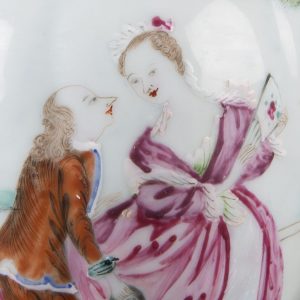 Country:

China

Period :

Qianlong (1735-1795), circa 1760

Material:

Porcelain

Dimension:

4.13 in (10.5 cm)

Reference :

A51

Status:

sold
Provenance
-Galerie S. Magali (Stockholm).
-Hervouët Collection, Morlaix, Galerie des ventes, 23 mai 1988, lot 438.
Related works
François et Nicolas Hervouët, La porcelaine des Compagnie des Indes à décor occidental, sujets littéraires, anecdotiques, satiriques et historiques (illustrated p. 197).
Notice
The decoration is painted after a painting of Jean-Baptiste Pater (1695-1736), dated 1733, « Le baiser rendu » and presently at the Portland Art Museum (U.S.A, numéro d'inventaire 78.20). A similar painting is in the collection of the Musée Cognacq-Jay in Paris. The painting was ungraved during the 18th century. One of them was sended in China and used for the realisation of this sugar pot. The painting is an illustration of the fable of La Fontaine « Le baiser rendu » :
Guillot passait avec sa mariée.
Un gentilhomme à son gré la trouvant:
Qui t'a, dit-il, donné telle épousée ?
Que je la baise à la charge d'autant.
Bien volontiers, dit Guillot à l'instant.
Elle est, Monsieur, fort à votre service.
Le Monsieur donc fait alors son office;
En appuyant; Perronnelle en rougit.
Huit jours après ce gentilhomme prit
Femme à son tour: à Guillot il permit
Même faveur. Guillot tout plein de zèle:
Puisque Monsieur, dit-il, est si fidèle,
J'ai grand regret et je suis bien fâché
Qu'ayant baisé seulement Perronnelle,
Il n'ait encore avec elle couché.