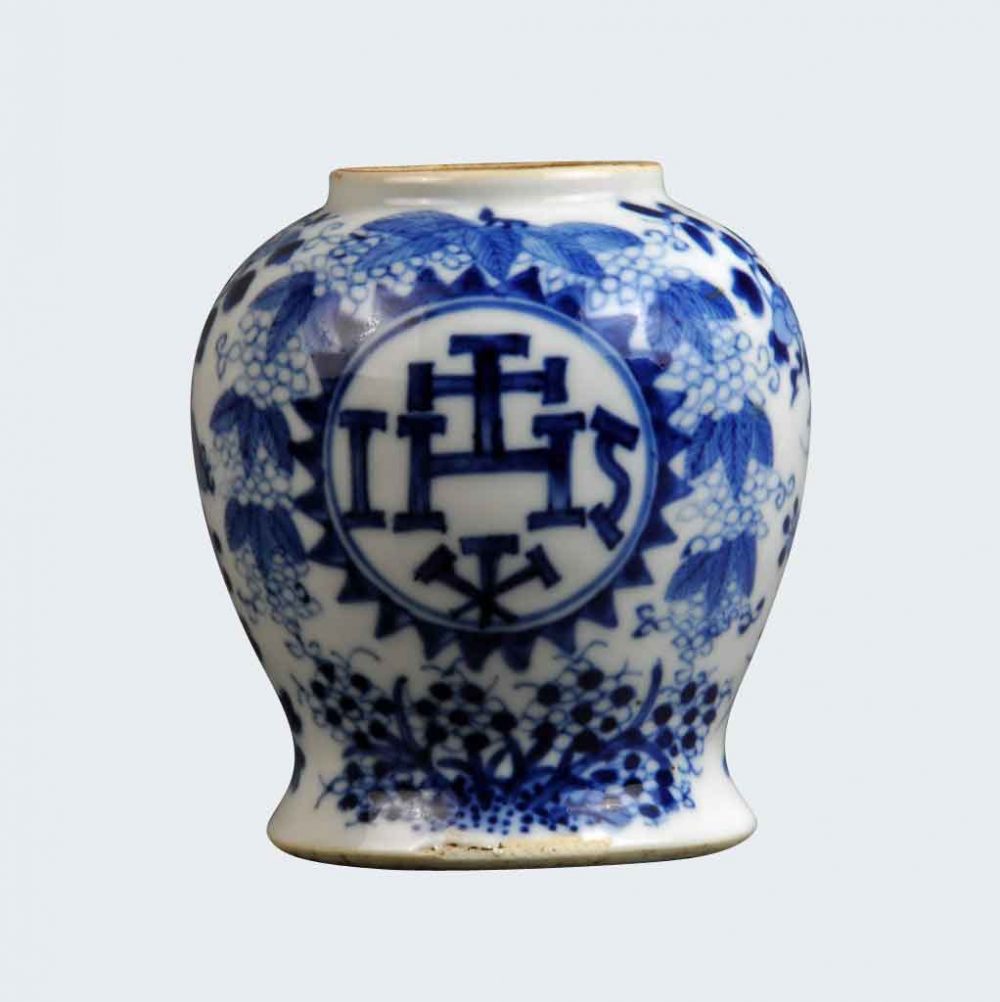 A Chinese Jesuit baluster jar for the Portuguese Colonial Market. Circa 1820.
Decorated in underglaze blue, with the Jesuit monogram which incorporates the IHS Christogram
Country:

China

Period :

Jiaqing (1796-1820)

Material:

Porcelain

Dimension:

4.33 in. (11 cm)

Reference :

A33

Status:

sold
Related works
Vases of similar form and with similar Jesuit monograms and which date to the nineteenth century can be found in the Museu de Macau in Lisbon. Examples from that collection are illustrated in de Castro (2007).
N. de Castro, Chinese Porcelain at the Time of the Empire: Portugal/Brasil, ACD Editores, 2007
M. Beurdeley, Porcelain of the East India Companies, Barrie and Rockliff, 1962.
For a similar jar, see Christie's NYC, The Hodroff Collection, Part II Chinese Export Porcelain From The Collection Of Leo & Doris Hodroff, 23 january 2008, lot 345.
Notice
The Jesuits played a crucially important role in European advances into Asia. The discovery by the Portuguese of a sea route to Asia and the east allowed the Company (or Society) of Jesus, founded by Ignatius Loyola in 1534 for the proselytising of Christianity and the conversion of non-Christians, to greatly extend their reach. Spanish-born Francis Xavier was perhaps the most famous Jesuit Fathers. He travelled to Africa, India, Malacca, Eastern Indonesia, Japan and China to spread Christianity and to galvanise the small communities of Christians already in place in those locations.
The Jesuits who established missionary activities, churches and schools in the Spanish and Portuguese colonies around the world, from South America to Goa in India to Macau in China and the Philippines, ordered from China a variety of porcelain items featuring Jesuit themes and symbols for use in their churches and missions.
The Christogram 'IHS' denotes the three letters of the Greek name of Jesus, iota-eta-sigma. The Greek letter iota is represented by I, and eta by H, while sigma is either in its lunate form, represented by C by S. Because the Latin-alphabet letters I and J were not distinguished until the seventeenth century, 'JHS' is equivalent to 'IHS', 'JHS' being the rendering that has been used on these baluster vases.