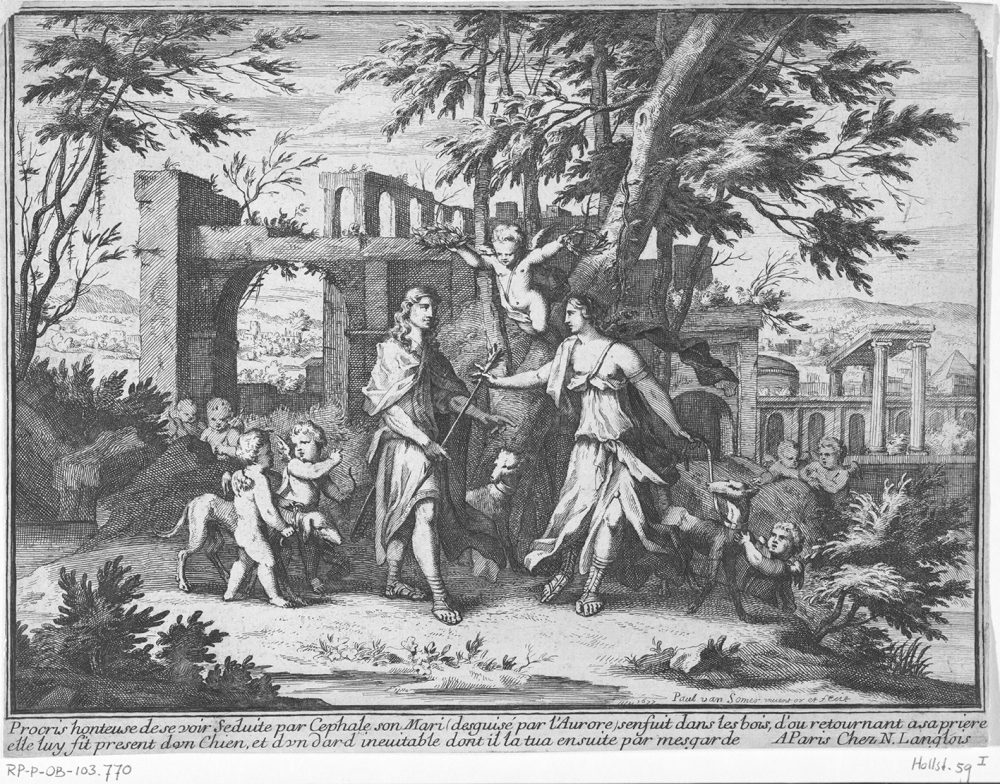 A Chinese & Japanese Dutch-decorated mythological "Cephalus and Procris " cup and saucer. Qianlong period
The saucer in Chinese porcelain, the cup in Japanese porcelain, enamelled with the figure of Procris giving to Cephale a spear and the dog Lailaps, the top of the rim inscribed : "PROKRIS..ET..CEFALES..BEVESTIGE..HAAR..
ONGELUKIGE..MINNE.MET..SCHENKACIEN".
Country:

China

Period :

Qianlong (1736-1795)

Material:

Porcelain

Dimension:

5.51 in. (saucer/14 cm)

Reference :

C120

Status:

sold
Notice
Athenians localised the myth by asserting that Cephalus was married to Procris, a daughter of Erechtheus, an ancient founding-figure of Athens.The goddess of dawn, Eos, fell in love with him and kidnapped Cephalus when he was hunting. The resistant Cephalus and Eos became lovers, and she bore him a son named Phaethon. However, Cephalus always pined for Procris, causing a disgruntled Eos to return him to her, making disparaging remarks about his wife's fidelity. Bribed by a golden crown, his wife admitted Pteleon to her bed, and being detected by Cephalus she fled to Minos. Procris later on came back to Athens and once reunited with Procris after an interval of eight years. Cephalus tested her by returning from the hunt in disguise, and managing to seduce her. In shame Procris fled to the forest, to hunt with Artemis. In returning and reconciling, Procris brought two magical gifts, an inerrant javelin that never missed its mark, and a hunting hound, Laelaps that always caught its prey. The hound met its end chasing a fox (the Teumessian vixen) which could not be caught; both fox and the hound were turned into stone. But the javelin continued to be used by Cephalus, who was an avid hunter. Procris then conceived doubts about her husband, who left his bride at the bridal chamber and climbed to a mountaintop and sang a hymn invoking Nephele, "cloud". Procris became convinced that he was serenading a lover. She climbed to where he was to spy on him. Cephalus, hearing a stirring in the brush and thinking the noise came from an animal, threw the never-erring javelin in the direction of the sound – and Procris was impaled. As she lay dying in his arms, she told him "On our wedding vows, please never marry Eos". Cephalus was distraught at the death of his beloved Procris, and went into exile in Thebes.
The painting of the tea bowl and the saucer probably after the print of Paul van Somer (circa 1677, published in Paris by N. Langlois).