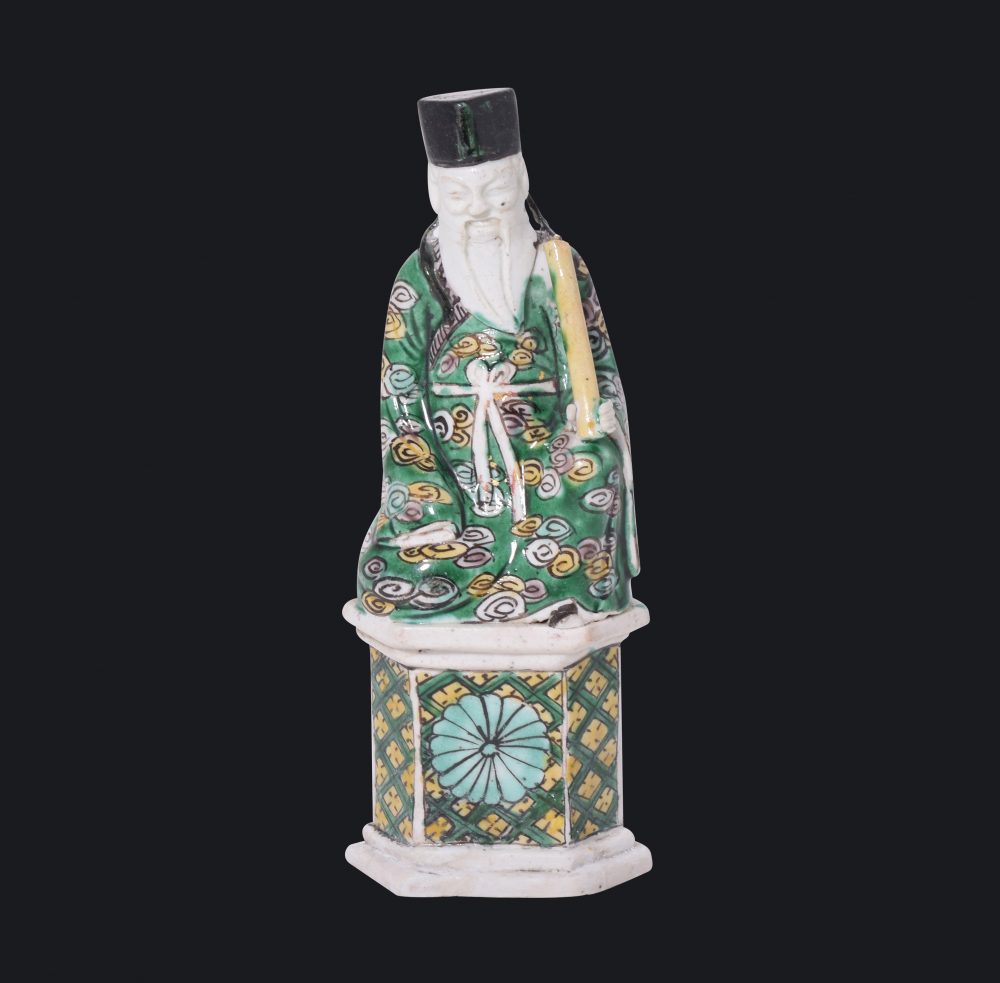 A Chinese figure of a scholar decorated with famille verte enamels on the biscuit. Kangxi Period.
Figure of an immortal seated on a hexagonal base, decorated in famille verte enamels on the biscuit, the face, beard and left hand covered with transparent lead glaze. Three sides of the base have geometrical patterns and rosettes in enamels ; the three sides at the back are undecorated except for a stylized flower or a lozenge in black beneath transparent glaze.
Country:

China

Period :

Kangxi (1662-1722)

Material:

Porcelain

Dimension:

6.10 in. (15.5 cm)

Reference :

C213

Status:

sold
Related works
An identical figure, formerly in the collection of R. May, is held on at the Rijkmuseum in Amsterdam (inv. No. AK-RBK 15872) and is illustrated by Christiaan J.A. Jörg in Famille Verte Chinese Porcelain in Green Enamels (p. 122, cat. 110). This figure is also illustrated by Jörg & Van Campen in Chinese Ceramics in the Collection of the Rijkmuseum, Amsterdam. The Ming and Qing Dynasties (cat. 215).
One very similar figure, from the Sowell Collection, is illustrated by Michael Cohen and William Motley in Mandarin and Menagerie, Chinese and Japanese Export Ceramic Figures (p. 55, 1.4). The authors suggest that this figure is a scholar.
For several figures, part from a pair, see Sotheby's London, 17 june 1998, lot 374 ; Christie's Amsterdam, 5 december 2000, lot 161.
Severals models of immortals, from the Dresden Collection, are published by W. Bondy in Kang-hsi, Eine Blüte-Epoche der chinesischen Porzellankunst (Munich, 1923, pp. 169-171)
Other models, from the Chinese Pavilion at Drottningholm, are published by A. Setterwall, S. Fogelmarck & B. Gyllensvärd in The Chinese Pavilion at Drottningholm (Malmö, 1974, pp. 167, 290).