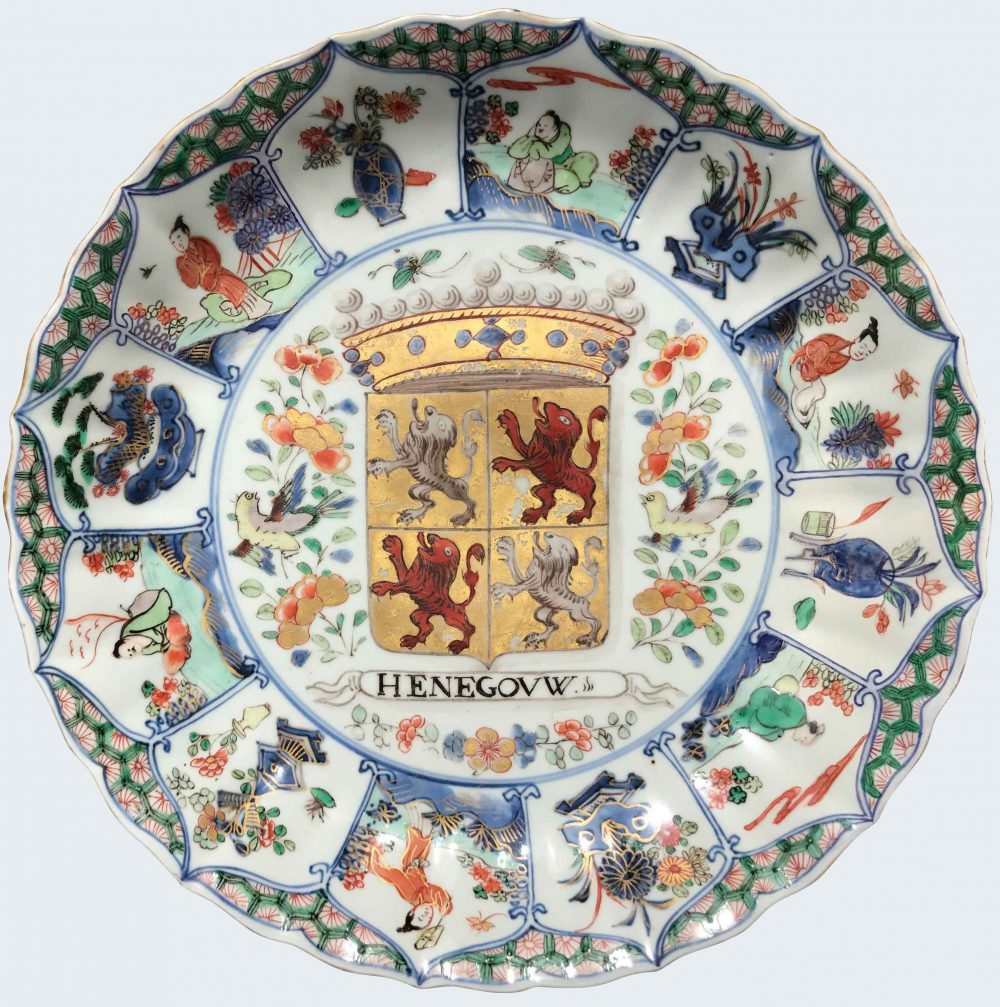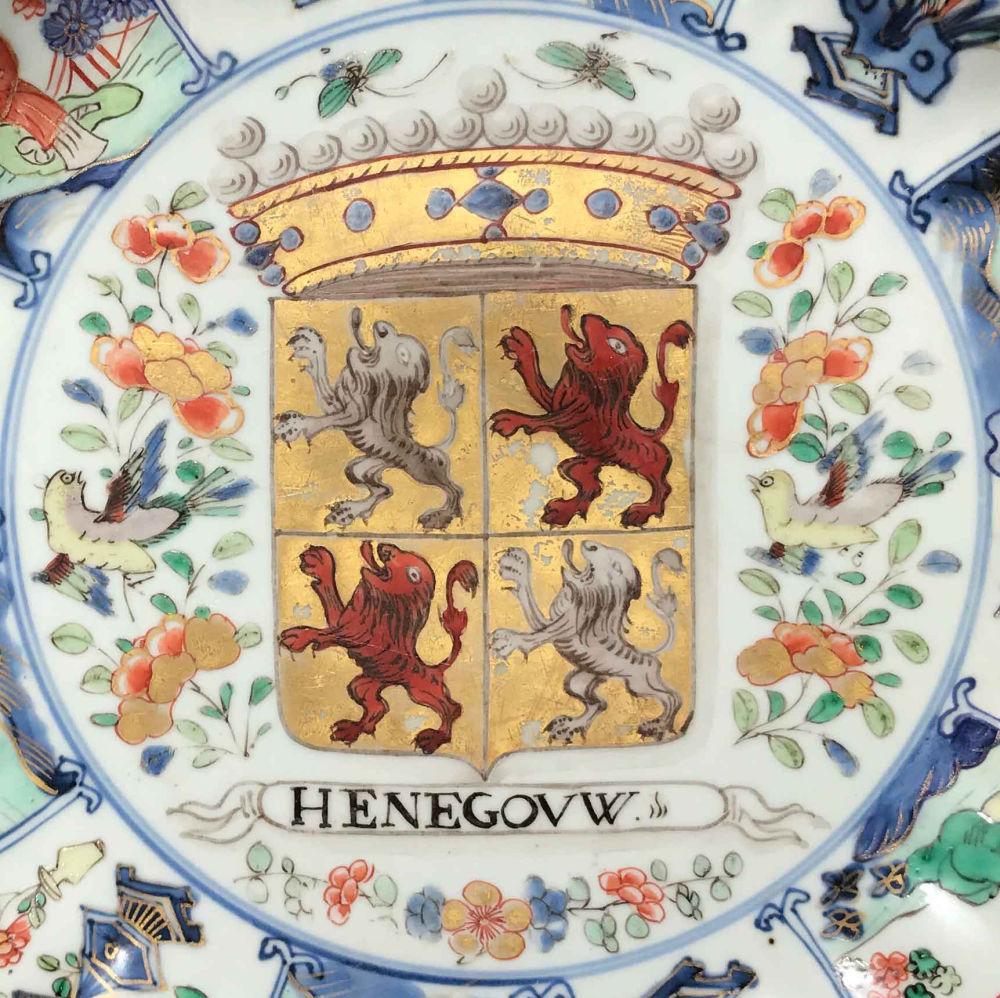 A Chinese famille verte armorial lobed "Province dish" with the arms of Hainaut. Kangxi period.
Painted in the famille verte palette and gilt, the center with the coat-of-arms of the Dutch province of Henegouwen (Hainaut), above the legend 'Henegovw' on a ground of birds, butterflies and flower-sprays, bordered by lotus-petal panels of figures in gardens alternating with vases and jardinières of flowers on a diaper-pattern ground.
Country:

China

Period :

Kangxi (1662-1722), circa 1700-1725

Material:

Porcelain

Dimension:

10.62 in. (27.5 cm)

Reference :

B541

Status:

sold
Related works
For the most complete set known of dishes and barber's bowls decorated with territorial arms, from the collection of R. A., see Jorge Welsh and Maria Antonio Pinto de Matos, The RA Collection of Chinese Ceramics: A Collector's Vision, Jorge Welsh Books, 2011, pp. 303-354.
Prof. Dr Christiaan Jorg discusses these types of plates in depth in Famille Verte: Chinese Porcelain in Green Enamels (BAI-Schoten – Belgium, Groninger Museum, 2011, pp. 163-173).
One dish from this serie is illustrated by David S. Howard in The Choice of the Private Trader (p. 48-9, pl. 16 & 17).
Notice
There seems to be no doubt that these territorial armorial dishes were specially commissioned, probably by the Dutch or Flemish, for a market which covered the old Low Countries, which clunded the current Low Countries, Belgium and Luxembourg. They were possibly not commissioned by the VOC, the Dutch East India Company, but rather privately commissioned, probably by crew member of ships of the company, over a long period of time as suggested by the different palettes used in the decoration – famille verte, Chinese Imari and famille rose.
As for the design which served as a model for the coats of arms on the known sets, some autors suggest that they were based on geographic charts of the "Seventeen provinces" which following the partition into the Northern and Southern Low Countries, continued to consider and represent the Low Countries as a single political entity until 1794. Dishes and barber's bowls are the only known shapes with this type of armorial decoration. They bear the coats of arms of sixteen Dutch and Flemish princes, which correspond to the titles of Charles V : the duchies of Brabant, Limburg, Luxembourg and Gelderland, the counties of Flanders, Artois, Hainaut, Holland, Zeeland, Namur and Zutphen, as well as the lordships of Frisia, Malines, Utrecht, Overijssel and Groningen. To these names must be added the cities of Amsterdam, Louvain and Rotterdam, as well the Kingdoms of England and France. These pieces were intended for collection and display and not for use, although a number of barbers' bowl are recorded.