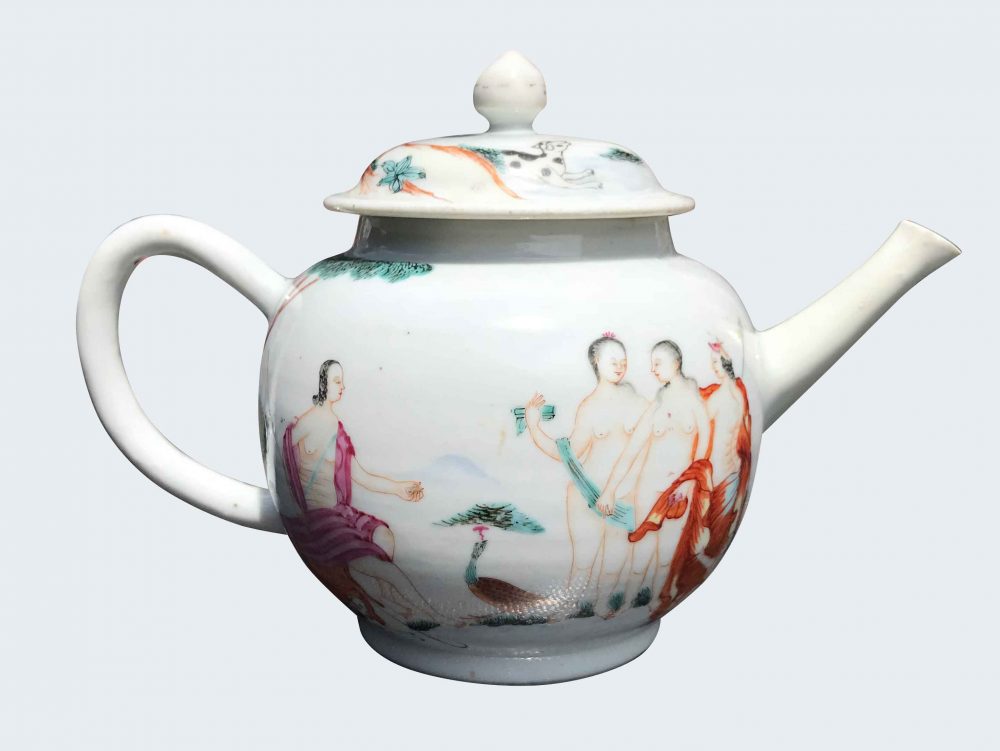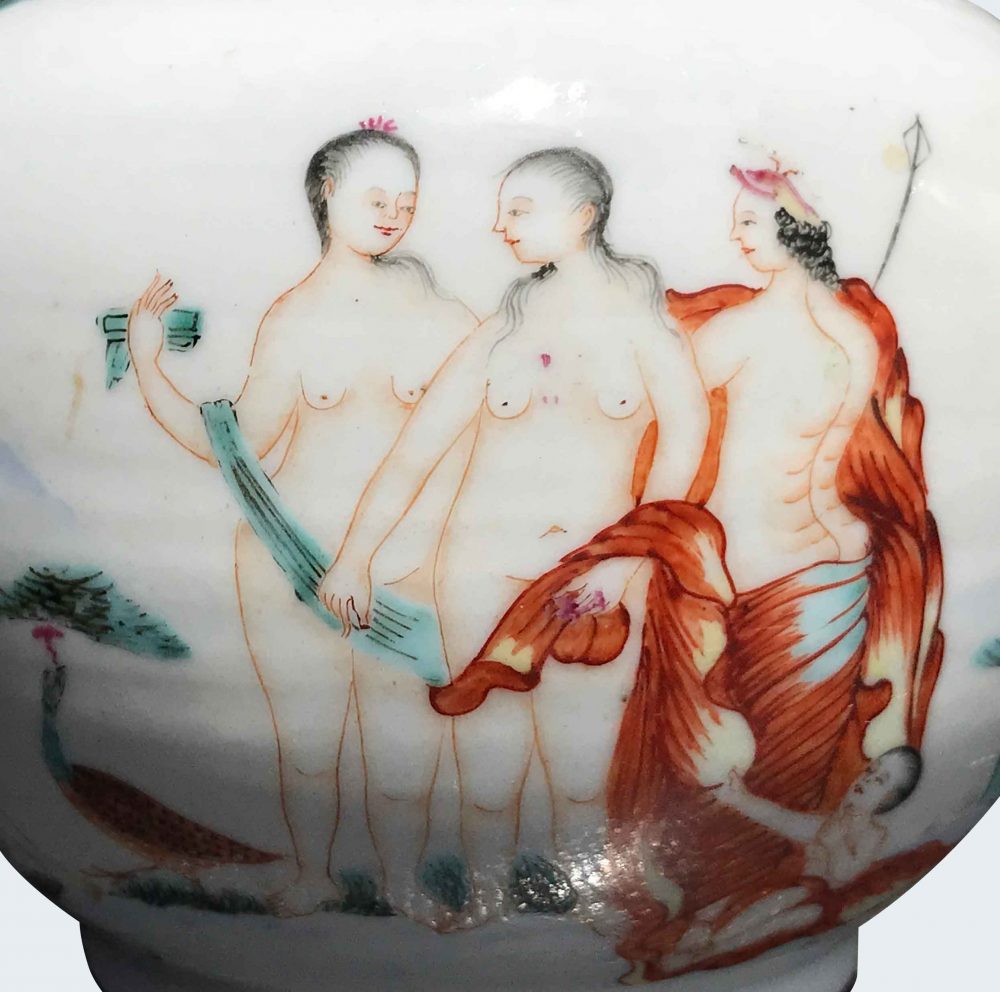 A Chinese famille rose teapot depicting the Judgment of Pâris. Qianlong period.
Of globular form, painted on either side with Paris seated wearing a puce robe, with a small dog beside him, and offering a green object to Aphrodite who is flanked by Hera and Athena, and with Cupid looking on, Hera and Aphrodite only covered by either a shawl or a fan, Athena dressed in long iron-red and yellow robes, at their feet a bird, pine trees enclosing the scene, the cover with birds in flight, a similar large bird and pine and finished with a bud finial, the base glazed.
Country:

China

Period :

Qianlong (1735-1795), circa 1745

Material:

Porcelain

Dimension:

5.11 in. (13.5 cm)

Reference :

B869

Status:

sold
Related works
A very similar example of a teapot is in the collection of the Peabody Essex Museum and illustrated by William R. Sargent in Treasures of Chinese Export Ceramics – From the Peabody Essex Museum, 2012 (pp. 298-299, no. 157).
This is the most popular European design on Chinese porcelain of the 1740's, but this decoration painted on teapot is a bit unusual. The scene depicts King Priam's son Paris judging who of the goddesses Hera, Athena and Aphrodite was the most beautiful – he chooses Aphrodite by handing her an apple.
Many different versions of this Chinese Porcelain pattern occur, using different colours schemes, arrangements of the scene, as well as numerous border styles, including one with views of Plymouth. The central scene does not vary much, unlike the border designs. It is therefore more than likely there were several different Chinese export porcelain services produced over a number of years reinterpreting this design, the period of production ranged from the mid 1740`s to possibly as late as the 1760`s.
A plate with this design was published by D.F. Lunsingh Scheuleer in Chinese Export Porcelain, Chine de Commande (Faber and Faber, 1974, pl. 216).
A teabowl and saucer were published by David S.Howard in The Choice of the Private Trader, The Private Market in Chinese Export Porcelain illustrated from the Hodroff Collection (Zwemmer,1994, p. 180, pl. 205).
For a further example, see : Chinese Export Porcelain, Elvehjem Museum of Art (C. Brawer, Elvehjem Museum of Art, University of Wisconsin-Madison,1992, p. 139, pl. 112).
Other examples were published by Francois & Nicole Hervouet in La Porcelaine des Compagnies des Indes à décor occidental (Flammarion, 1986, p. 310).
A plate was sold at Christie`s London, The J. Louis Binder Collection of Chinese Export Art, 17 june 2003, lot 121.
Notice
The story depicted on this piece is the origin of what resulted in the Trojan War according to one version of Greek mythology. The goddesses Hera, Aphrodite, and Athena were squabbling over who was most beautiful. Paris, a prince of Troy, the son of Priam and the world's post handsome man, was given the task of judging among them in order to bestow the prize, the golden apple of discord inscribed with the legend kallisti (for the fairest one). Ever since its earliest depictions, this particular subject has been treated repeatedly in many media.