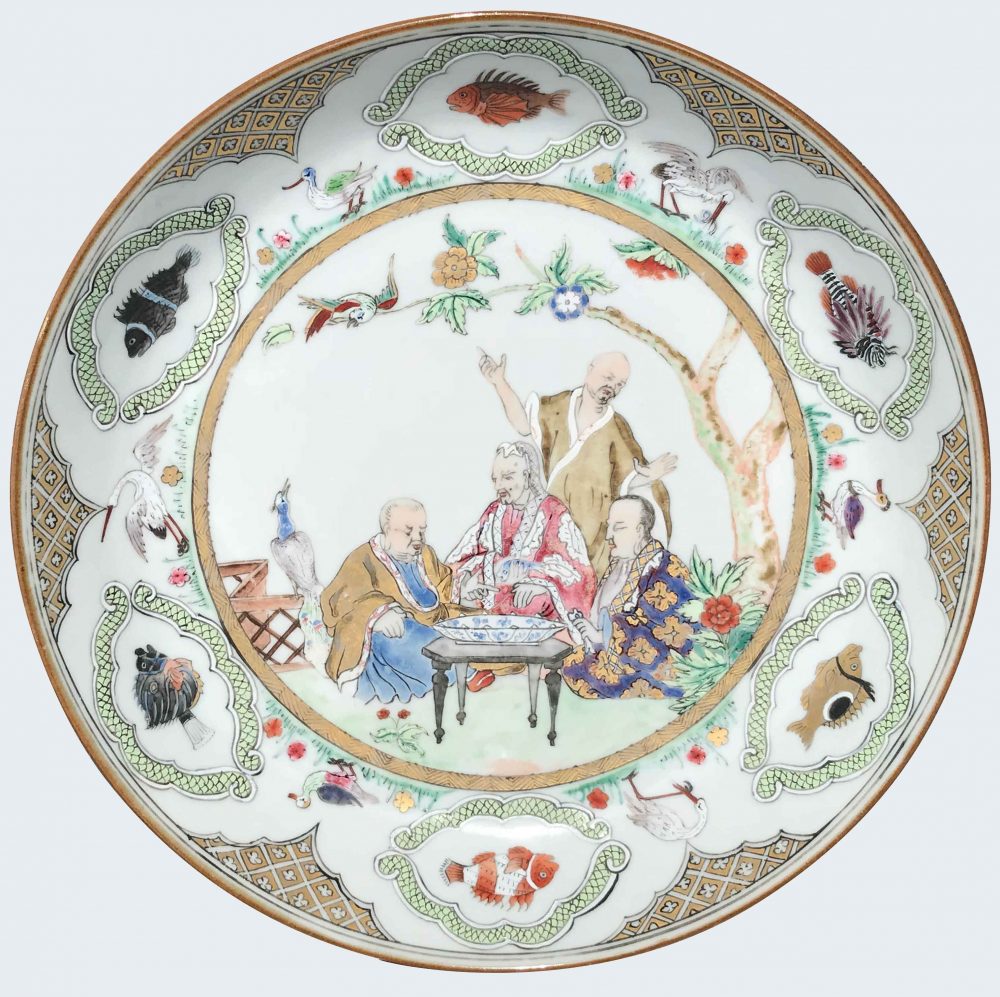 A Chinese famille rose pronk "Doctors visit" saucer dish. Qianlong period
Enamelled at the centre with a design by Cornelis Pronk, three figures seated around a Ming-style blue and white dish on a Western table, two holding a fish, with a fourth figure gesturing up at a bird perched in an overhanging branch, beside a peacock on the terrace balustrade, the wide border with six 'fish' panels, divided by water-fowl, all reserved on a gilt trellis-pattern ground.
Country:

China

Period :

Qianlong (1735-1795), circa 1740

Material:

Porcelain

Dimension:

8.66 in. (22 cm)

Reference :

B856

Status:

sold
Related works
See C.J.A. Jörg, Pronk Porcelain, Groningen, 1980, pp. 26-30 for a discussion on this design.
Notice
This design made by Pronk in 1735 was the second drawing he made for the Dutch East India Company. Due to the expense of transferring the subject onto porcelain, the volume of Pronk's work is small and only two orders of this design are believed to have been placed: the first was carried to the Netherlands on the Hogersmilde at the end of 1738, followed by the second order in the next year. This may explain the variation in border design: some dishes and plates have one fish in a cartouche, as in the present lot, and some one or tree. A further simplified version of the design, which excludes the standing man, was sent to Canton in 1739.
The original watercolor design survives in the Rijksmuseum, Amsterdam. While the experiment in commissioned designs was shortly discontinued, dinner sets, tea pieces and large jars and covers were made in "The Doctors".