A Chinese famille rose plate painted with carps. Yongzheng period.
Painted in famille rose enamels, with a basket of flowers and a border of carps swimming among water weeds.
Country:

China

Period :

Yongzheng (1723-1735)

Material:

Porcelaine

Dimension:

22 cm

Reference :

B206

Status:

sold
Related works
A large dish with the same design is in the collection of the Victoria and Albert Museum (London, C.1391-1910).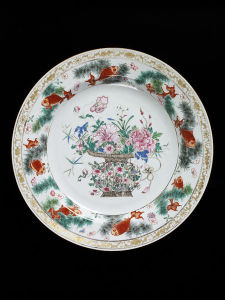 Notice
The soft pink is derived from gold and believed to have been introduced into China from Europe around 1720. Many of the other pigments are muted by the addition of the newly invented opaque white enamel. In the early 18th century, the taste for Chinese blue and white porcelain was declining, and colourfully decorated ware became popular.