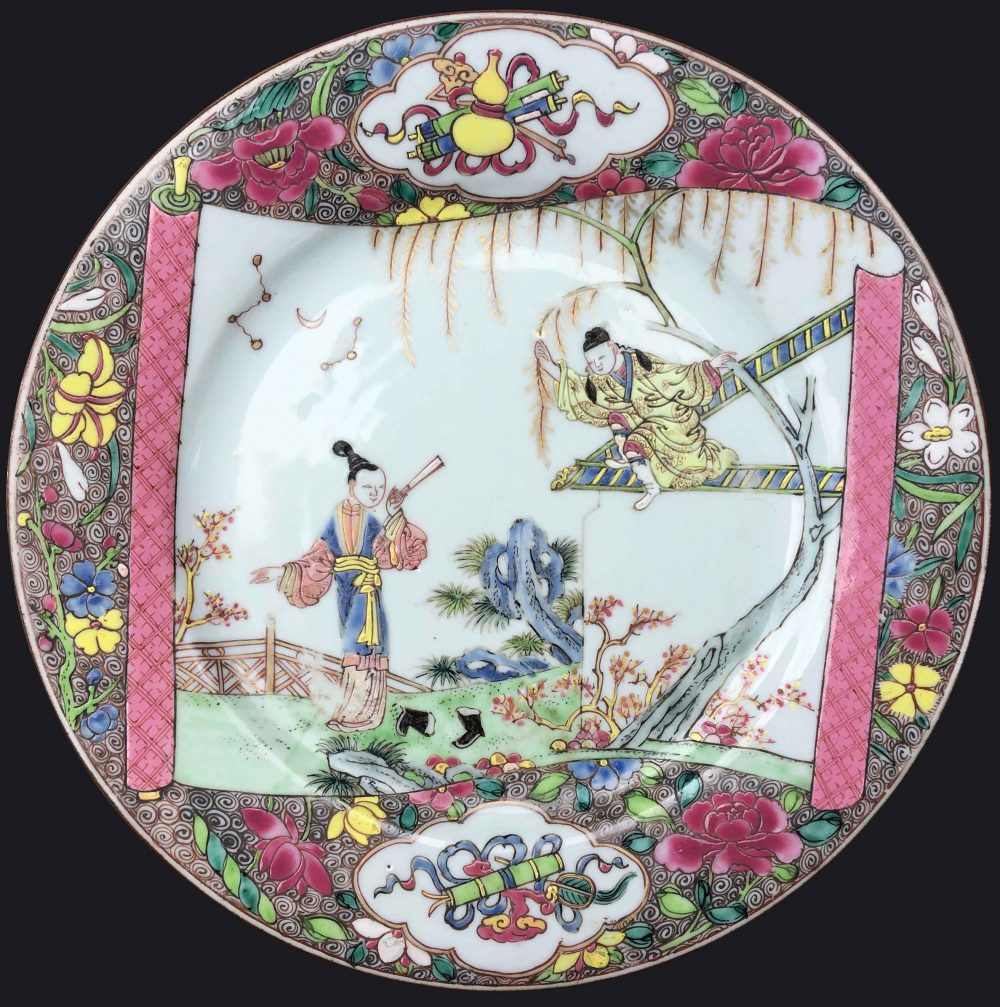 A Chinese famille rose plate depicting a scene from The Romance of the Western Chamber. Yongzheng period.
Painted in famille rose enamels and decorated with a scroll-form panel painted with a scene from Romance of the Western Chamber, surrounded by flowers and shaped panels enclosing auspicious emblems, on dense scroll ground.
Country:

China

Period :

Yongzheng (1723-1735)

Material:

Porcelain

Dimension:

9 in. (23 cm)

Reference :

B445

Status:

sold
Related works
For a plate with this pattern, see Sotheby's Londres, Chinese Export Porcelain and Works of Art, 3 novembre 1992, lot 127.
Notice
The scenes depicted here reference the woodblock prints used to illustrate the text from the famous Yuan dynasty play from the 13th-14th century, Xi Xiang Ji or 'The Romance of The Western Chamber'. The woodblock prints inspired Chinese porcelain painters for generations and the story tells the tale of the romance between the impoverished scholar Zheng Sheng and the beautiful Cui Yingying. Her mother refuses to allow her daughter to marry him and she sends the scholar away to seek scholarly success. Zheng Sheng later helps rescue Yingying from a group of bandits but although her mother had offered her daughter's hand in marriage to anyone who rescues her, she reneges on her promise. In the end, the couple marry. This scene depicted here show the couple's clandestine meetings.