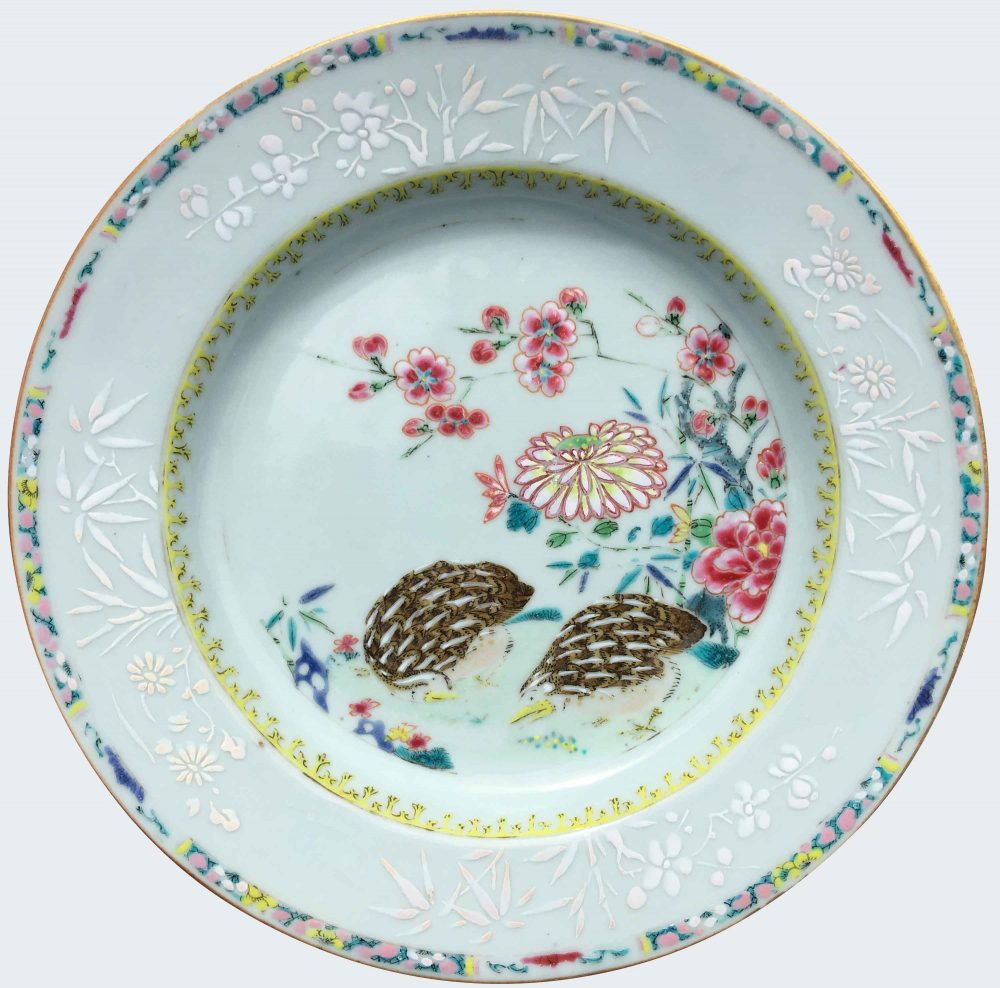 A Chinese famille rose plate decorated with two quails. Yongzheng period.
Delicately enamelled to the centre with two quails on a grassy mound beside prunus, chrysanthemum, peony and bamboo within a yellow spearhead pattern border, surrounded in bianco-sopra-bianco with bamboo, prunus and chrysanthemum sprays in bianco-sopra-bianco below the cracked-ice pattern rim enriched with flower-heads and floral cartouches.
Country:

Chine

Period :

Yongzheng (1723-1735)

Material:

Porcelain

Dimension:

9 in. (23 cm)

Reference :

B474

Status:

sold
Related works
A similar plate is in the collection of the Victoria & Albert Museum (London), inventory number 1985-1855.
Another plate is in the collection of the Ashmolean Museum (Oxford) and published by G. Reintlinger in Ashmolean Museum : Eastern Ceramics (p. 58, cat. 135).
Another plate was published by Alberto Varela Santos, 100 years of Chinese Export porcelain, 2014, p. 95.
For an identical plate, see Christie's London, 30 june 2015, lot 4.
Notice
The "quail" pattern is based on Japanese Kakiemon decoration and was associated with autumn, moonlight and the grassy plains of Musashino. By the 17th century, the motif had become quite common and was later copied by Meissen, Chantilly and Delft. For further information about the "quail" motif, see Ayers, Impey & Mallet, Porcelain for Palaces, pp. 296-303.