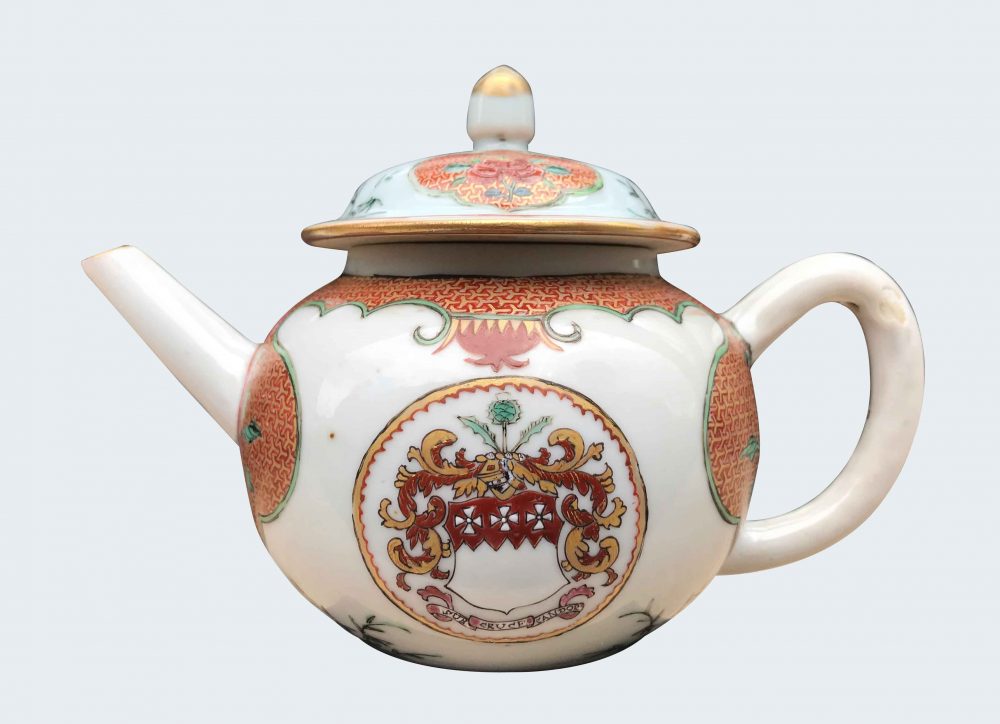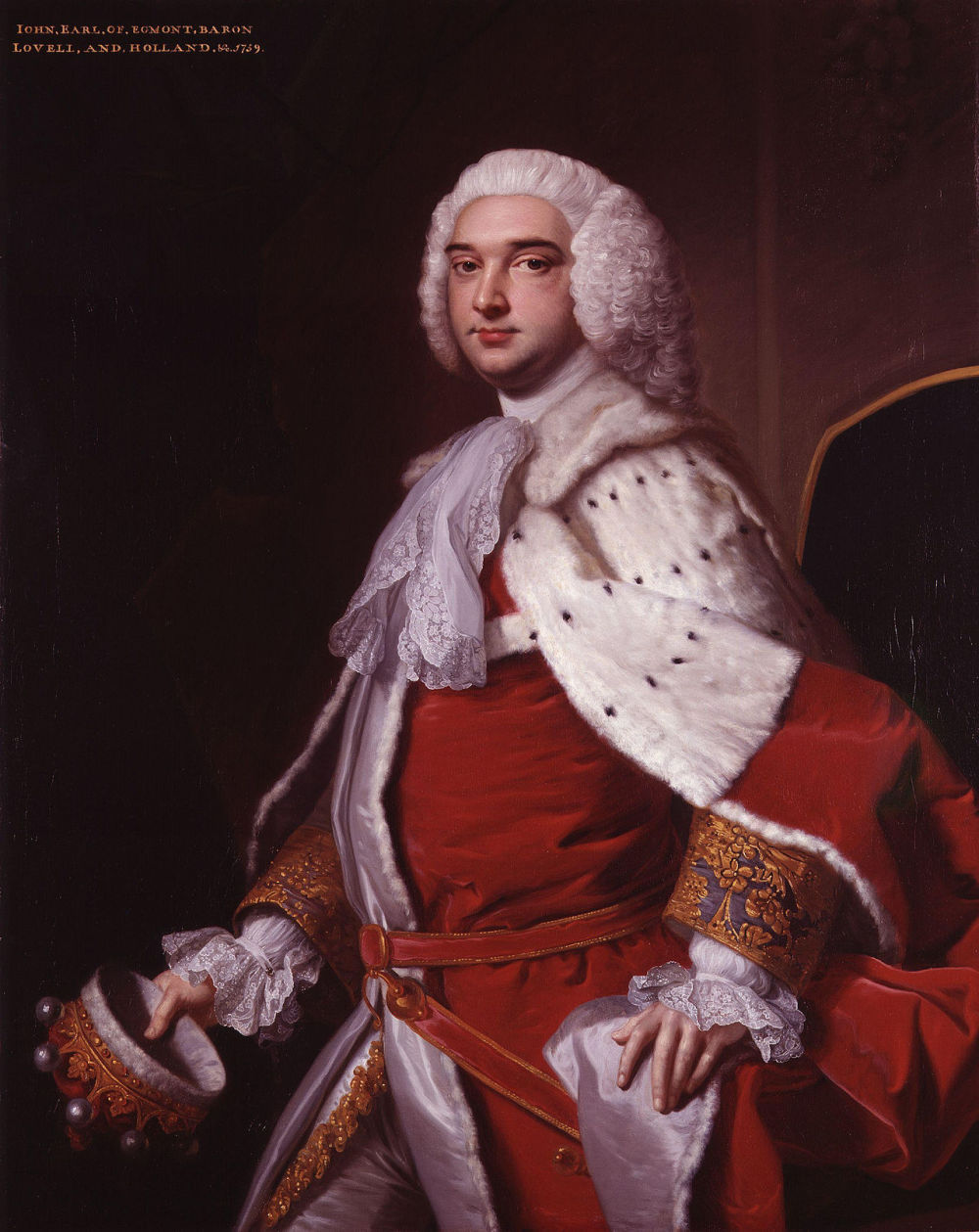 A Chinese famille rose armorial teapot for the English Market (John Perceval, 2nd Earl of Egmont). Yongzheng period.
Decorated in the famille rose palette, with the arms of Perceval, Argent on a chief indented gules three crosses pattée of the field; with crest, A thistle erect leaved proper, and the motto"Sub crude candor".
Country:

China

Period :

Yongzheng (1723-1735), circa 1730

Material:

Porcelain

Dimension:

4.72 in. (12.5 cm)

Reference :

B714

Status:

sold
Related works
The tea box from this set is illustrated by David Sanctuary Howard in Chinese Armorial Porcelain, 1976, vol. II, E12.
Notice
This teapot comes from one of the seven services ordered by the Perceval family. Sir John Perceval, 5th Baronet, MP for Cork (1703), and for Harwich (1722-1734), was created an irish peer as Viscount Perceval in 1723. In 1732 he was appointed the first President of the State of Georgia and in 1734 was raised to the Earldom of Egmont. He had succeeded his brother in the baronetcy in 1691 at the edge of eight, and the the arms ont this set are very similar to his bookplate in the Francks Collection engraved "Sir John Percevale (sic) Baronet of Burton in the County of Cork in Ireland. 1702". He married in 1710 Catherine, daughter of Sir Philip Parker, 2nr Baronet of Erwarton, and had on only son, John, born in 1711 and baptized at the Palace of Westminster.
Until his father was raised to the Earldom of Egmont in 1734, John Perceval was a gentleman without a title and it seems certain that this set was made for him. In 1734, he took the courtesy title of Viscount Perceval as the eldest son of the Earl, and he later succeeded as 2nd Earl of Egmont in the Peerage of Ireland at his father's death in 1748.
Perceval sat in the Irish House of Commons for Dingle between 1731 and 1749. In April 1748, he was created Gentleman of the Bedchamber to the Prince of Wales. He was made a Privy Counsellor in January 1755. He sat in the Parliament of Ireland for Dingle (1731–49) and in the House of Commons for Westminster (1741–47), Weobley (1747–54) and Bridgwater(1754–62). In 1762 he was created Baron Lovel and Holland, of Enmore in the County of Somerset, in the Peerage of Great Britain, which gave him an automatic seat in the House of Lords. He was appointed joint Postmaster-General for 1762-3 alongside Robert Hampden, 4th Baron Trevor and served as First Lord of the Admiralty from 1763 to 1766. From 1751 to 1757, he designed and created Enmore Castle at Enmore in Somerset, which received 'the dismissive mockery of Horace Walpole'.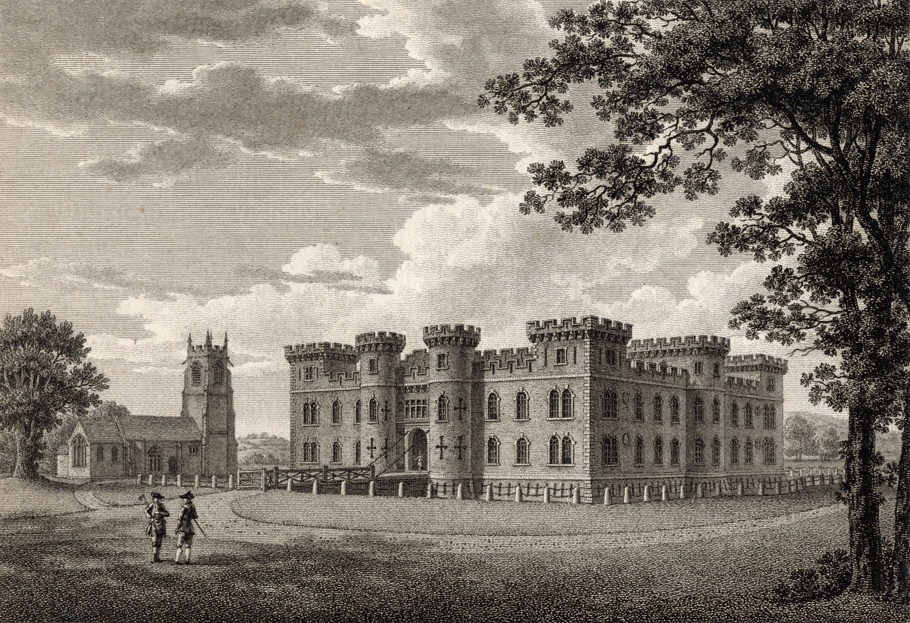 He married firstly in 1737 Catherine Cecil, daughter of the Earl of Salisbury and died in 1770 at Pall Mall, London, aged 59. His youngest grandson was Spencer Perceval, Prime Minister (1809-1812).