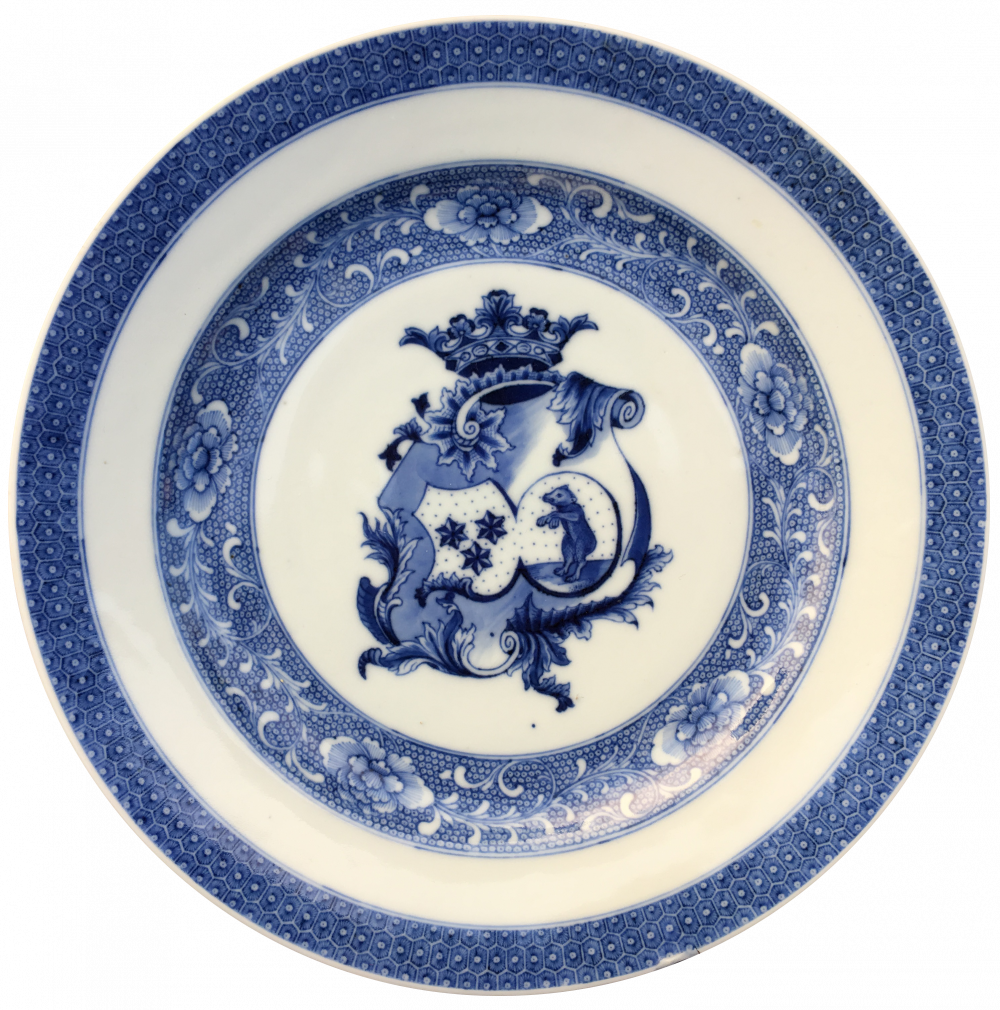 A Chinese export armorial plate for the Dutch market (Greven). Qianlong period.
Painted in underglaze blue, with the arms of Greven and Gronard(t) side-by-side.
Country:

China

Period :

Qianlong (1735-1795)

Material:

Porcelain

Dimension:

22,7 cm

Reference :

B083

Status:

sold
Related works
A plate is in the collection of the Rijkmuseum à Amsterdam (AK-NM-13390).
Other plates are illustrated by Scheurleer in Chine de Commande (pl. 252), by Dr. J. Kroes in Chinese Armorial Porcelain (pp. 191-2), and in Chinese armorial for the Dutch market : Chinese porcelain with coats of armes of dutch families (p. 191-192, cat.nr. 107).
A tureen, from the collection of Léo and Doris Hodroff, is in the collection of the Peabody Essex Museum and is illustrated by William R. Sargent in Treasures Chinese Export Ceramics from the Peabody Essex Museum (2012, p. 249, no. 124).
For a salt-cellar, see Sotheby's New-York, The collection of Khalil Rizk, 25 april 2008, lot 61.
For three plates, attributed to the van Leeuwaarden d'Utrecht and Peer de Bavaria, see Christie's New-York, 4/5 september 2002, lot 483.
For two tureens, two large dishes, two plates, attribued to the Peers of Barad and to the Maraschel de Forez, see Christie's Londres, 14 november 1984, lots 436-442.
For a pair of plates, see Sotheby's London, Chinese Export porcelain and works of art, 10 may 1994, lot 114.
Notice
Casparus Greven was a junior merchant in Banda Neira in 1758, who probably ordered this service when he married for the second time with Anna Jacoba Lea Gronard(t). She was the daughter of Frederick Gronard(t), who arrived in the East Indies in 1732 and served the V.O.C. in Amboyna. He became a merchant in Hila in 1750, and then in Pulau in 1754.