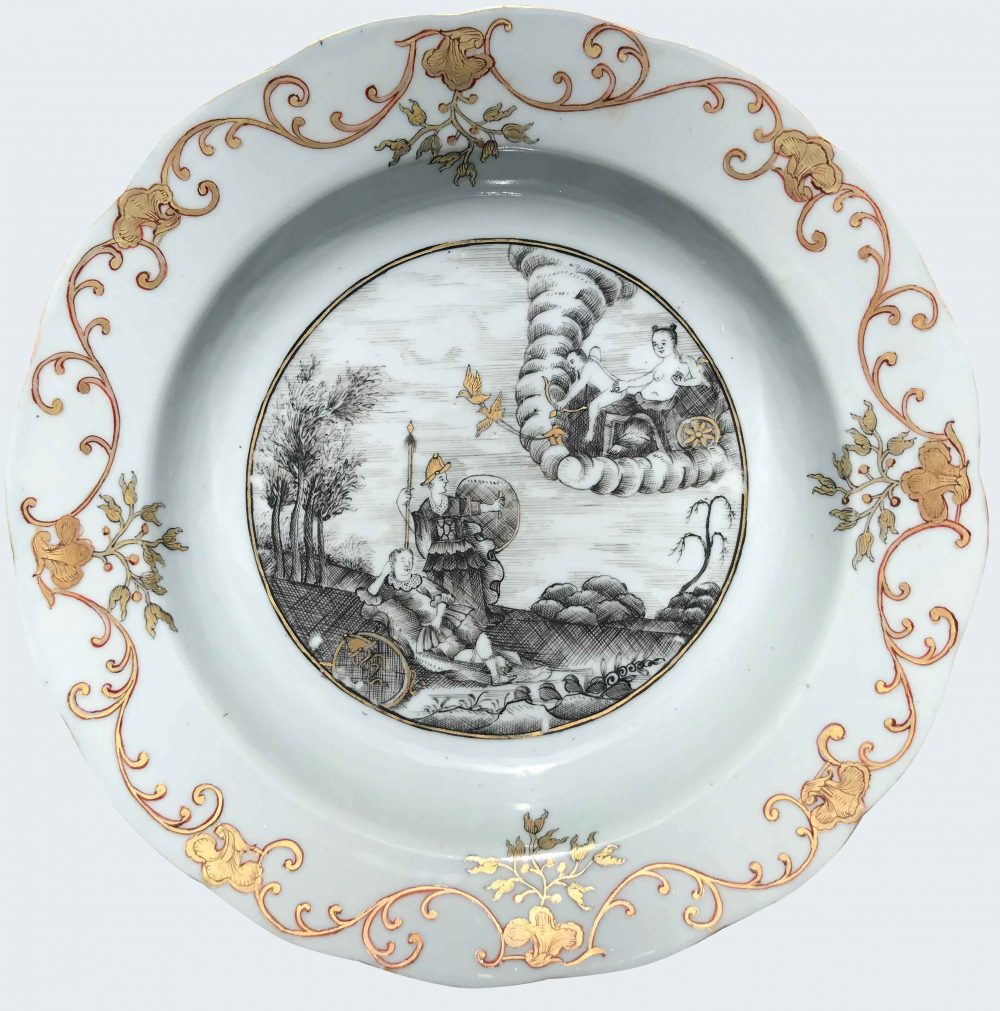 A Chinese "en grisaille" plate decorated with a mythological subject. Qianlong period
Of scalloped form, decorated en grisaille and in gold, with a central scene of an armed warrior standing over a resting companion and looking toward a winged figure who aims an arrow from a dove-driven chariot amongst clouds in which is also seated a scantily-draped female.
Country:

China

Period :

Qianlong (1735-1795), circa 1755

Material:

Porcelain

Dimension:

8.66 in. (22.5 cm)

Reference :

B750

Status:

sold
Related works
An identical plate is illustrated by Litzenburg in Chinese Export Porcelain in the Reeves Center Collection at Washington and Lee University (2003, no. 194).
Another plate is illustrated by Brawer in Chinese Export Porcelain from the Ethel Liebman and Arthur L. Liebman Porcelain Collection (1992, no. 113).
Another plate is illustrated by Godden in Oriental Export Market Porcelain and its influence on European wares (1979, pl. 142).
This decoration is also published by  Hervouët & Bruneau in La Porcelaine des Compagnies des Indes à décor occidental (1986, nos. 13.51 – 13.52).
This decoration is also published by Lunsingh Scheurleer in Chinese Export Porcelain – Chine de Commande (1974, Pl. 302-303)
Notice
This scene, often misidentified, depicts Minerva protecting the sleeping Telemachus from Cupid and Venus. It is based on Les aventures de Télémaque (1699) by François de Fénelon, the source for most postclassical treatments of the son of Ulysse. The episode in which Telemachus recounts his dream of seeing Venus "cleaving the clouds, drawn by two turtle doves" is one of the most famous passages in the Fénelon narrative. It soon became a popular subject for operas and tapestries as well for paintings and engravings.