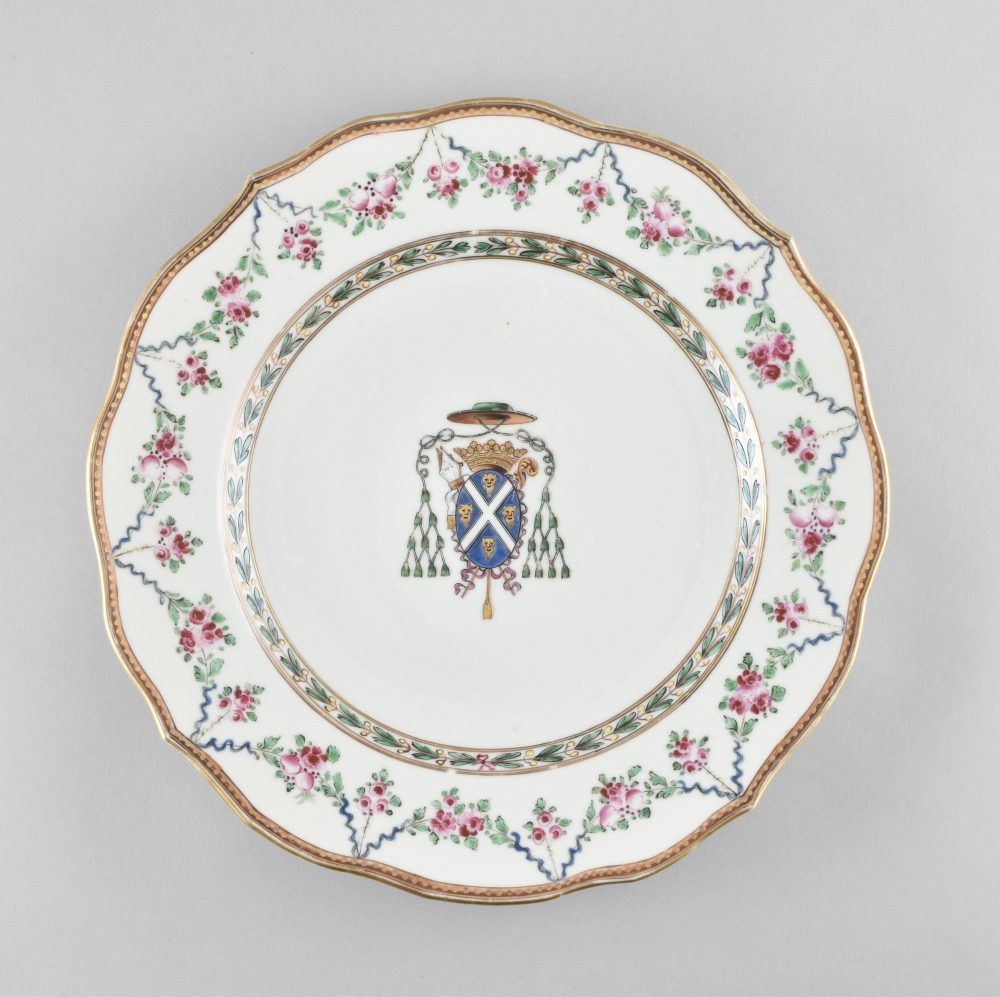 A Chinese armorial plate for the French market (Suffren de Saint-Tropez). Qianlong period
Decorated in the famille rose palette with a garland of flowers on the rim and the coat of arms of Louis-Jérome de Saint-Tropez.
Country:

China

Period :

Qianlong (1735-1795), circa 1765

Material:

Porcelain

Dimension:

8.66 in. (23 cm)

Reference :

C071

Status:

sold
Related works
A dish from this service is illustrated in Armoiries françaises et suisses sur la porcelaine de Chine au XVIIIe siècle (2009, p. 320).
Notice
This service was ordered for Louis-Jérome de Suffren de Saint-Tropez (Saint Cannat 1721 – Turin 1796). he was a doctor at the Sorbonne. He began his carreer as Canon in Aix-en-Provence, Provost of the chapter of Saint-Victor in Marseille and then Vicar General of the same diocese. In 1764, He was appointed Bishop of Sisteron (Provence), and then in 1784 he bacame Abbot at Saint-Vincent de Metz. He ended in 1789 as Bishop of Nevers. He refused to swear to the Republic and left the country for Turin in 1789 where he died.
A service bearing the same arms was ordered by one of his brothers, Jean-baptiste, marquis de Saint-Tropez. These two services must have been ordered at the same time, their decoration is almost alike.The third brother was Pierre-André, known as the bailli de Suffren, Rear-Admiral of the Navy. He died without heirs and never ordered an armorial service despite his numerous expeditions to the Far East.