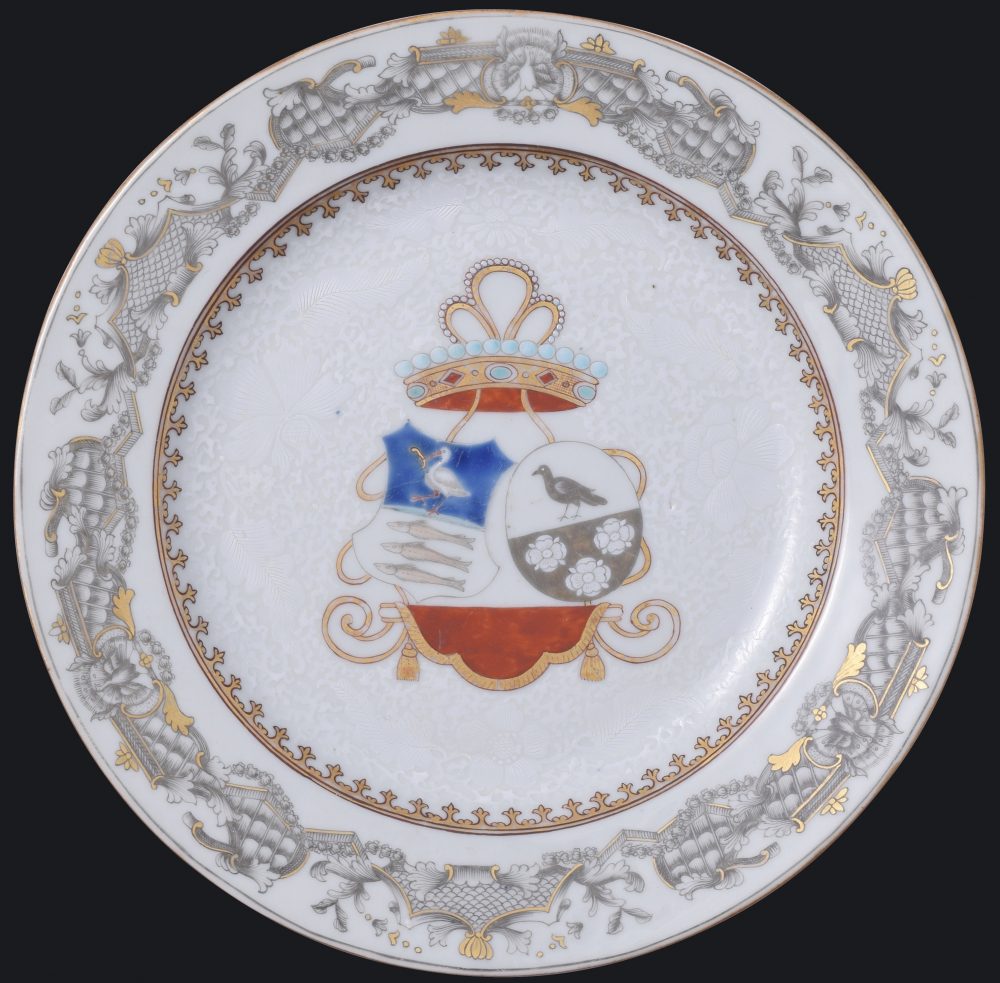 A Chinese armorial plate for the Dutch market (Van Schoonhoven and Geraerds accollee). Qianlong period.
Painted with the arms of Van Schoonhoven (from Rotterdam and Leiden) and Geraerds (Haarlem) accollee, a Continental coat-of-arms on bianco-sopra-bianco ground, the rims in the Du Paquier style, with elaborate strapwork and diaper pattern border in grisaille and gilt.
Country:

China

Period :

Qianlong (1735-1795), circa 1740-1745

Material:

Porcelain

Dimension:

8.66 in. (22.5 cm)

Reference :

B647

Status:

sold
Related works
For a pair of chargers (12.75 in.) of this service recently sold, see Christie's New York, The Collector : English and European Furniture, Works of Art & Ceramics & Silver, 18 october 2017, lot 852.
This service is also illustrated by Dr. J. Kroes in Chinese Armorial Porcelain For the Dutch Market: Chinese Porcelain with Coats of Arms of Dutch Families, 2007, p. 303, no. 218.
Others pieces from this service are presently in the collections of the Rijksmuseum (Amsterdam),  the Musées Royaux d'Art et d'Histoire (Brussels), the Princessehof (Leeuwarden), or the Museum Geelvinck Hinlopen Huis (Amsterdam).
Notice
Thijmon van Schoonhoven (1679-1716) was one of the first to bear these arms and his son commissioned this service. This variety of the Geraerds arms was borne for the first time in 1660's by Stephanus Geraerds as councillor of Haarlem. This service was made in the early 1740's for Thijmon or Thimon IV van Schoonhoven (1710-1766) and his wife Elisabeth Geraerds (1720-1751),who gave notice of their marriage in Leiden on 27 february and married on 17 march 1739.
Thijmon's greatgrandfather, Thijmon van Schoonhoven, was an Amsterdam merchant who settled in Nantes (France), in the mid-17th century.His son Thijmon II (1653-1716) returned to the Netherlands where he settled in Rotterdam as a merchant.
Thimon IV studied law and graduated from Utrecht University in 1729. He was burgomaster of Leiden in 1759. From the 1750's he holds many other, mostly financial, public positions in Leiden, such as trustee of the orphanage, tax collector, extraordinary treasurer and rekenmeester or ordinary treasurer. In 1760, he was appointed  VOC director of the Amsterdam Chamber and last but not least, he inherited the title of ambachtsheer or lord of the manor of De Venir in the same year. He was convicted by the Court of Holland and was exiled from the province of Holland in 1765. His wife Elisabeth was the daughter of Mattheus Geraerds who was councillor and burgomaster of Haarlem.