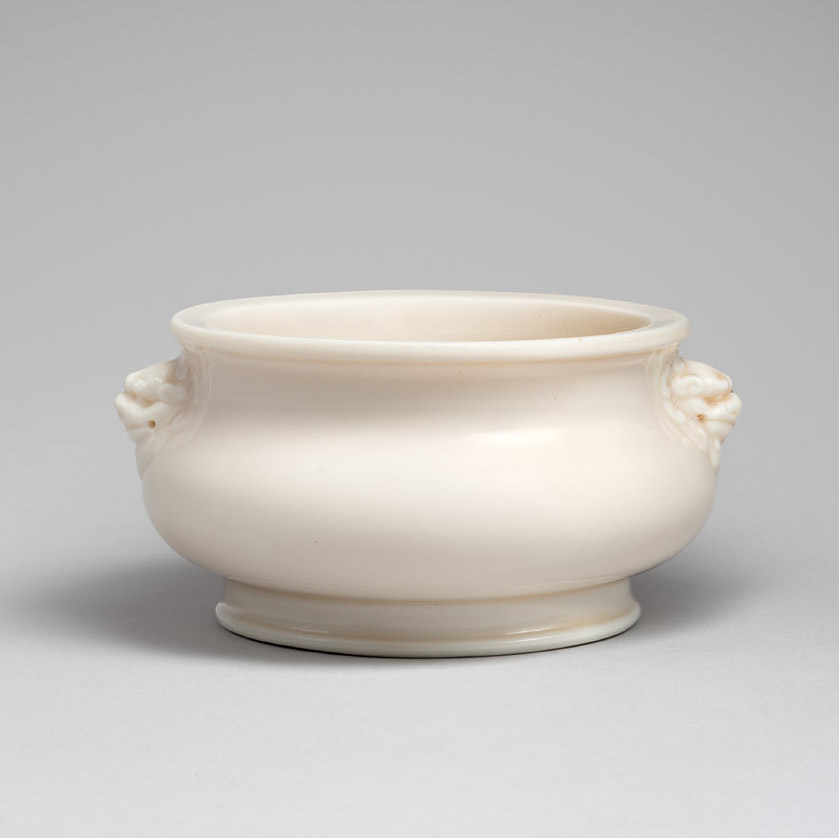 A blanc-de-chine censer with the impressed seal mark Zun gu jie jian. Ming
Well potted on a splayed foot, the compressed globular body rising to an everted rim, flanked at the sides with a pair of lion head finials, under a thick glaze, the base impressed with a four-character zhuanshu seal mark.
Country:

China

Period :

Late Ming Dynasty (1368-1644), circa. 1640

Material:

Porcelain

Dimension:

5.90 in. x 2.75 in. (15 x 7 cm)

Reference :

D610

Status:

sold
Provenance
A French private collection
Related works
Two censers with the same mark were illustrated by Marchant in their catalogue Blanc de Chine (1985, no. 26 and 27), and another censer is the catalogue Blanc de Chine (2006, no. 73a).
For another example with the same mark from the collection of Fran and Dick Berry (Melbourne), see Bonham's Hong-Kong, Fine Chinese Ceramics and Works of Art, 24 November 2013, lot 222.
Notice
The impressed four-character zhuanshu seal mark, Zun gu jie jian (following the ancient traditional code) on the underside of the current porcelain is rare.
The mark is reproduced by P.J Donnelly, Blanc de Chine: The Porcelain of Tehua in Fukien, Appendix 4 E. Commendation marks 1, p. 353.