Unusual Chinese Mythological subject cup and saucer. Early Qianlong
Decorated in the famille rose palette, with Procris dying in the woods, hit by an arrow of Céphalus, the scene being based on an illustration of S. Le Clerc for Les Métamorphoses d'Ovide en rondeaux by Issac de Bensérade (1676, p. 260).
Country:

China

Period :

Qianlong (1735-1795), circa 1740

Material:

Porcelain

Dimension:

4.68 in. (11.9 cm)

Reference :

D010

Status:

sold
Related works
A saucer with this decoration, from the Historisch Museum (Rotterdam), is illustrated By Hervouët & Bruneau in La Porcelaine des Compagnie des Indes, Pl. 13.70, p. 309.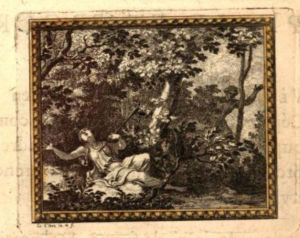 Notice
The earliest version of Procris' story comes from Pherecydes of Athens. Cephalus remains away from home for eight years because he wanted to test Procris. When he returns, he succeeds in seducing her while disguised. Although they are reconciled, Procris suspects that her husband has a lover because he is often away hunting. A servant tells her that Cephalus called to Nephele (cloud) to come to him. Procris follows him the next time he goes hunting and leaps out of the thicket when she hears him call out to Nephele again. He is startled and shoots her with an arrow, thinking that she is a wild animal, and kills her