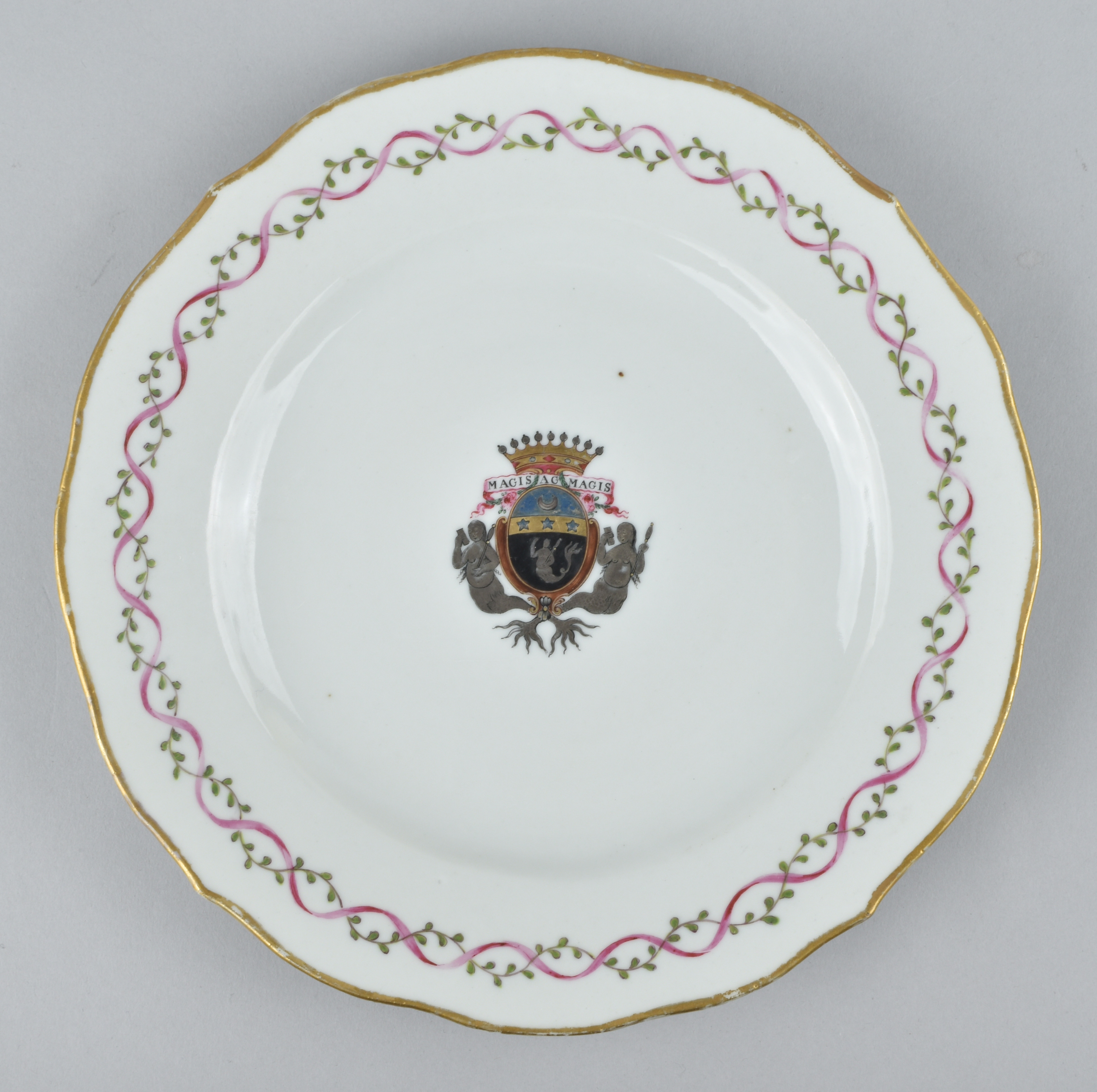 Unrecorded Chinese armorial plate for the French market (Prévost de La Croix). Qianlong
The coat-of-arms of this family is Tiercé en pal, au 1 : d'azur au croissant d'argent ; au 2 : d'or à trois étoiles d'azur ; au 3 : de sable à une sirène d'argent, and the family motto : MAGIS AC MAGIS (Better and better).
Country:

China

Period :

Qianlong (1735-1795)

Material:

Porcelain

Dimension:

8.66 in. (23 cm)

Status:

sold
Notice
This set was ordered either by François Prévost de La Croix around 1785 or by his brother Louis-Gilles. François was born in October of 1748. He was a squire and ensign on the East India Company vessels and became an Officer in the Ile de France Regiment. His brother Louis-Gilles was born on October 15th 1762, and was Chevalier de l'Ordre de Saint-Louis (Knight of the Order of Saint-Louis). Their father Philippe-François-Paul Prévost de La Croix, was a Captain of the East India Company ships. He married Jeanne-Marie-Félicité de Nageon de Lestang in Brazil on September 13th 1747. She was the sister of Bernardin Nageon de Lestang, a famous pirate in the Indian Ocean. The decoration painted on the rim is identical to the set ordered by Paul-Antoine Fleuriot de Langle. He was Second in Command of the La Pérouse expedition, and ordered the set when calling in Macao in Janurary of 1787.