Two Chinese armorial domed covers for the English market (Charles Talbot, 1st Baron Talbot of Hensol). Yongzheng period
Very heavily potted, of domed shape with moulded lip and large ball finial on pedestal. The outside finely painted with bands of rouge-de-fer and gold, and a crest among famille verte sprays, the crest of Talbot On a cap of maintenance gules, turned up ermine, a lion statant, and in the famille rose palette inside the cover.
Country:

China

Period :

Yongzheng (1723-1735), circa 1724

Material:

Porcelain

Dimension:

11.41 in. / 12.40 in. (29 cm / 31.5 cm)

Reference :

C993

Status:

sold
Provenance
From a French private collection
Related works
These massive and impracticable armorial domed covers, known in three sizes (One from the two offered here of the largest size), were made only for two related families – Sayer and Talbot – who were uncle and nephew.
Both services are illustrated by David Howard in Chinese Armorial Porcelain, Faber, 1974, vol. I, p.200 (full arms on the dinner service, the covers have only the crest).
Luisa Vinhais and Jorge Welsh had illustrated in Out of the Ordinary: Living with Chinese Export Porcelain, London and Lisbon, 2014, p. 86, no. 22 a dinner service (without coat of arms) with 10 domed covers. They noted that the domed covers were probably one of the rarest shapes to be made in Chinese export porcelain. The shape of the domed covers mimics a European metal form that was unusually made from silver and other metal. During the 18th century, the "service à la française" was in favor in all Europe, that is to say all the dishes were served at the same time on a table. Cover were only intended to keep the food warm. During the 19th century, The "Service à la Française" has been replaced by the "Russian service", where each dish is served one after the other.
Another domed cover (ordered by Exton Sayer, MP for Tottenham, who married to Catherine Talbot) is published by David Howard in The Choice of the Private trader, The Private Market in Chinese Export Porcelain Illustrated in the Hodroff Collection, 1994, p. 122/123, no. 123.
Three domed covers from these two families are known (Private Collection UK), two with the crest of Sayer (Exton Sayer), one with the crest of Talbot. Another domed cover of the largest size, sold by our gallery, is presently in a French private collection.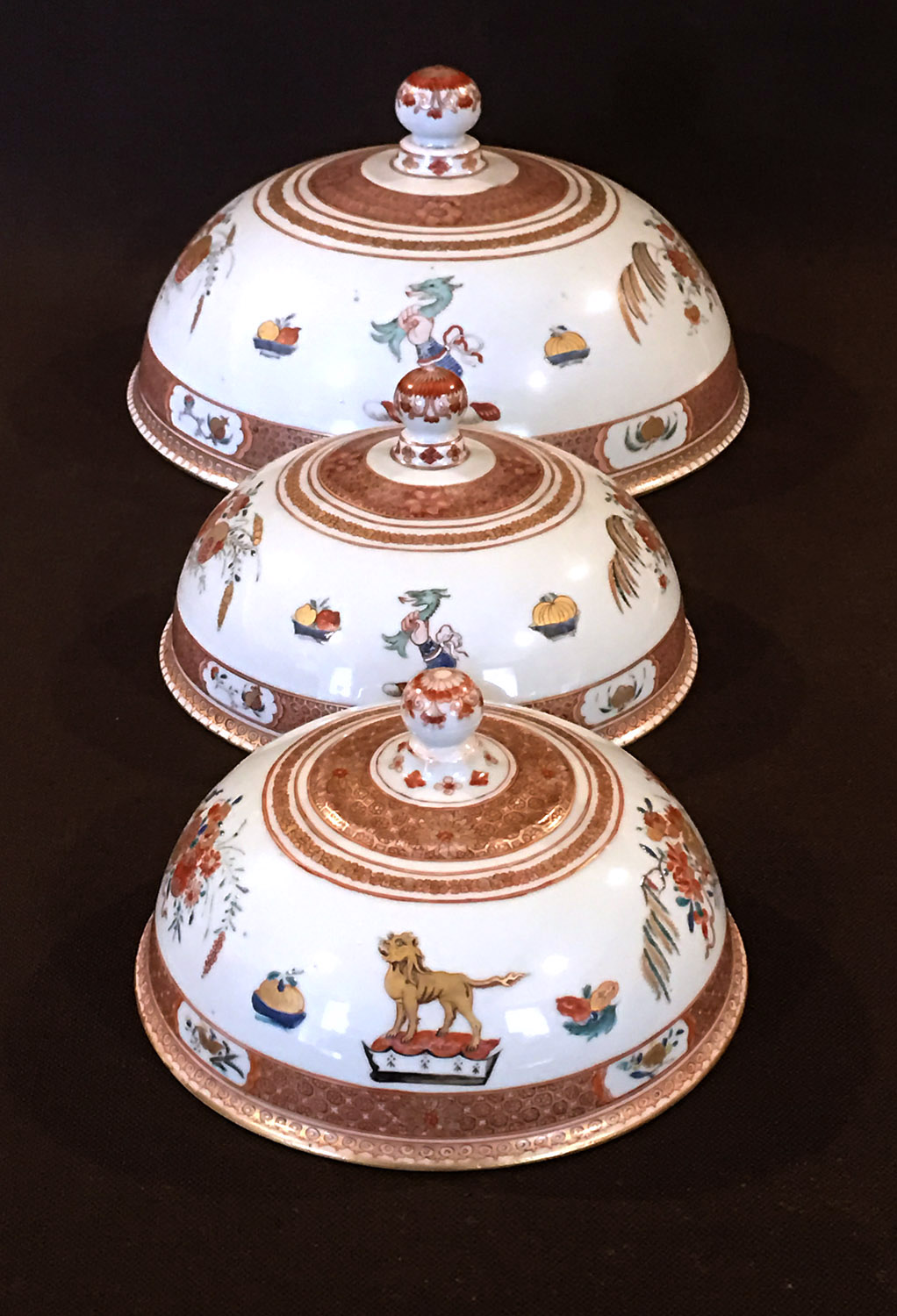 Notice
Charles Talbot, 1st Baron Talbot of Hensol (1685-1737) was a british lawyer and politician, who later became Lord Chancellor of Great Britain from 1733 to 1737. He was son of William Talbot, Bishop of Durham, who had a fine earlier service in underglaze blue.