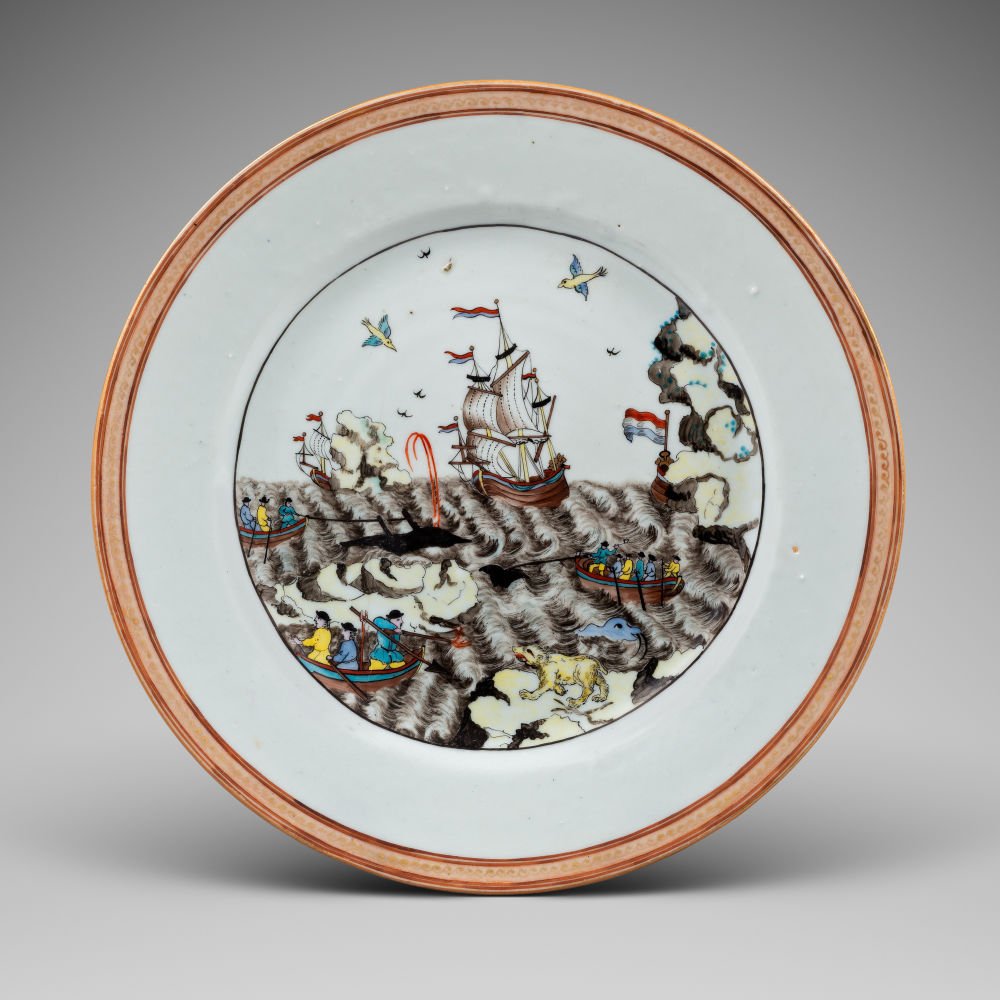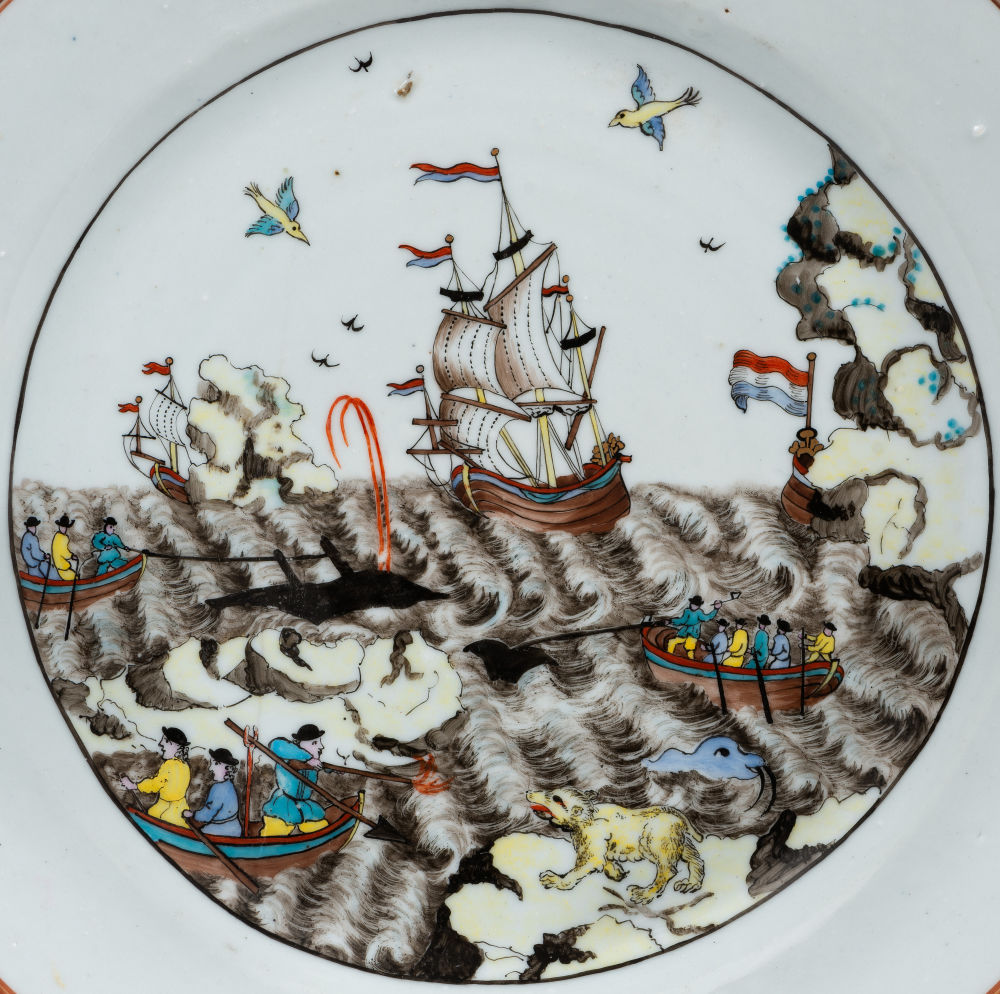 The Hervouët 'Dutch Whaling Scene' plate. Qianlong
Painted to the centre in overglaze enamels, including bright shades of iron-red, turquoise, blue, yellow and brown, picked out in black and hightlighted in gilt. It shows a lively whale-hunting scene in an artic region, depicting three Dutch vessels sailing amid icebergs on a rough sea, one behind an iceberg at far right, one in full sail at the centre, and another flying the Dutch flag just visible behind a huge iceberg to the left. In front of them are three rowing boats filled with colorfully dressed whale hunters discharging harpoons, and attempting to catch a whale which is emitting spray from its blow hole, whilst pulling another towards the icy land. In the foreground, a seaman fires a shotgun at a polar bear standing on the icy shore, whilst a large walrus swims behind him and a flock of seagulls flies above. The rim is decorated with a narrow band of Vetruvian scroll in gilt.
Country:

China

Period :

Qianlong (1735-1795), ca. 1730/1750

Material:

Porcelain

Dimension:

9.17 in. (23.3 cm)

Reference :

C848

Status:

sold
Provenance
Collection Luneau, Nantes, 1986,
François et Nicolas Hervouët, Nantes,
Vente Hervouët III, Morlaix, 1989
Related works
Reproduced by Hervouët & Bruneau in La Porcelaine des Compagnies des Indes à Décor Occidental, 1986, p.368, no. 16.14.
A smaller plate, from the RA Collection, is published by Jorge Welsh in European Scenes on Chinese Art, 2005, pp. 70/73, no. 14.
Saucer dishes are in the Museum Boijmans van Beuningen in Rotterdam (inv. no. A-4025), and at the Rijkmuseum in (Amsterdam inv. no. NM 13554).
Notice
The present whaling scene represents one of the maritime subjects portrayed in Chinese porcelain. This whaling scene, possibly depicting fishermen from Zaan in North Holland, who were whalers in the late 18th century, is based on two prints taken from two series of thirty-two fine engravings, related to herring fishery and whaling, executed by Adriaan van der Laan (1690-1742) after drawings by Sieuwert van der Meulen (1698-1730).
Dutch artists decorated Chinese porcelain blanks, including plates and teawares, with this subject in about 1730-1750. The scene depicted on this plate is the result of the intermingling of the whaling scenes recorded on the Atlas van Stolk as nos. 3019 II:3 and no. 3019 II:5. The artist has clearly taken parts of each scene and adapted them to fit in the central medallion of the plate, creating a whole new composition. The ship shown at the centre of the scene has been identified as the Walvisvangst.