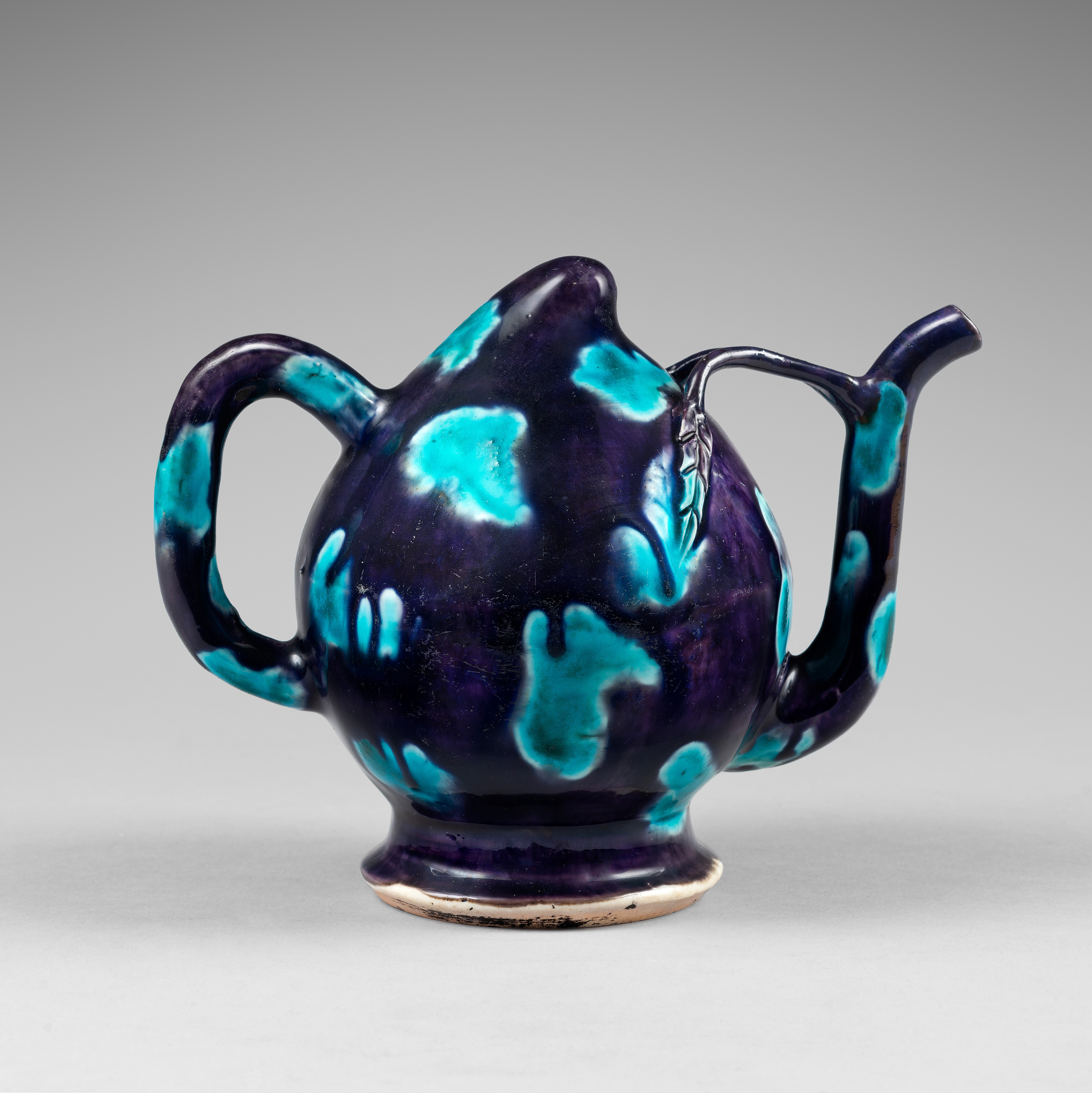 An aubergine and turquoise-glazed 'Cadogan' ewer. Kangxi
A-peached-shaped ewer with a branch-like spout bearing two leafy stems extending on to the body. It is supported by a splayed foot. The whole piece is covered in a deep lustrous aubergine glaze with turquoise splashes. The recessed aubergine-glazed base has a central aperture and an unglazed footrim.
Country:

China

Period :

Kangxi period (1662-1722)

Material:

Porcelain (biscuit)

Dimension:

(14 cm)

Reference :

D663

Status:

sold
Related works
The Baur Collection in Geneva has two similar ewers, illustrated by John Ayers in The Baur Collection, Geneva: Chinese Ceramics, vol. II, Geneva, 1969, cat. nos. A219 and A220.
Four related ewers, one with an aubergine-glazed body and turquoise accents and three with the opposite coloration were in the collection of Anthony de Rothschild, and are illustrated by Regina Krahl in The Anthony de Rothschild Collection of Chinese ceramics, vol. II, London, 1996, cats. Nos. 257, 258, 259.
Notice
The 'Cadogan' wine pot has no lid and is filled upside down through a hole in the base leading to a tube inside the pot which prevents a back flow. Known in China as 'dao guan hu' ('upside down filling wine pot'), these ewers first appeared during the Kangxi period and were used for pouring wine or hot water rather than tea, as tealeaves would have been difficult to remove from the interior after use.
They were often made in the shape of a peach; a visual reference to the longevity of the Daoist Immortals, who were said to feast on the immortal peaches grown in the garden of Xiwangmu once every three thousand years. Alluding to the Immortals on a vessel for drinking wine could be a playful nod to the parody poem 'Eight Immortals of the Wine Cup' (Yingzhong baxian), written by the Tang poet and lover of wine Du Fu to celebrate eight Tang literary figures and their drinking habits.
This type of ewer, also called 'puzzle pot', is said to be named after William Cadogan, 1st Earl of Cadogan (1675-1726) who was the first to own a wine pot of this shape. He and his wife brought an example to Britain where they used it as an entertainment piece.
Photography : Jérémie Beylard / Agence PHAR