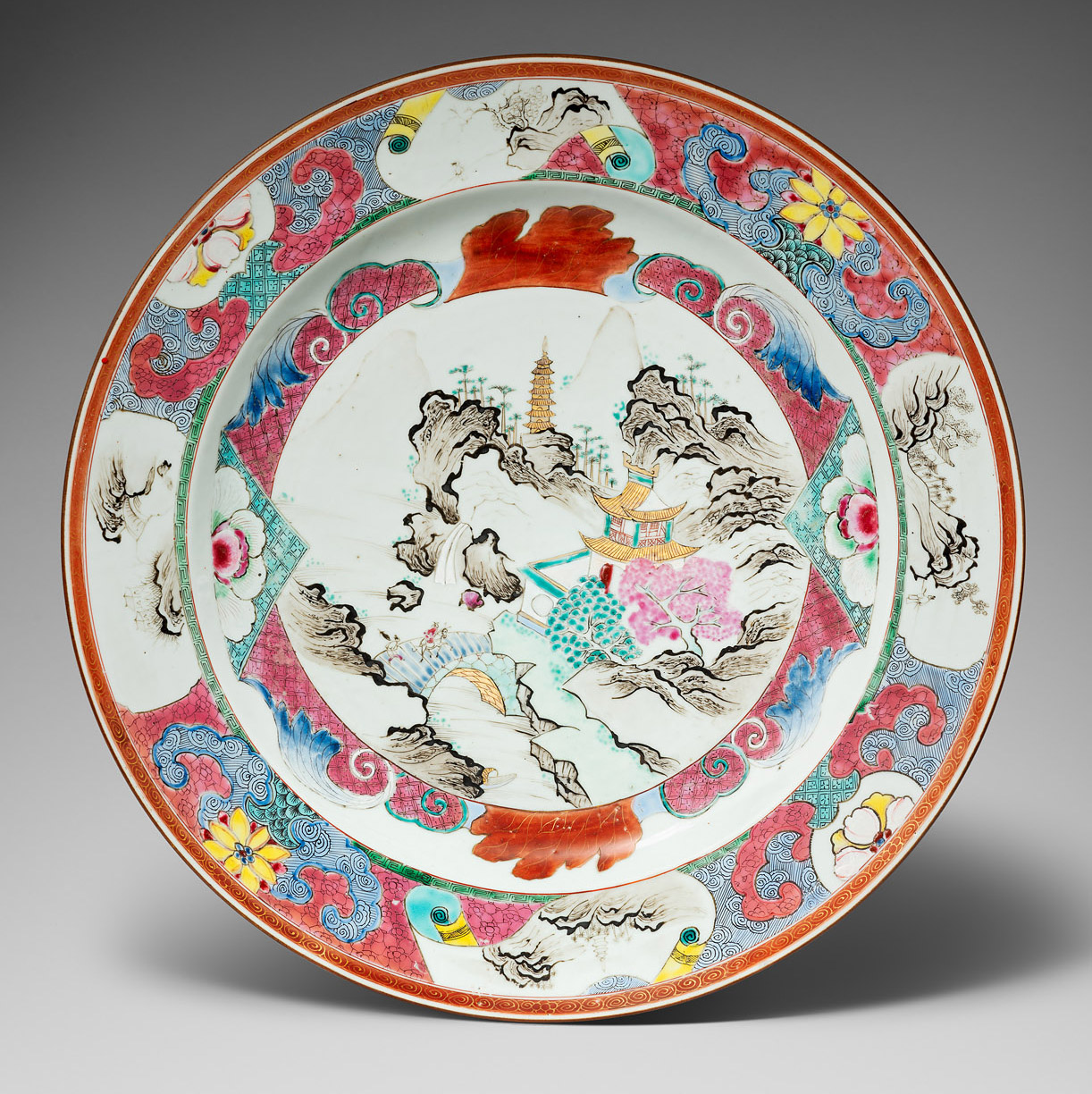 A very large Chinese famille rose and "encre-de-chine" charger. Yongzheng/Qianlong
Decorated in the famille rose palette and grisaille (encre-de-chine), a Chinese landscape to the center, including a pagoda, the rim with an unusual border having reserves of landscapes in grisaille.
Country:

China

Period :

Late Yongzheng/Early Qianlong period, ca. 1735/1740

Material:

Porcelain

Dimension:

14.96 in. (38 cm)

Reference :

D649

Status:

sold
Related works
A plate with this decoration (and with a simple grisaille landscape) is illustrated by Cohen & Cohen in Angels & Demonslayers (London, 2012, p. 92, no. 58).
Notice
The style of the encre-de-chine painting to the center is related to the style of the Master of the Rocks, a name given to a type of decoration found on early Kangxi porcelain. It has been suggested it was the work of a master decorator, but the variation in style indicated it must have been executed by different hands. This style is characterized by a repeated close and parallel lines defining the landscape elements. The rock masses and twisting rhythm running throught the design reflect the painting of Dong Qichana, a painter of the late Ming period who's influenced many. The style itself is characterized by the use of 'hemp-fibre' strokes, numerous parallel structure lines to produce rocky landscapes full of movement and drama, often combined with the use of fluid dots to depict scrub and foliage.Our charger is a rare example of this style of painting on a famille rose charger.
Photography : Jérémie Beylard / Agence PHAR