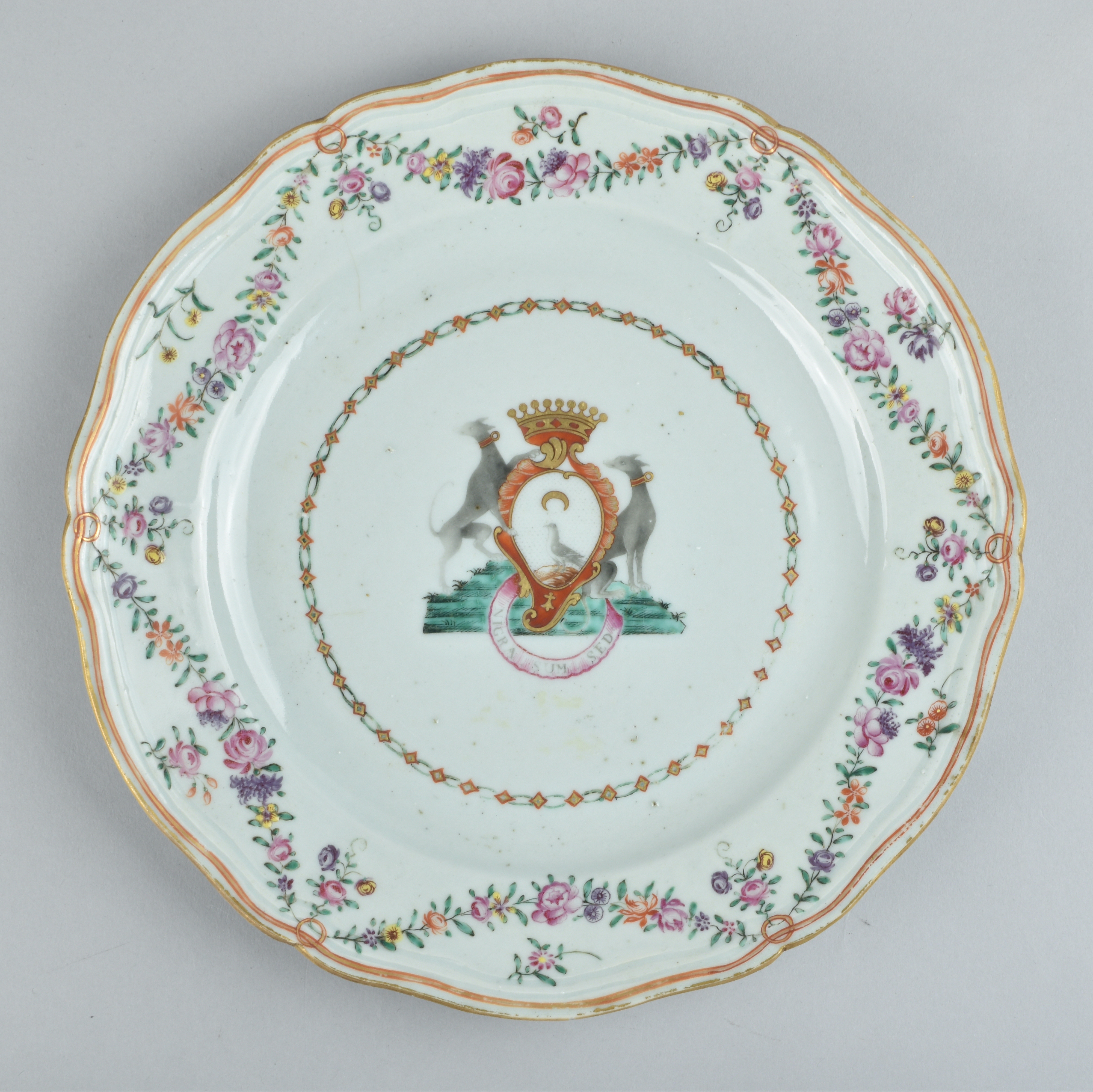 A Chinese armorial plate for the Spanish market. Qianlong period.
Enamelled with a Spanish coat of arms (previously thought to be Ganon of France and now possibly Aguado de Las Marismas) with a floral swag border and with the motto Nigra sum sed.
Country:

China

Period :

Qianlong (1735-1795), circa 1760

Material:

Porcelain

Dimension:

9.64 inches (24.5 cm)

Reference :

B498a

Price:

1200 dollars (US)

Status:

available
Related works
Pieces from this service were published by Cohen & Cohen and illustrated by Antoine Lebel in French and Swiss Armorials on Chinese Export Porcelain of the 18th Century, 2009, p. 237.
Notice
The Aguado de Las Marismas family, which appears in France at the beginning of the 19th century, is represented by one of its most important members, Alexandre-José-Marie-Léon-Paul-Raymond-Louis de Gonzague Aguado (Séville 1785- Gijon 1842). He was a mestre de camp, and Aide de camp of the Duke of Dalmatia in 1810 and a banker for the court of Spain from 1815 to 1830. In 1829, he was made marquis of Las Marismas del Guadalquivir by the King Ferdinand VII of Spain. In 1830, he was naturalized French, and then elected Mayor of Ivry-sur-Seine. His arms were quarterly, in which at 2, Per diss: I, argent, a bucket sable in chief, a cormorant gules, in base. This service may have been ordered by a parent (maternal uncle of Alexandre for example) in the 18th century.