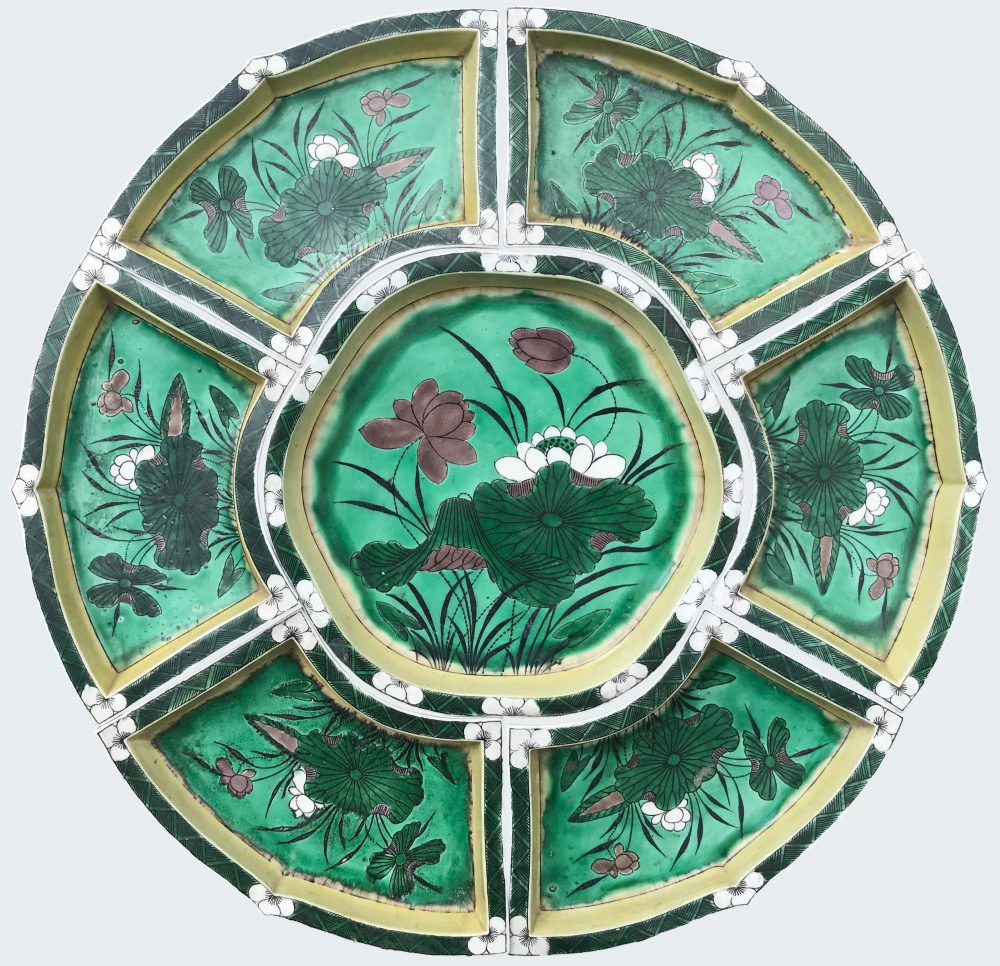 A set of sweat meets dishes decorated in the famille verte palette. 19th century
Decorated in the famille verte palette.
Country:

China

Period :

19th century

Material:

Porcelain

Reference :

C192

Status:

sold
Notice
A sweetmeat dish is a type of dish, which came in various forms, styles and sizes in porcelain, faience, jade, lacquer, metal, etc. The dish primitive is round and indivisible dated between 317 A.D-420 A.D in China. It was very popular between Wanli (1573 -1620 ) and Kangxi (1654-1722), had influenced others neighbouring countries such as Japan, Vietnam, Indonesia etc.  Mostly, It appeared in sets of small plates porcelains, which were assembled surrounding a central star-shaped dish. The set of dishes composed  5 plates to 20 plates. In China, it serves more varied food like deserts, cold dish,fruit in the same sets of dishes. It is suggested that such sets may have been modelled on the small dishes of fanciful and ingenious shapes, which were employed in Japan for the tea ceremony and which reached Europe around 1670. It is often painted in a Chinoiserie style. The VOC bought limited quantities of Japanese porcelain. Delft potters caught this opportunity to produce objects, such as the sweetmeat dishes that were inspired from these delicate wares. In Europe, it was usually used for serving sweetmeats such as dried fruit or summer fruit deserved in brandy, chiefly of sugar or chocolate and other delicacies at the end of the meal or during the tea time.