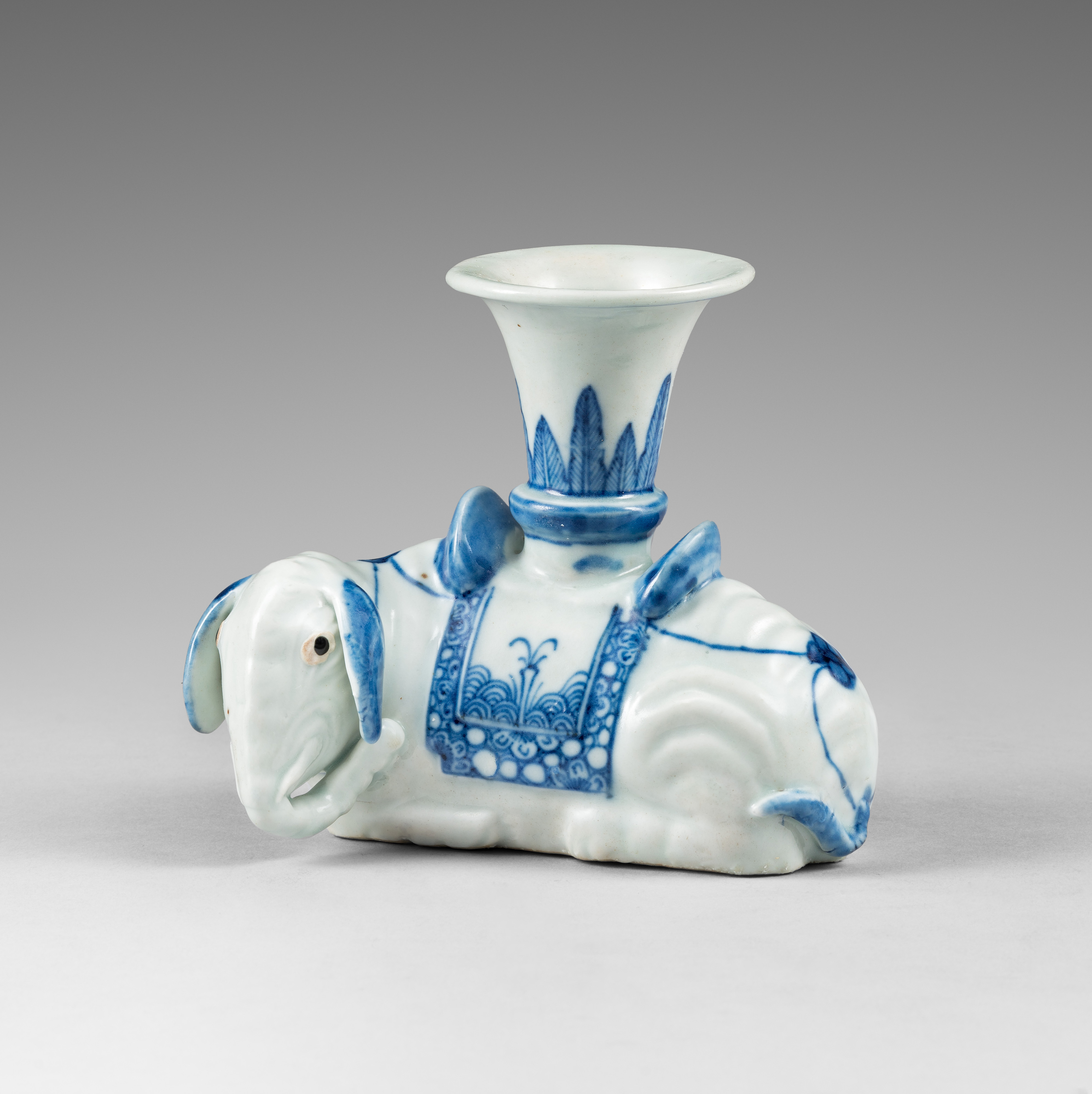 A recumbent elephant form candle holder (taiping youxiang). Jiaqing
The elephant is modelled recumbent, his head turned on the left and his body left white except for the ears and tail. The saddle on its back is surmounted by an archaistic gu-shaped vase decorated with leaves.
Country:

China

Period :

Jiaqing period (1796-1820)

Material:

Porcelain

Dimension:

5.11 in. x 4.72 in. (13 cm x 12 cm)

Reference :

D728b

Status:

sold
Related works
An identical elephant, unfortunately dated from the Ming dynasty (1368-1644) is in the collection of the Musée Adrien Dubouché (Limoges, France), and illustrated by Christine Shimizu in L'Odyssée de la porcelaine chinoise, 2003, RMN, p. 111, no. 43.
Another identical example, also unfortunately dated from the Ming dynasty (1368-1644), is the collection of the Victoria and Albert Museum (London, inv. 1618-1876, acquired in Persia by the Dr. Richard in 1876).
For two different polychromes models of recumbent elephant candlesticks, see William Sargent, The Copeland Collection, pp. 242/243, no 121/122.
Notice
During the Qing dynasty, it was customary to have elephants carry vases with offerings on their backs during imperial processions such as the celebration of the emperor's birthday. The word elephant is a pun for 'sign', 象 xiang, and when combined with a vase, 瓶 ping, it forms the rebus 太平有象 taiping youxiang, which translates as 'when there is peace, there are signs'.
The auspicious imagery of an elephant carrying a vase was therefore very popular at court and used widely as a decorative motif on various mediums. The white elephant is also a symbol of mental strength and purity in Buddhism, an image further enhanced by its carrying a light on its back. Chinese export porcelain in elephant forms were not new to Europe when this form was produced. The elephant-form kendi was prized in the West during the 17th century, and candle stick holder with standing elephant were produced during the Qianlong period (1736-1795).
Photography : Jérémie Beylard / Agence PHAR