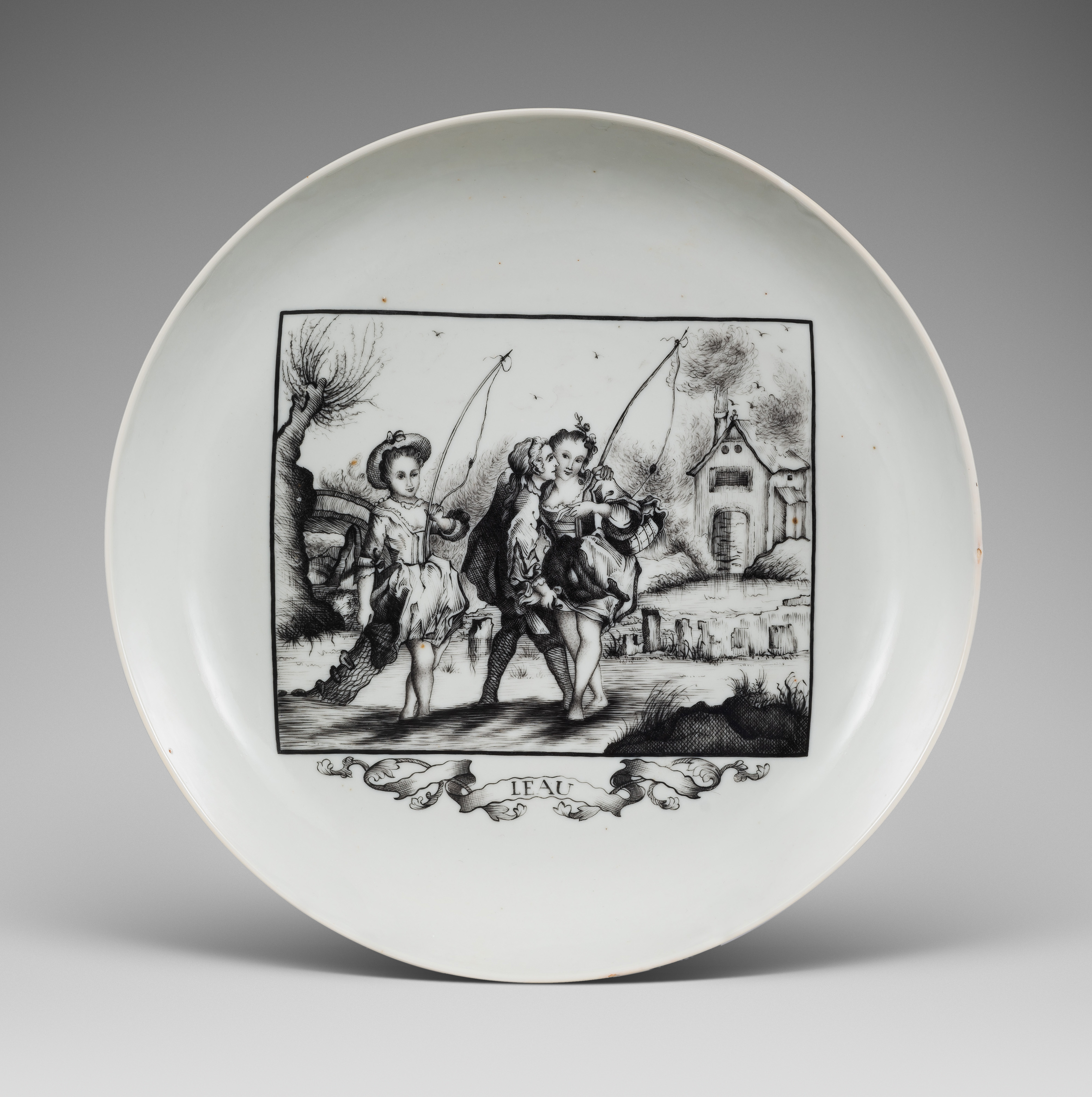 A rare grisaille dish with a European subject. Qianlong
This dish is decorated en grisaille with a cartouche depicting a man fondling a lady while a second one looks on. The scene takes place in a wooded landscape. Both women are holdings fishing rods.
Country:

China

Period :

Qianlong period (1736-1795), ca. 1770

Material:

Porcelain

Dimension:

8,07 in. (20,5 cm)

Reference :

D733

Price:

6500 dollars (US)

Status:

available
Related works
An identical dish was published by Hervouët and Bruneau in La Porcelaine des Compagnies des Indes à Décor Occidental, Paris, 1986, p. 62 (n. 3.1).
Three plaques, including one with the same design are in the collections of the Victoria and Albert Museum, and were probably intended as "dessus de tabatières" or snuff box designs. They are published by Rose Kerr and Luisa Mengoni in Chinese Export Ceramics, London 2011, p. 66, no. 82.
Notice
The model is the engraving titled l'Eau by Jean-Joseph Balechou after a drawing by Philippe Canot (1715-1783). Philippe Canot was the younger brother of Pierre-Charles Canot, who is a much better-known engraver. Philippe was a pupil of Jean- Siméon Chardin. He went on to work at the Court of Louis XV of France as a decorator for the Menus- Plaisirs du Roi, a department of the Royal Household responsible for the preparation of various festivities. He designed opera decors amongst other things.
The term libertine appeared in 18th century France, to describe a hedo- nistic lifestyle with few moral principles unrestrained by convention or morality, characterized by the pursuit of happiness and pleasure under all its forms. The libertine current implied political freedom and encouraged freethinkers to reject traditional religious mores, a trend reflected in the literature and art creation of the time?
Photography : Jérémie Beylard / Agence PHAR