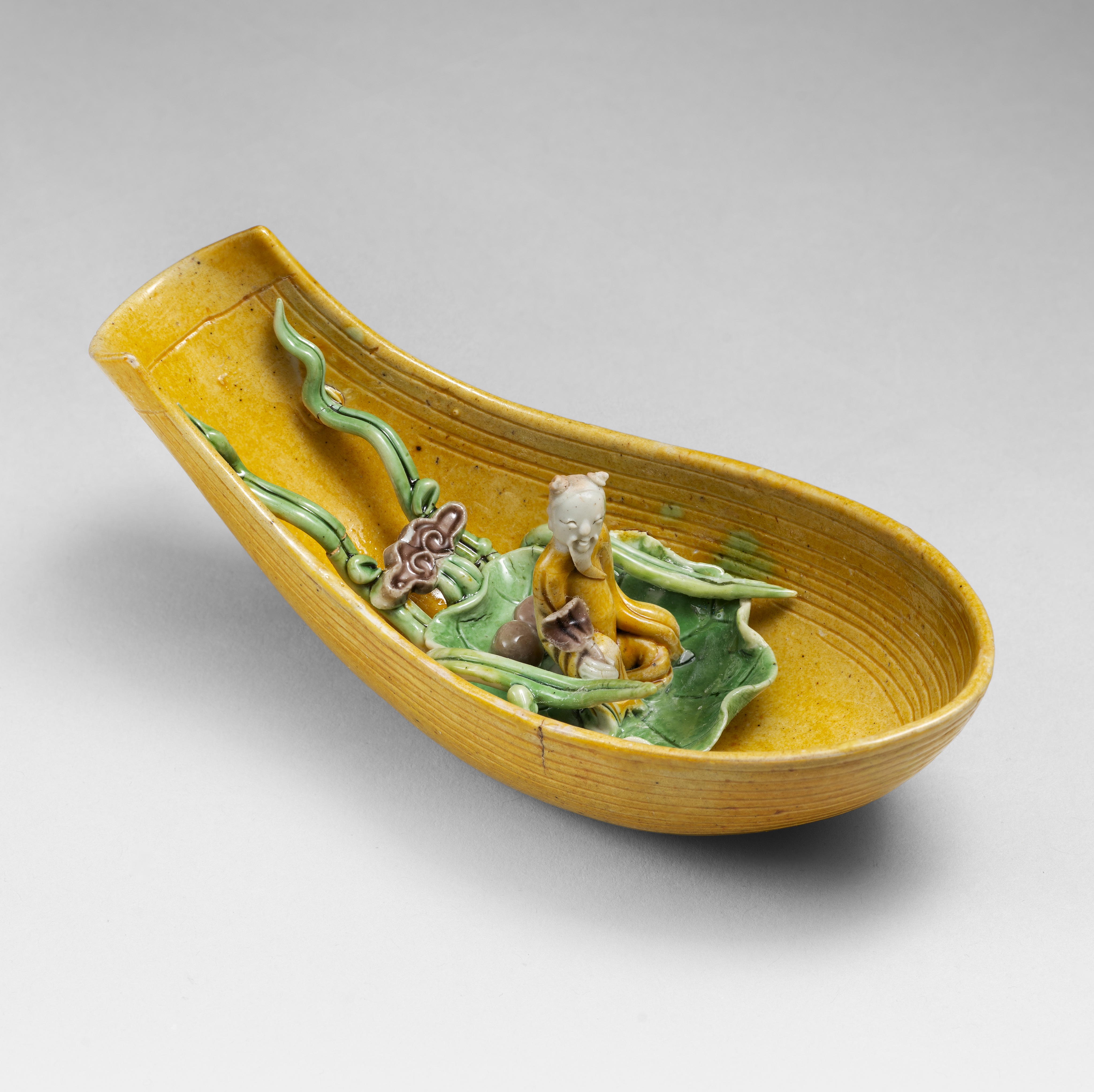 A rare famille jaune group depicting the immortal Zhongli Quan on his vessel. Kangxi
The sculpture is decorated in the famille jaune palette. The immortal Zhongli Quan is sitting on a vessel, the double gourd of the elixir of immortality behind his back. He is holding the magical fan, his passage to immortality.
Country:

China

Period :

Kangxi (1662-1722)

Material:

Porcelain (biscuit)

Dimension:

5.51 in. x 2.36 in. (14 cm x 6 cm)

Reference :

D426

Status:

sold
Provenance
A French private collection
Notice
Zhongli Quan, also known as Han Zhongli or Jidao, is a Chinese my- thological character and one of the Eight Immortals. Zhongli Quan was believed to have been born in Yanjing during the Han Dynasty. He was destined for greatness from the day he was born by showing features such as a broad forehead, thick ears, long eyebrows, deep eyes, red nose, square mouth, high cheeks, and scarlet lips.
Stories depict that either seven days or seven years later, he began to speak, and the first sentence he uttered was, "my feet have wan- dered in the purple palace of the [immortals], my name is recorded in the capital of the jade emperor."He followed in his father's footsteps and became a member of the imperial court, becoming a general in the Han army. He fought and was defeated by the Tibetans, therefore having him to flee into the mountains, where he came across an old man in a spiritual sanctuary. From there he learned the ways of alchemy and immortality. With his knowledge of alchemy, wielding a magic fan, he began turning stones into silver and gold coins and in doing saved people from famine and poverty. There are two stories that depict how he became one of the immortals. In the first, it was in his continuous use of the immortal powers and his magical fan that eventually caused his descent into the shimme- ring cloud of the immortals. In the second, he was meditating near a wall of his hermitage when all of a sudden it collapsed. Behind the wall was a jade vessel that took him as an immortal to the shimmering cloud.
He is usually depicted as a fat man with a bare belly, sometimes holding a peach in his hand. His symbol is the fan, with which he is believed to revive the souls of the dead.
Photography : Jérémie Beylard / Agence PHAR