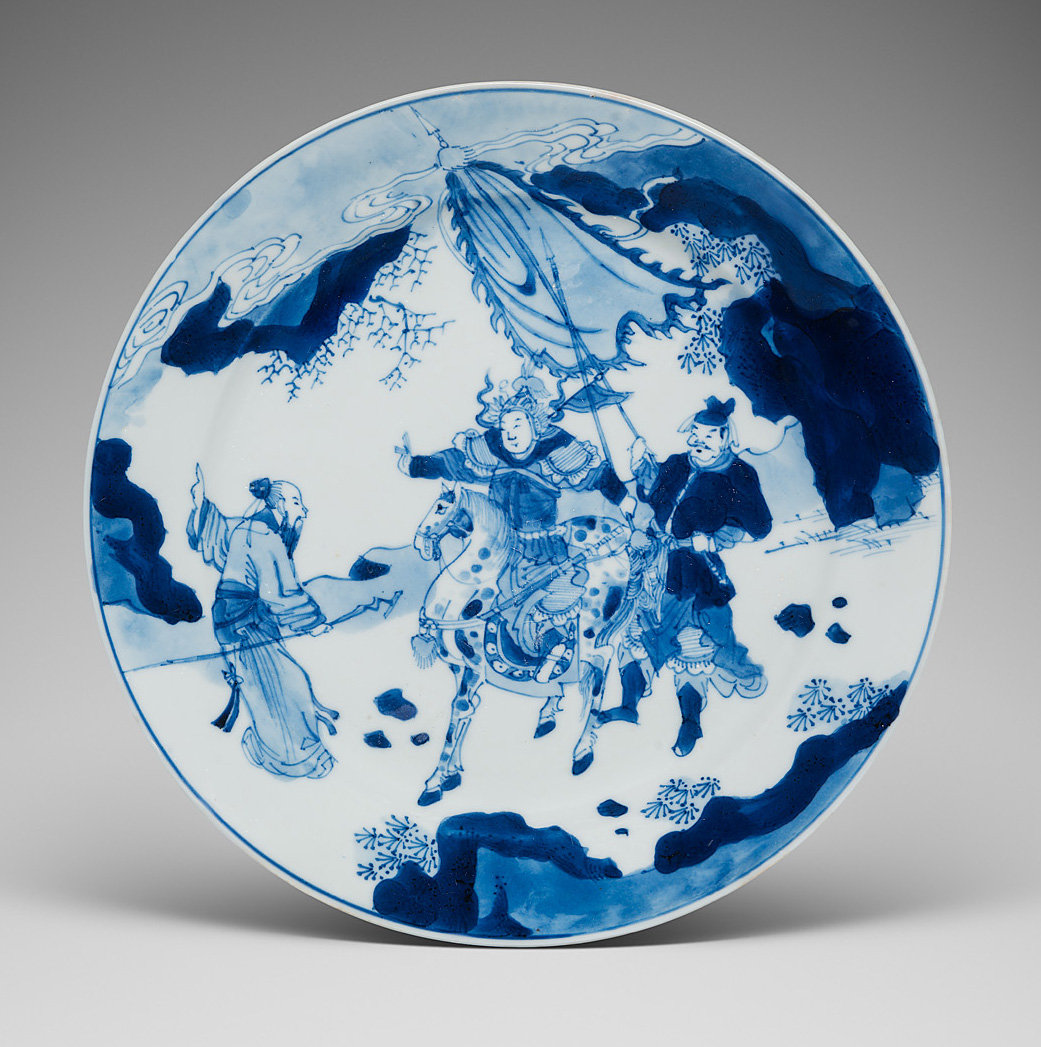 A rare and very fine Chinese blue and white figural plate. Kangxi
Decorated in underglaze blue, depicting Guo Ziyi without armor, deterring an enemy riding on his horse with his attendant in a rocky landscape, the sky painted in a pale blue. The back of the plate with a lozenge in a double circle underglaze blue, one of the Eight Precious Symbols. symbol of victory and success.
Country:

China

Period :

Kangxi (166-1722), ca. 1680/1690

Material:

Porcelain

Dimension:

8,07 in. (20,5 cm)

Reference :

D383

Status:

sold
Related works
For a similar dish but depicting another story, see The Art Museum of CUHK, inventory number 2016.0005.
Notice
Guo Ziyi, posthumously bestowed the title Prince Zhongwu of Fenyang because of his birth place and his contribution to the court, was the greatest Tang-dynasty general. He played the key role in military campaigns against the Uyghur Khaganate and Tibetan Empire, enemies constantly threatening China from the north-west. After Guo Ziyi and his army successfully stabilised the frontier for years, the rumour about the death of the elderly hero disquieted the enemy around the year 765. The Turfan and the Uyghur tribes joined together, trying to invade the Central Plains. He was given only a small army of ten thousand soldiers to confront a combined force of three hundred thousand.
Under the circumstances, Guo Ziyi staged a genius scene. He believed that utter sincerity could move even gods, let alone the Turfan and the Uyghur tribes. General Guo asked his lieutenants and army to stay put. Then, with this conviction and his unmatched valour, he went to the camp of the mighty enemy with only a small entourage. When the tribal chieftains saw the legendary general Guo in person, appearing without his armours on, they were all awed with deep respect.
Photographie : Jérémie Beylard Agence PHAR