A rare and fine Dutch-decorated mythological saucer dish. Yongzheng / Qianlong
A Chinese porcelain dish, with a glaze porcelain carved with scrolling foliage, and decorated in Holland after the engraving of Bernard Picard (1673-1732) for Ovid's Metamorphoses (1732) and depicting Demeter (Ceres) relinquishing her dragons to Triptolemus.
Country:

China

Period :

Yongzheng / Qianlong, ca. 1730/1740

Material:

Porcelain

Dimension:

5.90 in. (15.90 cm)

Reference :

D364

Status:

sold
Provenance
L. Damon (1860-1947), Paris
Related works
This saucer dish is reproduced by Hervouët & Bruneau in La Porcelaine des Compagnies des Indes à Décor Occidental,1986, no. 16.156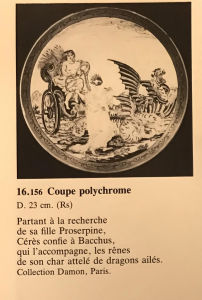 Notice
In Greek mythology, Triptolemus "threefold warrior" is a figure connected with the goddess Demeter of the Eleusinian Mysteries. He was either a mortal prince, the eldest son of King Celeus of Eleusis. While Demeter (in the guise of an old woman named Doso) was searching for her daughter Persephone (Kore), who had been abducted by Hades, she received a hospitable welcome from Celeus . He asked her to nurse Demophon —"killer of men", a counterpart to Triptolemus— and Triptolemus, his sons by Metanira.
Demeter saw Triptolemus was sick and fed him her breast milk. Not only did he recover his strength but he instantly became an adult. As another gift to Celeus, in gratitude for his hospitality, Demeter secretly planned to make Demophon immortal by burning away his mortal spirit in the family hearth every night. She was unable to complete the ritual because Metanira walked in on her one night.
Instead, Demeter chose to teach Triptolemus the art of agriculture and, from him, the rest of Greece learned to plant and reap crops. He flew across the land on a chariot drawn by dragons while Demeter and Persephone, once restored to her mother, cared for him, and helped him complete his mission of educating the whole of Greece in the art of agriculture.