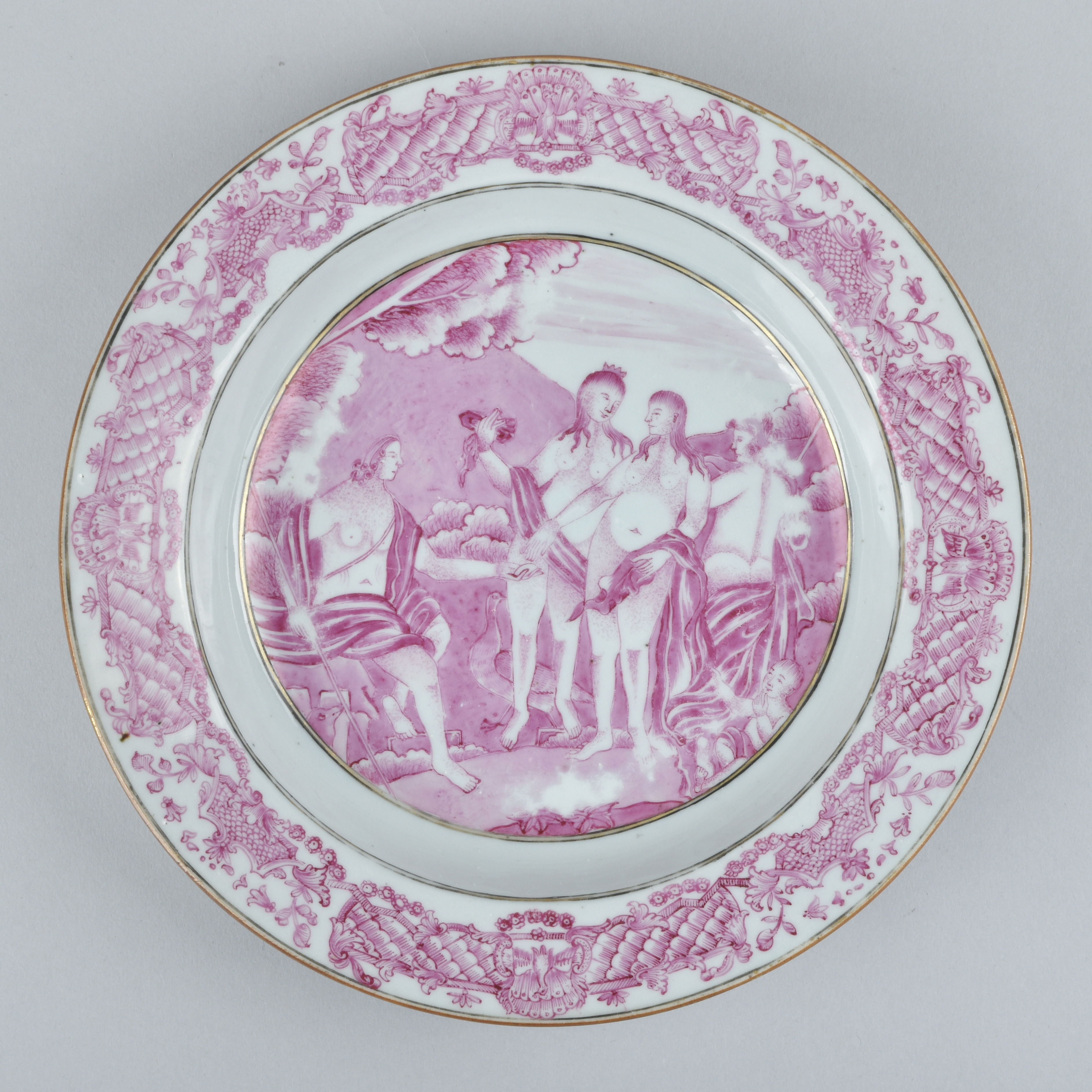 A puce 'judgment of Paris' plate. Qianlong
Enameled with Paris offering the golden apple to Venus while Juno and Minerva look on, within a du Paquier style border.
Country:

China

Period :

Qianlong (1736-1795)

Material:

Porcelain

Dimension:

8.66 in. (23 cm)

Reference :

D367

Status:

sold
Provenance
L. Damon (1860-1947), Paris
Related works
This plate, from the collection of Louis Damon (1860-1947) is reproduced by Hervouët & Bruneau in La Porcelaine des Compagnies des Indes à Décor Occidental, 1986, p. 310, no. 1373.
Notice
The story depicted on this piece is the origin of what resulted in the Trojan War according to one version of Greek mythology. The goddesses Hera, Aphrodite, and Athena were squabbling over who was most beautiful. Paris, a prince of Troy, the son of Priam and the world's post handsome man, was given the task of judging among them in order to bestow the prize, the golden apple of discord inscribed with the legend kallisti (for the fairest one). Ever since its earliest depictions, this particular subject has been treated repeatedly in many media.
Popular in classical times, the story of the Judgment of Paris enjoyed a great revival in the Renaissance and later, providing as it did a high-minded purpose for the painting of three female nudes. It was painted by European artists from Rubens to Renoir; 18th century prints were taken to China where it became one of the most broadly painted subjects for export porcelain.