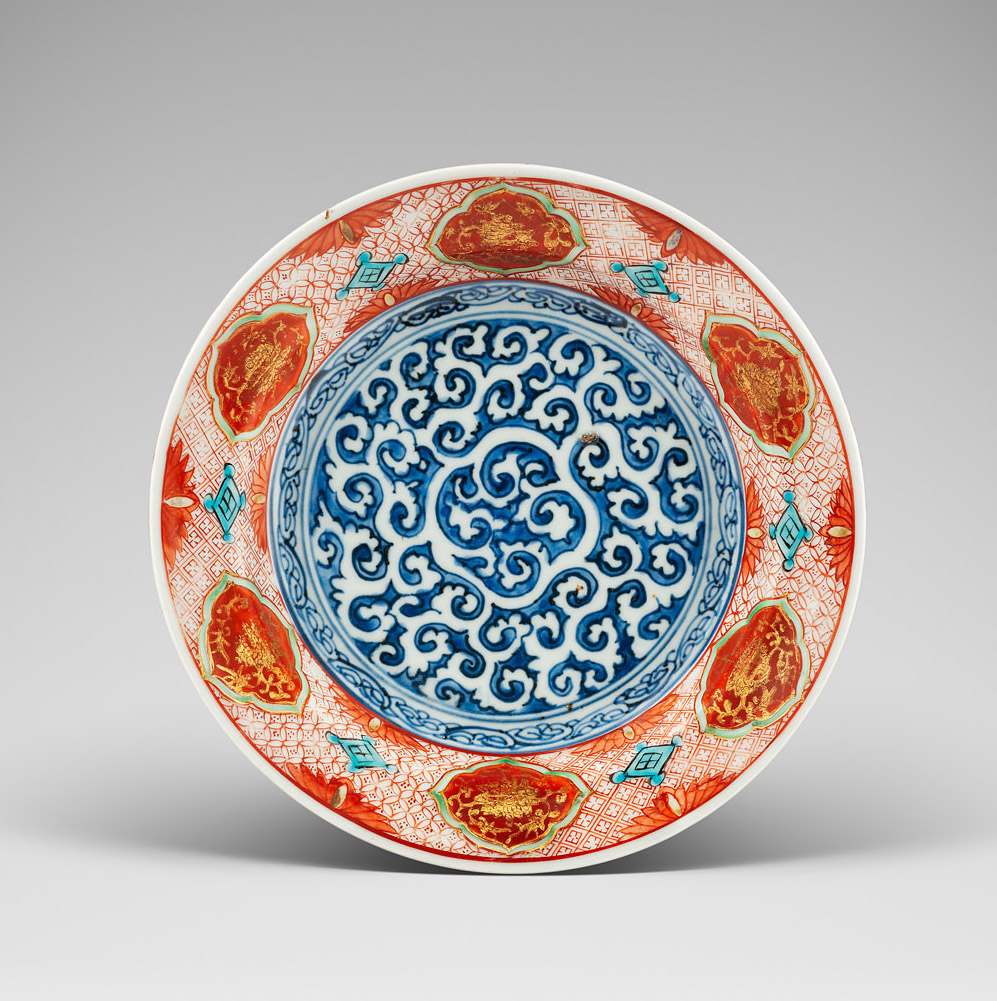 A pair of Kirande plates. Ming dynasty
At the centre of the plate is a circular medallion in underglaze cobalt blue depicting a dense design of swirling foliate tendrils within a narrow border of spiraling scrolls around the cavetto. The upper section of the cavetto and upturned rim are decorated with six equidistant red cartouches, each containing a gilded lotus flower and foliate scrolls and framed by a green enamel border, which alternate with turquoise lozenges and demi-flowers heads, all reserved against a red cash-pattern ground. The exterior of the rim is entirely painted in iron red and features gilded sprays of branched fruit and insects in flight, framed by a single gold line below the rim and above the foot. A border of blue half circles the foot, and the white recessed base is marked with an illegible inscription contained a square.
Country:

China

Period :

Ming dynasty (1368-1644), 16th century

Material:

Porcelain

Dimension:

7.48 in. (19 cm )

Reference :

D660

Status:

sold
Provenance
-Jorge Welsh
-An important collector, London
Related works
For three identical plates, see Jorge Welsh, Kinrande: Porcelain Dressed in Gold, 2020, no. 28, 29, 30.
Notice
Kirande is one of the most mysterious wares produced in Ming China. Apart from Japan, where Kirande proved to be especially popular, traces of its early presence have been found in places as distant as Mexico, Egypt and Germany, but examples only survive in small numbers, evidencing limited production. The most distinguishing feature of Kirande ware is its delicate gold decoration. The gilt patterns on Kirande porcelain often evoke gold inlays found on other materials, such as bronze and cloisonné enamel, as well as design on blue and white porcelain, and lacquer.
The red colour, which is the most characteristic shade of kirande ware, was achieved by the application of iron-red pigment over the glaze. Historically, Kirande porcelain has been associated mainly with the Japanese and Middle Eastern markets, but porcelain with this type of decoration was also made for the Chinese domestic market.
Photography : Jérémie Beylard / Agence PHAR