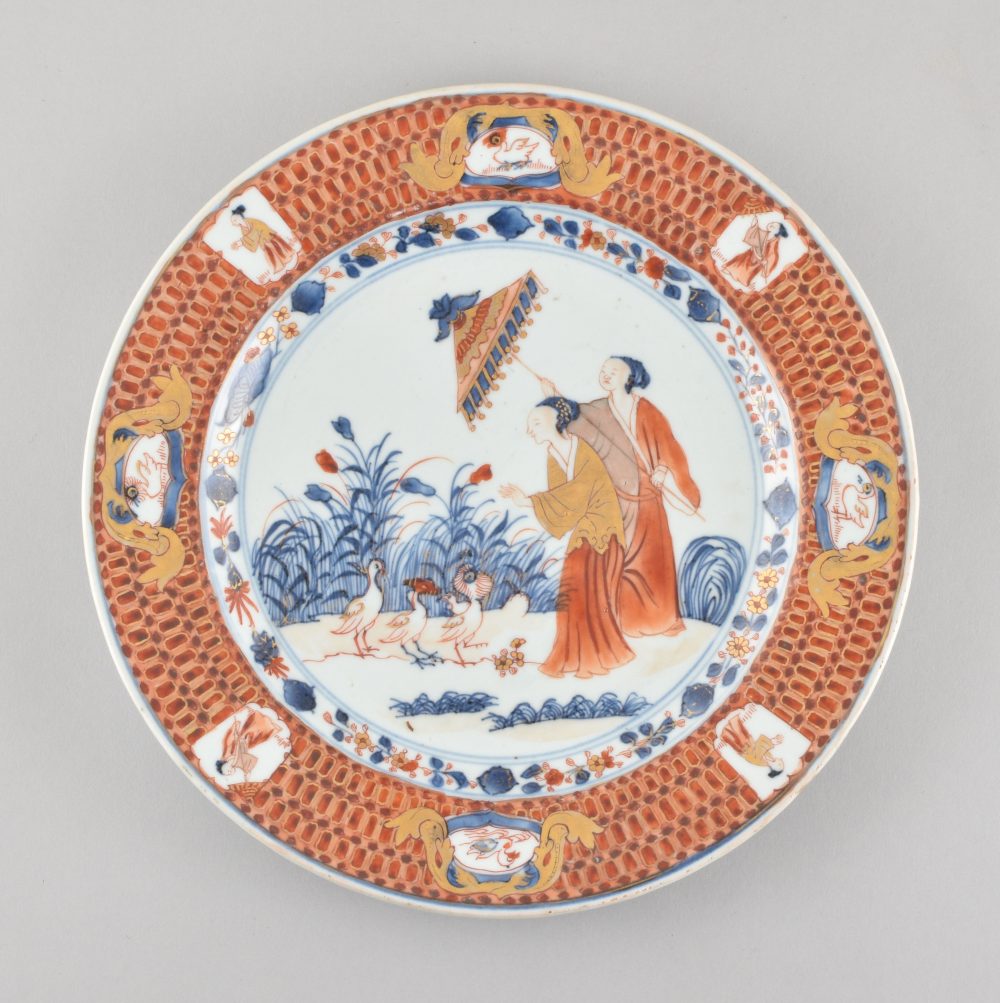 A pair of Chinese Imari "La dame au parasol" plates after a design of Pronk. Qianlong period
Decorated in underglaze-blue, iron-red and gilt with 'La Dame au Parasol' after a design by Cornelis Pronk, the central scene with a lady holding a parasol above another woman standing near waterfowl on a grassy bank, within a narrow band of flower-sprays at the well, the border with figural and bird cartouches on a honey-comb pattern ground, the reverse with insects in underglaze blue.
Country:

China

Period :

Qianlong (1735-1795), circa 1740

Material:

Porcelain

Dimension:

8.66 in. (23 cm)

Reference :

C172a

Status:

available
Related works
Two plates were illustrated by Jorge Welsh & Maria Antonia Pinto de Matos in The RA Collection of Chinese Ceramics – A Collector's Vision, T.II, no. 286-287, 170-171.
Notice
This decoration is after a design by Cornelis Pronk (1691-1759) that was commissioned by the Delft chamber of the Dutch East India Company. Known as "La Dame au Parasol" (the "Parasol Lady"), the original watercolor for the design was completed in 1734, and copies were sent to China by way of Batavia in 1735. Two years later, services in underglaze blue, "Chinese Imari", and famille rose arrived in Amsterdam.
Pronk's chinoiserie design, the inspiration for which remains unclear, briefly reappeared in the China trade in the 1770's. However, the very elaborate border made this decoration expensive, and this is almost certainly why such designs were soon discontinued.