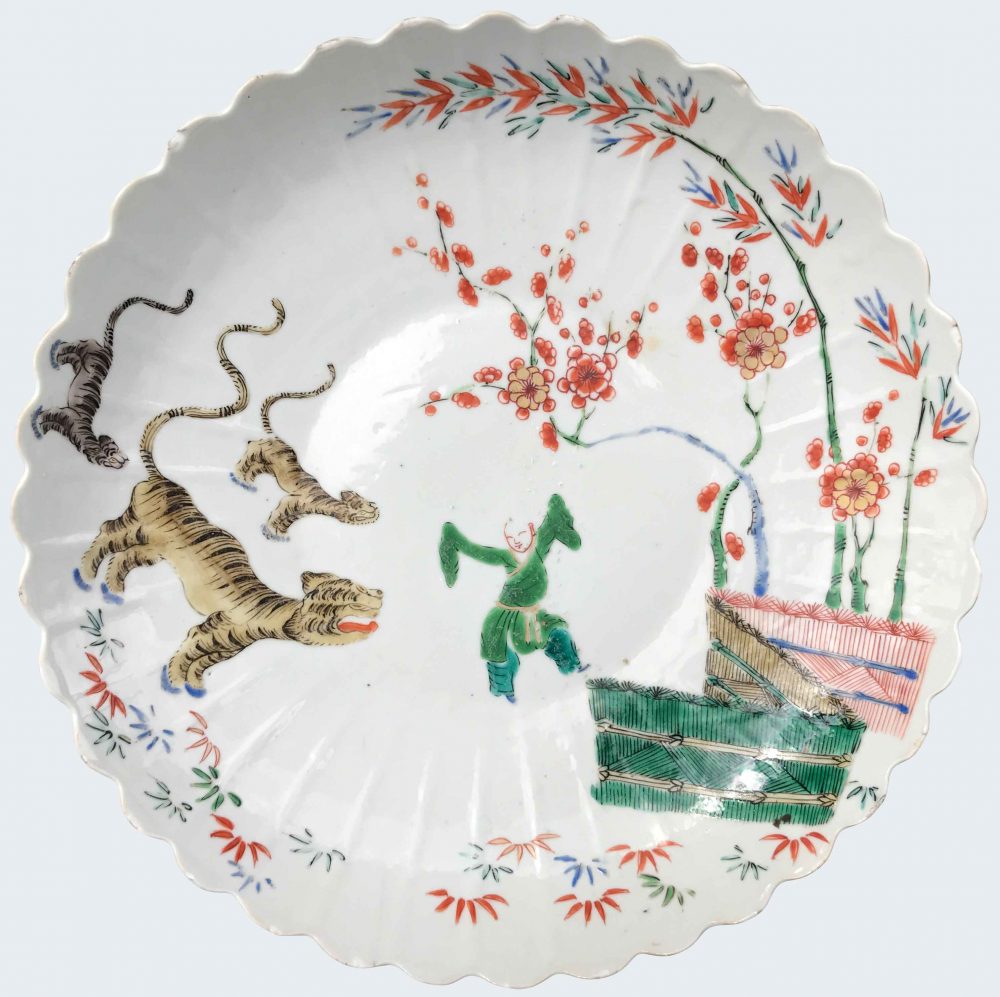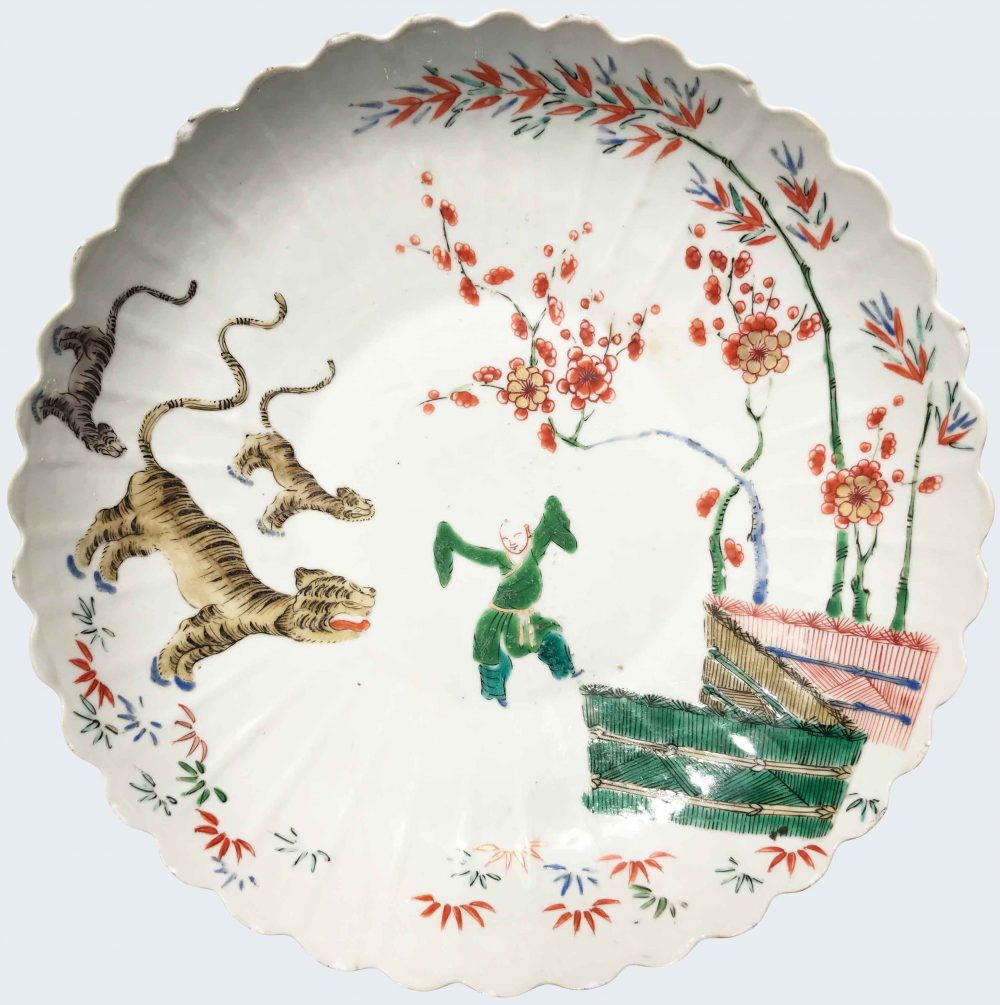 A pair of Chinese famille verte dishes decorated in the Kakiemon style. Kangxi period.
Moulded as a chrysanthemum flower, on a footring, the petal in very low relief. Decorated in enamels with bamboo and  blossoming prunus near a zigzagging bamboo fence, a dancing boy and three approaching tigers.
Country:

Chine

Period :

Kangxi (1662-1722)

Material:

Porcelain

Dimension:

10.62 in. (27 cm)

Reference :

B540

Status:

sold
Related works
An identical dish, from the collection of the Rijksmuseum (Amsterdam, inventory number no. AK-MAK 1495) is illustrated by Christiaan Jörg in Famille Verte – Chinese Porcelain in green enamels, 2011, p. 45, no. 35.
For an almost identical dish, see an example from the Princessehof Museum (Leeuwarden), which is discussed by Scheurleer in Chinese Export Porcelain : Chine de Commande (London 1974, Faber & Faber, plate 311, page 227), where Scheurleer suggests that the dish illustrates the tale of Yang Hsiang, one of the 24 paragons of Filial Piety, and the tiger.
Another Chinese Kangxi dish following a kakiemon design is illustrated in Kakiemon no Kekai, Genryu Kara Gedai Made, published by Asahishinbun (pl. 159), together with a Japanese dish showing a similar treatment of a tiger in a different pose.
Notice
This pair of dishes can be regarded as among the more interesting attempts by Chinese porcelain producers to paraphrase Japanese Kakiemon porcelain. The characteristic elements are obvious : the bambou fence, the tigers, the asymmetrical composition, and the colour scheme of the bambou in which a soft sea-green is combined with darker green, red and blue enamels. However, the dancing boy (a zotje in Dutch) is typically Chinese and highly popular on Kangxi export wares. Japanese Kakiemon is less exuberant, does not feature as many tigers and the painting is much more refined. In fact, the Chinese producer made some kind of japonaiserie, a hybrid combining Japanese and Chinese elements. He probably had Western customers in mind when marketing such pieces. Due to the Dutch monopoly on Japanese export porcelain Chinese merchants bought Kakiemon, Imari and other wares in Nagasaki, where they had a trading post close to the Dutch Factory on Deshima. They shipped these porcelains to Canton, where they were sold to English and French dealers.