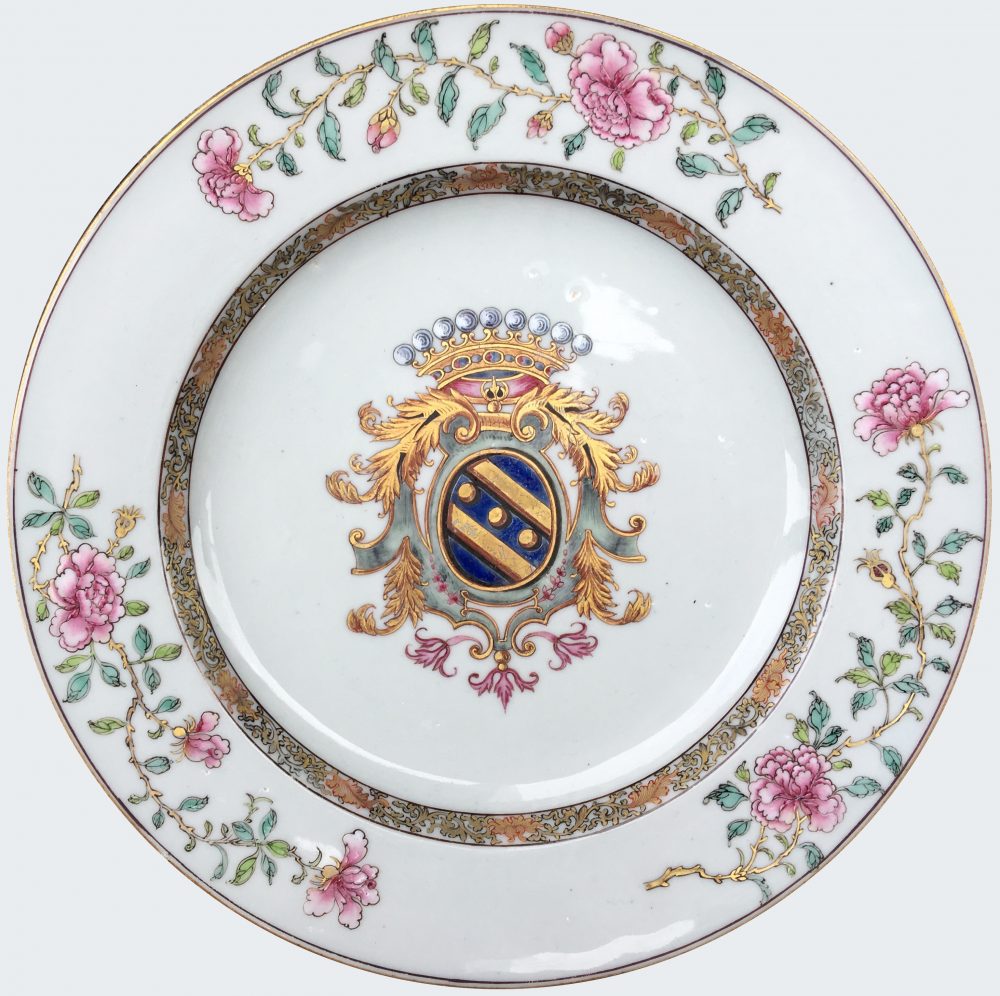 A pair of Chinese armorial plates for the French market (Bouczo). Yongzheng period.
Decorated in polychrome enamels, gold and silver, with clusters of peonies on the rim, and central armorial at the center D'azur, à trois besants d'or, rangés en bande entre deux cotises de même. 
Country:

China

Period :

Yongzheng (1723-1735), circa 1730

Material:

Porcelain

Dimension:

8.85 in. (22.5 cm)

Reference :

B384

Status:

sold
Related works
For an identical plate (collection Antoine Lebel), see Antoine Lebel, Armoiries françaises et suisses sur la porcelaine de Chine au XVIIIe siècle, 2009, p. 204.
Notice
Those coat of arms have been attributed to the "Bouczo de Rongoüet" Family by Antoine Lebel in Armoiries francaises et suisses sur la porcelaine de Chine au XVIIIe siècle.
He listed two potential patrons who may have ordered the set around 1745:
-Pierre-Louis "Bouczo de Rongoüet" (1723-1781), lieutenant des frégates du Roi et capitaine de vaisseau pour la Compagnie des Indes
-Louis-Marie-Hyacinthe "Bouczo de Rongoüet" (born in 1717), Barrister of the parliament of Brittany in 1746 and maître particulier des Eaux et Forêts at the region of Vannes (Brittany) in 1761.
The attribution of the set to the Bouczo du Rongoüet Family seems smart; however, the decorative type doesn't allow dating the service as belonging to the Qianlong period around 1745. Rather, the grisaille and gold edge, the special gradual pink, the semi-eggshell porcelain and the coat of arms in Regence style lead us to fix accurately the date around 1730.
Therefore, we are more willing to consider that the order of this set has been done by Louis-Philippe Bouczo du Rongoüet (born in 1685), lawyer at the court, alloué du domaine de Rhuys and intendant of de Princess of Conti.
In the 1710's, he lived in St-Georges en Nostang, a few kilometers away from Lorient and Port-Louis, the headquarters of the Compagnie des Indes in France.
Thanks to the various positions he held in Brittany, Louis-Philippe Bouczo du Rongoüet might have been able to order this set; and moreover, he might also have introduced one of his two sons, Pierre-Louis Bouczo du Rongoüet, as the naval captain for the Compagnie des Indes.