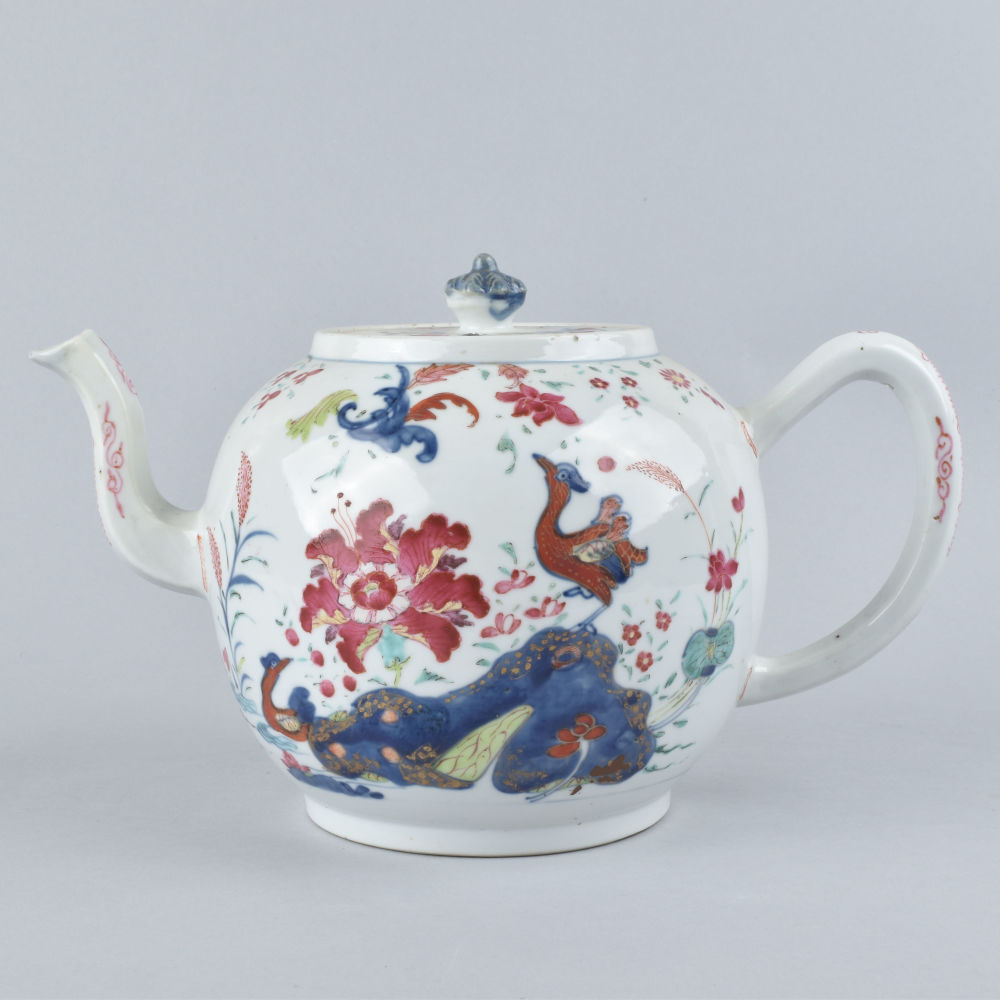 A massive Chinese famille rose "pseudo-tobacco leaf" wine pot. Qianlong period.
Of globular form, brightly enamelled in the famille rose palette and gilt, with flat covers and flower head finials, enamelled on one side with a pair of mandarin crested ducks, one swimming on a pond and the other on a large upturned lotus leaf beside a large stylised peony head, the other side with rococo leaves, rosettes and further flowers.
Country:

China

Period :

Qianlong (1735-1795), circa 1750-60

Material:

Porcelain

Dimension:

6.29 in. (h) 16 cm

Reference :

B742

Status:

sold
Related works
For a pair of smaller teapots, see Christie's NYC, The Benjamin F. Edwards III Collection, Part II, 22 January 2003, lot 71.
Pierre L. Debomy, Tobacco leaf and Pseudo, A tentative inventory, pp. 154-157.
For a large dish with this pattern, see Christie's London, 2 november 2016, lot 63.
Jorge Welsh, Important collection of Chinese porcelain, 1999, p. 83, fig. 36.
Notice
The ducks, the Chinese symbol of fidelity, are looking here at one another. The one on the right, undoubtedly male, looks as if it had been masked with blue ; the other has only a blue beak. Both have red bodies, and are decorated with feathers painted in gold. The wings are dark blue with green feathers.
Popularly known as the "Tobacco Leaf" pattern, the decoration on this plate exhibits some of the finest enameling and design known on eighteenth century export ware. As Howard and Ayers note, the distinctive leaves might not be those of the tobacco plant. They possibly derive instead from the "thick, tropical, variegated-leaf foliage of Southern Asia and the pacific", while the blossoms almost certainly are hibiscus and passion flowers. At least, five principal variants of the "Tobacco leaf" motif are known, there are also a number of minor variants.