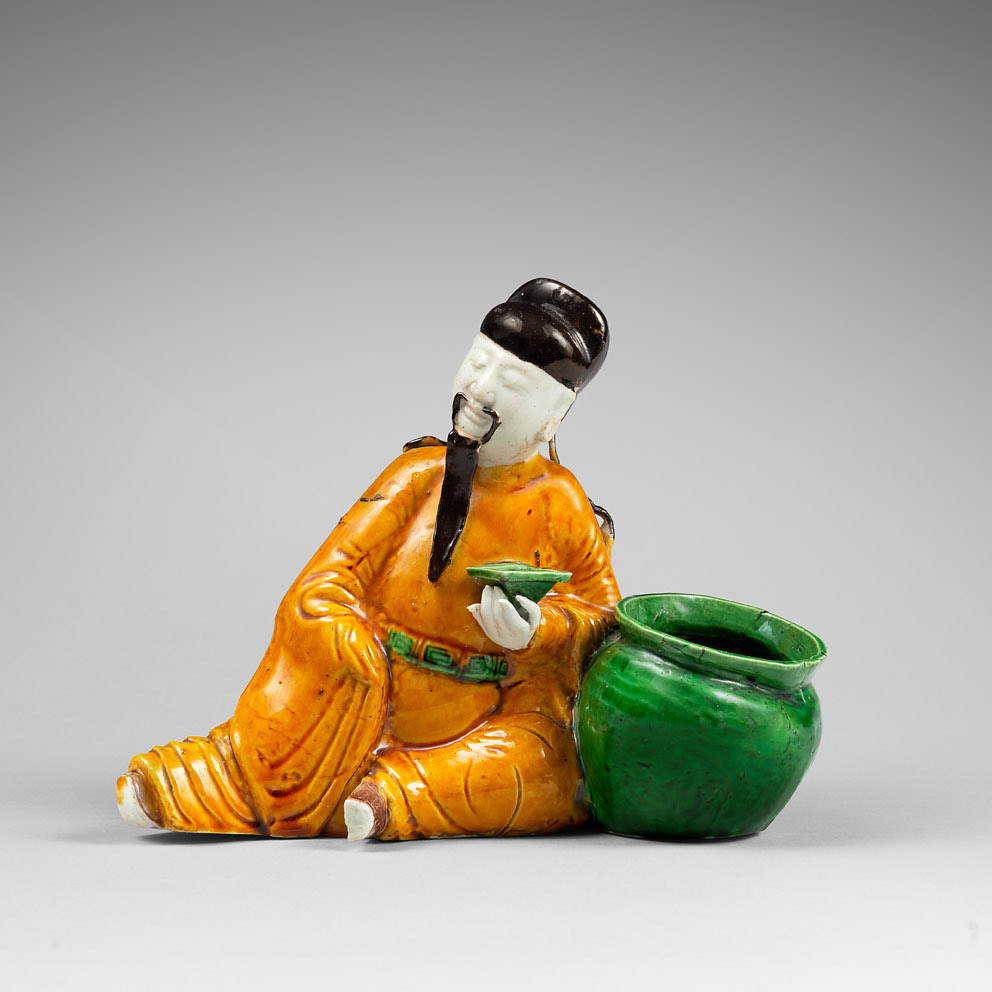 A large famille verte figure of Li Bai. Kangxi
The poet is represented drunk and reclining upon a partly overturned wine-jar of oviform-shape. He wears an official hat and holds a wine cup while reclining on a gourd-shaped wine jar. He is bearded, and is wearing a yellow robe.
Country:

China

Period :

Kangxi period (1662-1722)

Material:

Porcelain

Dimension:

7.67 in. x 6.10 in. (19,5 cm x 15.5 cm )

Reference :

D723

Status:

sold
Provenance
Georges de Menasce (1890-1967)
Spink & Son, Ltd, (The G. de Menace Collection, Part II, 1972)
Notice
Li Bai (701-762), also called Li Po or Li-taï-pé, was acclaimed in his own day for his poetic genius, a reputation that has endured over the centuries. A somewhat romantic figure, Li Bai wrote timeless, inspirational poems about friendship, love, loss and wine. His style was innovative, yet respectful of earlier traditions. His love of wine was well known, and he is immortalized in the famous poem "Eight Immortals of the Wine Cup", by his good friend and contemporary Du Fu.
Georges de Menasce
The family of Georges Ferdinand Joseph Behar, Baron, was ennobled by the Austrian Emperor after the Congress of Vienna and they were prominent in Egypt from at least the 19th century. He was born in Liverpool, where the family had cotton interests. Georges is the son of Félix Halevy de Menasce, banker and chief of the jewish community of Alexandrie.
George de Menasce collected in many areas, and particularly Chinese porcelain. He was a member of the Oriental Ceramic Society from 1948 and served on the Council. In 1971 Pierre de Menasce gave the Society £2,000 in memory of his father; to this gift he added £3,000 in 1972. The George de Menasce Memorial Trust provides income to pay for research in progress, for travel and the opportunity to write a paper for publication in 'TOCS'.
Photography : Jérémie Beylard / Agence PHAR