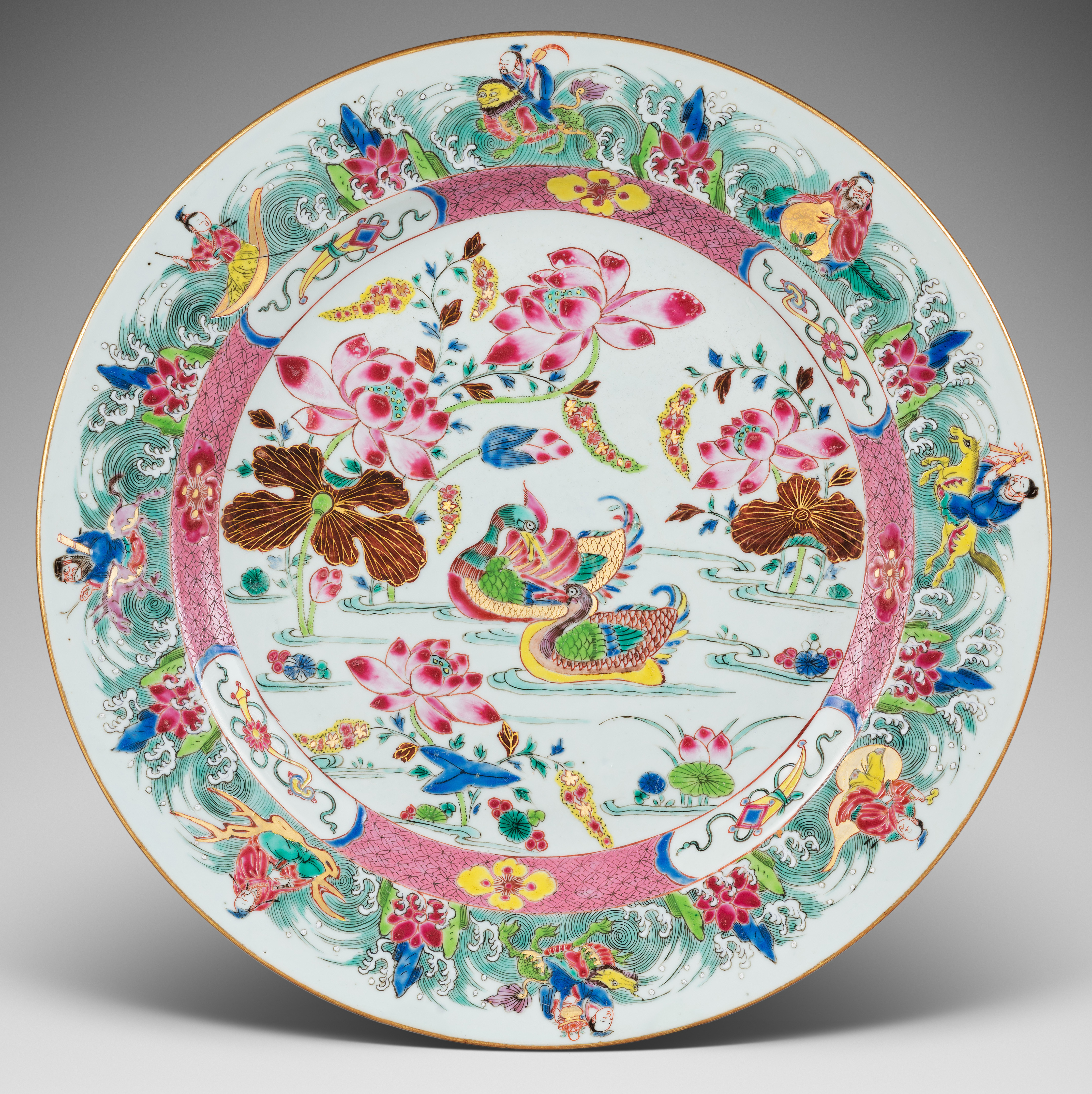 A large famille rose charger decorated with mandarin ducks and the eight Daoist Immortals. Yongzheng
Richly painted in the famille rose palette, the centre of the charger is decorated with two mandarin ducks surrounded by lotus enclosed by a diaper at the well with four cartouches comprising buddhist attributs; on the rim the eight Daoist Immortals in choppy coastal seas.
Country:

China

Period :

Yongzheng (1723-1735)

Material:

Porcelaine

Dimension:

15.15 in. (38,5 cm)

Reference :

D788

Price:

upon request

Status:

available
Related works
A very closed charger of the same size in the collection of the Reeves Center Collection at the Washington and Lee University (USA), is illustrated by Thomas V. Litzenburg Jr. in Chinese Export Porcelain in the Reeves Center Collection at Washington and Lee University, 2003, p. 65, no. 42.
Notice
This design known on plates and rarely on charger is entirely Chinese, although made for export, and was almost certainly available for European private merchants in Canton.
Mandarin ducks are referred to by the Chinese as yuanyang, where yuan and yang respectively stand for male and female mandarin ducks. In traditional Chinese culture, mandarin ducks are believed to be lifelong couples unlike other species of ducks. For that reason, they are considered a symbol of conjugal affection and fidelity, and are frequently featured in Chinese art.
The Eight Immortals  are a group of legendary xian ("immortals") in Chinese mythology. Their names are Zhongli Quan (chief of the Eight immortals who had the secret of the elixir), Zhang Guolao (who had supernatural powers of magic), Ln Dongbin (a scholar who learned the secrets of Daoism), Cao Guo Qiu (patron saint of the theatrical profession), Li Tieguai (represented as a beggar), Han Xiangzi (credited with the power of making flowers grow), Lan Caihe (a hermaphrodite) and He Xiangu (she became a fairy).
Each immortal's power can be transferred to a vessel that can bestow life or destroy evil. Together, these eight vessels are called the "Covert Eight Immortals". Most of them are said to have been born in the Tang dynasty (618-907) or Song dynasty (960-1127). They are revered by the Taoists and are also a popular element in secular Chinese culture. They are said to live on a group of five islands in the Bohai Sea. which includes Mount Penglai.
Photography : Jérémie Beylard / Agence PHAR